Donate now to support the LLIFLE projects.
Your support is critical to our success.
Since 4 Aug 2013
sponsored link
Accepted Scientific Name: Mammillaria mystax Mart.
Hort. Reg. Monac. (1829) 127, nomen; et in Nova Acta Phys.-Med. Acad. Caes. Leop.-Carol. Nat. Cur. 16(1): 332. 1832 Mart. & Schrank
Cactus mystax (Mammillaria mystax) Photo by: Amante Darmanin
Mammillaria casoi (mystax), Cuacnopalan, Puebla. Spines are of variable shape and length, occasionally they are very long (up to 7 cm long) and twisted.
Origin and Habitat: Mammillaria mystax occours widespread in highlands of southern central Mexico, centering in Puebla and adjacent Guerrero and Oaxaca.
Altitude range: 1,000 to 2,600 metres above sea level.
Type locality: Mexico. According to Hemsley, Karwinsky's plant, which is the type, came from Ixmiquilpan and San Pedro Nolasco at about 200 m altitude.
Habitat and Ecology: The species occurs in tropical dry deciduous forest (Vovides et al. 1997), Quercus forest and xerophyllous scrubs together with several other cactus species such as: Mammillaria conspicuaSN|9372]]SN|20872]], Mammillaria pectiniferaSN|1537]]SN|1537]], Mammillaria sphacelataSN|20872]]SN|9372]], Mammillaria viperina, Coryphantha pallidaSN|10262]]SN|10262]], Echinocactus grandisSN|10388]]SN|10388]], Ferocactus recurvusSN|4280]]SN|4280]] and Agave echinoides. This species is common and abundant within its limited range. There are no major threats. However, it is affected indirectly from land use change for farming and cattle ranching.
Synonyms:
See all synonyms of Mammillaria mystax
Accepted name in llifle Database:
Mammillaria mystax
Mart.
Hort. Reg. Monac. (1829) 127, nomen; et in Nova Acta Phys.-Med. Acad. Caes. Leop.-Carol. Nat. Cur. 16(1): 332. 1832
Synonymy: 12
Common Names include:
RUSSIAN (Русский):
Маммиллярия усатая
Description: Mammillaria mystaxSN|20654]]SN|20654]] is a single stemmed cactus with neat pyramid-shape tubercles and with age can offset to form loose clumps. In its wild state its crown is entirely covered with long entangled, erect, central spines which overtop the plan. The species is common in cultivation and produces a profusion of rose coloured flowers in a ring around the crown of the stem. Spines are of variable shape and length, occasionally they are very long (up to 7 cm long).
Stem: Globose to short-cylindric, 7 to 15 cm. high, 7-10 cm in diameter, flat-topped dark grey-green, eventually dividing dichotomically.
Tubercles: In as many as 34 rows, prominent, thickly set, firm, pyramidal, four- to six-angled, sharply keeled, 1-1,5 cm long, 8 mm broad, full of milk which freely flows when pricked or cut, axils with wool and bristles.
Radial spines: 3 to 10, small, spreading, white often with darker tips, 4-8 mm long.
Central spines: Stout, twisted, interwoven, purplish with dark brown tips, later grey, variable in number usually (3-)4, sometimes one, of which (2-)3 about twice as long as the radial ones, the other more centrally placed much elongated, 2 to 7 cm long (in cultivation this elongated spine does not always occur).
Flowers: Rose purple with brownish midveins, 10-25 mm long and in diameter appearing in 2 or 3 rows, very abundant. Inner perianth-segments dark red, 12 mm long. Stigma-lobes 4 or 5, greenish.
Blooming season (in habitat): It flowers from February to April.
Fruit: Red, club shaped, 2 to 2.5 cm long.
Seeds: Brown.
Subspecies, varieties, forms and cultivars of plants belonging to the Mammillaria mystax group
Bibliography: Major references and further lectures.
1) Robert T. Craig "The Mammillaria handbook: with descriptions, illustrations, and key to the species of the genus Mammillaria of the Cactaceae" E P Publishing, 1945
2) John Pilbeam "Mammillaria The Cactus File Handbook" Cirio Pub. Services, 01/Dec/1999Edward Anderson "The Cactus family" Timber Press, Incorporated, 2001
3) James Cullen, Sabina G. Knees, H. Suzanne Cubey "The European Garden Flora Flowering Plants: A Manual for the Identification of Plants Cultivated in Europe, Both Out-of-Doors and Under Glass" Cambridge University Press, 11/Aug/2011
4) David R Hunt; Nigel P Taylor; Graham Charles; International Cactaceae Systematics Group. "The New Cactus Lexicon" dh books, 2006
5) Arias, S., Valverde, T. & Zavala-Hurtado, A. 2013. Mammillaria mystax. The IUCN Red List of Threatened Species. Version 2014.2. <www.iucnredlist.org>. Downloaded on 15 August 2014.
6) Ulises Guzmán, Salvador Arias, Patricia Dávila, "Catálogo de cactáceas mexicanas"
7) Hans Hecht "BLV-Handbuch der Kakteen" BLV-Verlagsgesellschaft, 1982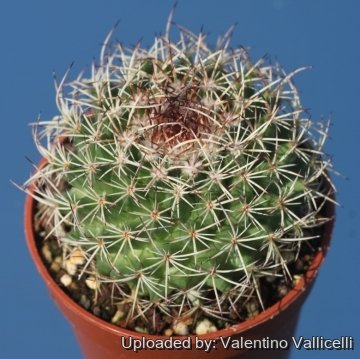 Cactus mystax
(Mammillaria mystax)
Photo by: Valentino Vallicelli
Mammillaria casoi (mystax), Cuacnopalan, Puebla
(Mammillaria mystax)
Photo by: Amante Darmanin
Mammillaria mystax. In cultivation the spines are often shorter.
(Mammillaria mystax)
Photo by: Julio C. García
Send a photo of this plant.
The gallery now contains thousands of pictures, however it is possible to do even more. We are, of course, seeking photos of species not yet shown in the gallery but not only that, we are also looking for better pictures than those already present.
Read More...
Cultivation and Propagation: Mammillaria mystaxSN|20654]]SN|20654]] is easy to grow, requires excellent drainage provided by porous cactus soil.
Repotting: Repot every 2-3 years.
Fertilization: During the beautiful season enrich the soil using a fertilizer rich in potassium and phosphorous, but poor in nitrogen, because this chemical element doesn't help the development of succulent plants, making them too soft and full of water.
Exposure: Prefers bright light and ample airflow. Outside full sun or afternoon shade, inside it needs bright light, and some direct sun.
Waterings: Water the soil abundantly when it is dry to the touch. Allow soil to drain thoroughly before watering again. Do not water much in the winter (Rot prone).
Hardiness: Protect from frost. But it's hardy to -5°C if kept dry.
Propagation: Direct sow after last frost as it usually don't braches.