Donate now to support the LLIFLE projects.
Your support is critical to our success.
Since 4 Aug 2013
sponsored link
Reicheocactus pseudoreicheanus
Cactaceae (Berlin) 1941, Pt. 2, 78 (1942); cf. Gray Herb. Card Cat.
Family: CACTACEAE
Accepted Scientific Name: Echinopsis famatimensis (Speg.) Werderm.
Gartenflora 1931, lxxx. 301; et in Backeb. neue Kakteen, 84 (1931).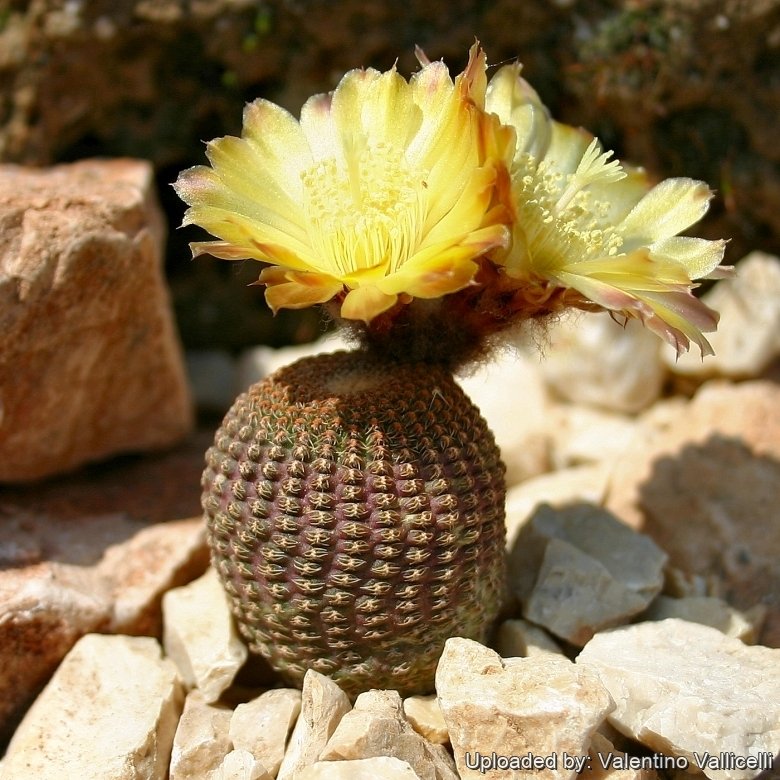 Reicheocactus pseudoreicheanus (Echinopsis famatimensis) Photo by: Valentino Vallicelli
FR459 (Friedrich Ritter) Locality: Argentina
Origin and Habitat: Echinopsis famatimensis (Lobivia famatimensis) is endemic to mountainous Argentina, occurring in Catamarca, La Rioja and San Juan (Extent of Occurrence is estimated to be around 10,000km2). Type locality Sierras de Famatina, La Rioja, Argentina.
Altitude range: The species grows at elevations of 1,000-3,000 metres above sea level.
Habitat and Ecology: The species grows in high altitude grasslands on rocky soils. The species is not common or abundant, however it is difficult to see because of its small size. The major threat for the species is over collection. The potential development of mining in the area could affect the species in the near future.
Synonyms:
See all synonyms of Echinopsis famatimensis
Accepted name in llifle Database:
Echinopsis famatimensis
(Speg.) Werderm.
Gartenflora 1931, lxxx. 301; et in Backeb. neue Kakteen, 84 (1931).
Synonymy: 11
Description: Lobivia famatimensis (Referred to Echinopsis by Friedrich & Rowley.) is one of the most beautiful and distinctive small species. It is usually solitary or slowly clumping and slow growing. The stems are small flattened-roundish to cylindrical with very short spidery-pectinate spines and egg-yellow flowers. Lobivia famatimensis (a.k.a. Reicheocactus pseudoriecheanus) is very attractive and is used as an ornamental and is sought after by cactus enthusiasts.
Stems: Globular, oval, elongated to cylindrical (1-)3-3.5(-15) cm in height and (2-)2.5-3(-6) cm in diameter. The stem apex is strongly depressed (umbilicate). The epidermis is grey-green, dull-green, olive-green or brownish-grey and is often tinged purple in bright light.
Ribs: 24 to 40 low, vertical, straight, cross-furrowed and forming about 12-18 small hemispherical tubercles 0,5-1,5 mm tall and up to 3(-4) mm in diameter.
Areoles: Oblong, brownish.
Spines: No central spine. The 7 to 9(-12) radials are weak, flattened against the body, curved, more or less pectianted, almost hyaline, whitish, greyish, yellowish, amber or brownish with dark bases. (1-)1.5-3(-5) mm long.
Root: Big, conical, tap root.
Flowers: The buds appears laterally near the top of the plant and are clothed with greyish-brown woolly. The flowers are short-tubular to bell-shaped, pearly-yellow, yellow orange to dull-red. Outer segments purple, inner usually orange above, yellow below; stamens in several series (throat-membrane not developed). Style yellowish white, stigmas 8-12, 4 mm, cream. The flower tube is short and densely clothed with woolly hairs. The flowers are to 3(-4) cm long, 3(-5) cm in diameter.
Blooming season: The flowers, not so readily produced as in many lobivia species, appear in early summer, shortlived. (They last about 2 to 3 days)
Seeds: Ovoidal, black up to 1,5 mm in diameter.
Taxonomy notes: This species was confused by Backeberg with Echinopsis kuehnrichii Fric and re-named with the the unnecessary name Reicheocactus pseudoreicheanus, due to the misidentification of Lobivia densispina with Lobivia famatimensis. A beautiful, slow-growing. The name is usually given as "famatimensis" and was originally spelt thus, but it appears to have been a typographical error, since the source was Famatina, so the correct name should be Echinopsis famatinensis.
Subspecies, varieties, forms and cultivars of plants belonging to the Echinopsis famatimensis group
Bibliography: Major references and further lectures
1) Urs Eggli, Leonard E. Newton "Etymological Dictionary of Succulent Plant Names". Springer, Berlin/Heidelberg 2010
2) Trevisson, M., Perea, M. & Demaio, P. 2013. Echinopsis famatinensis. The IUCN Red List of Threatened Species. Version 2015.1. <www.iucnredlist.org>. Downloaded on 11 June 2015.
3) Edward Anderson "The Cactus family" Timber Press, Incorporated, 2001
4) James Cullen, Sabina G. Knees, H. Suzanne Cubey "The European Garden Flora Flowering Plants: A Manual for the Identification of Plants Cultivated in Europe, Both Out-of-Doors and Under Glass" Cambridge University Press, 11/Aug/2011
5) David R Hunt; Nigel P Taylor; Graham Charles; International Cactaceae Systematics Group. "The New Cactus Lexicon" dh books, 2006
6) Willy Cullmann "Kakteen: Einführung in die Kakteenkunde und Anleitung zu erfolgreicher Kakteenkultur" E. Ulmer, 1972
Reicheocactus pseudoreicheanus
(Echinopsis famatimensis)
Photo by: Diego Armentano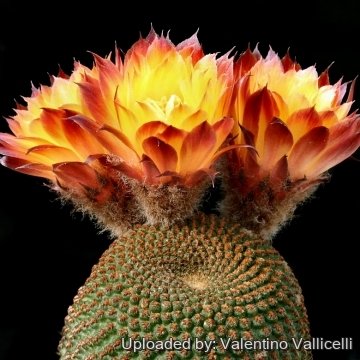 Reicheocactus pseudoreicheanus
(Echinopsis famatimensis)
Photo by: Valentino Vallicelli
Field number WR 127 (Collector Walter Rausch) Famatina to Velasco, La Rioja, Argentina. Rebutialand cactus collection Demjén, Hu
(Echinopsis famatimensis)
Photo by: Agócs György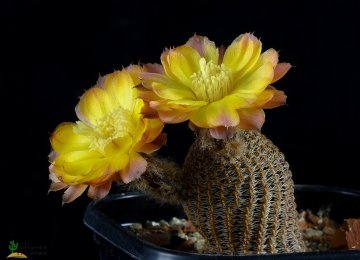 Lobivia famatimensis RH2224a, Carrizal, La Rioja, Argentina, 2600m
(Echinopsis famatimensis)
Photo by: Peiffer Clement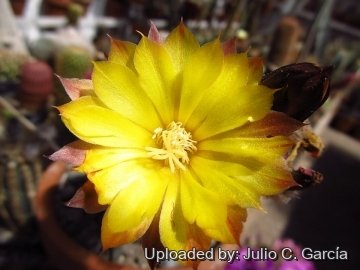 Reicheocactus pseudoreicheanus
(Echinopsis famatimensis)
Photo by: Julio C. García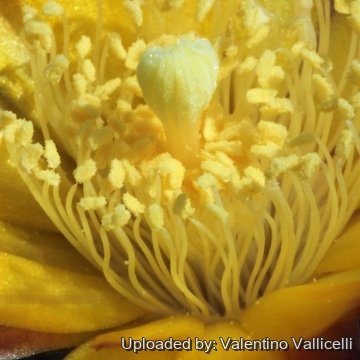 Reicheocactus pseudoreicheanus
(Echinopsis famatimensis)
Photo by: Valentino Vallicelli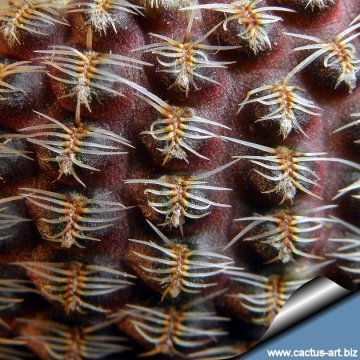 Adult specimen.
(Echinopsis famatimensis)
Photo by: Cactus Art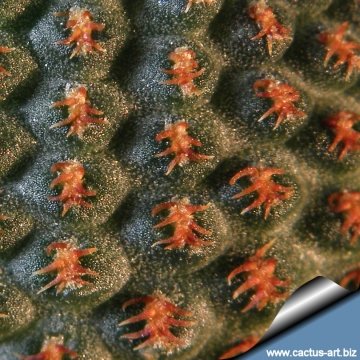 Juvenile specimen.
(Echinopsis famatimensis)
Photo by: Cactus Art
Cultivation and Propagation: Very slow growing. The Lobivia famatimensis have a thick taproot and are susceptible to over-watering. Sometimes they are grafted to avoid root rot problems. Suited for sunny-bright exposure; they can tolerate light shade. They like warmth (recommended minimum winter temperature 5° C). But plant kept perfectly dry can easily survive in winter night temperatures below 0° C. They prefer airy exposures. Water regularly in summer, but do not overwater, it prefer a completely dry place during winter. Suited for sunny-brightly exposure; can tolerate light shade.
Pests & diseases: It is especially prone to rot, therefore, underpot in a smaller but deep pot filled with a highly gritty compost and much drainage, to accommodate its tap root.
Propagation: Seeds or graft. Seedlings of the var. bonnieae grow faster than other Lobivia famatimensis. Seeds can be sown in the spring or summer. The seedlings should not be disturbed until they are well rooted, after which they can be planted separately in small pots.
Your Photos
---
by Valentino Vallicelli
by Valentino Vallicelli
by Valentino Vallicelli
by Valentino Vallicelli
by Cactus Art