Donate now to support the LLIFLE projects.
Your support is critical to our success.
Since 4 Aug 2013
Accepted Scientific Name: Conophytum bilobum (Marloth) N.E.Br.
Gard. Chron. 1922, Ser. III. lxxii. 83.
Conophytum igniflorum Photo by: Giuseppe Distefano
Origin and Habitat: The origins of this plant is unknown exactly, except that it was distributed by De Boer under this name which was never published.
Synonyms:
See all synonyms of Conophytum bilobum
Common Names include:
CHINESE (中文):
圣园, 聖園
JAPANESE (日本語):
コノフィツム
KOREAN (한국어):
성원
Description: Conophytum igniflorum is a robust bilobed Conophytum distinguished by fiery orange flowers in autumn that set this species apart from other bilobed Conophytums. It could be a natural hybrid with bilobum as one parent. It's a really old plant, been in cultivation for years. It seems originally cultivated by Herre from De Boer collected material (but never know for sure). It has some horticultural merit and the plant is spectacular in full flower.
Stem: Stemless or with short stems with time.
Bodies (paired leaves): Approx 1.5 centimetres broad and 4-5 centimetres tall. The leaf-tips (lobes) are free and are 10 mm long and triangular in shape and keeled. The epidermis is glabrous, whitish-green to glaucous. The epidermis is smooth, but could be spotted near the fissure.
Flowers: Scentless up to 3 cm bright orange with a yellow-orange throat.
Blooming season: The flowers are autumnal (rarely in summer) and diurnal.
Subspecies, varieties, forms and cultivars of plants belonging to the Conophytum bilobum group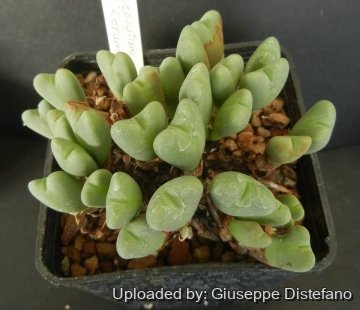 Conophytum igniflorum
Photo by: Giuseppe Distefano
Send a photo of this plant.
The gallery now contains thousands of pictures, however it is possible to do even more. We are, of course, seeking photos of species not yet shown in the gallery but not only that, we are also looking for better pictures than those already present.
Read More...
Cultivation and Propagation: Conophytum igniflorumSN|27482]]SN|27482]] is a "winter" grower which is most active from late winter until later spring and heading for summer dormancy, but in favourable growing conditions it keeps going over the summer too and doesn't need particular care.
Soil: Requires good drainage as it it is prone to root rot. It can grows outdoor in sunny, dry, rock crevices (protection against winter wet is required) It can also be cultivated in alpine house, in poor, drained soil.
Watering: It requires little water; otherwise its epidermis breaks (resulting in unsightly scars). Water minimally in summer, (only when the plant starts shrivelling), but it will generally grow even in summer if given water. Water regularly in winter after the previous year's leaves have dried up. Requires good drainage.
Fertilization: Feed it once during the growing season with a fertilizer specifically formulated for cactus succulents (poor in nitrogen), including all micro nutrients and trace elements diluted to ½ the strength recommended on the label. It thrives in poor soils and need a limited supplies of fertilizer to avoid the plants developing excess vegetation, which is easily attacked by fungal diseases.
Exposure: Keep cool and shaded in summer, it needs full sun or light shade.
Temperature: Hardy to -2°C. Ensure a very good ventilation.
Repotting: Avoid to repot frequently. This plant may stay in the same pot for many years.
Uses: Container, rock garden.
Pests and diseases: It is vulnerable to mealybugs and rarely scale.
Propagation: It can be reproduced both by cuttings and seeds. Take the cutting from a grown-up mother plant. Each cutting must contain one or more heads along with a fraction of root. It is easily propagated by seed. The small seeds can be sown in pots of fine, well-drained sand, any time during the spring and summer months when temperatures are warm. Cover the seeds with a very fine layer of grit and water from below with a fungicide to prevent damping off. For the first 3-4 days cover the pots with a sheet of glass/clear perspex to keep the humidity levels high. Remove the glass and replace it with light shadecloth and mist once or twice a day for the next two weeks after which most seeds should have germinated. From then on mistings can be reduced to every second and then every third day as the little plants grow.