Donate now to support the LLIFLE projects.
Your support is critical to our success.
Since 4 Aug 2013
Caralluma turneri Photo by: Giuseppe Distefano
Origin and Habitat: Ethiopia, Kenya, Eastern Uganda. In Ethiopia Caralluma turneri is very common in the area around Dire Dawa in the north of Harerghie Region and also occurs, albeit more sparsely, through the Rift Valley at least as far south as Lake Abiata.
Habitat and ecology: Caralluma turneri grows in close proximity to the habitat of Caralluma dicapuae, but there is at least a partial ecological separation. C. turneri preferring rocky slopes while C. dicapuae prefers flatter areas with deeper soils. There is some indication that the two species are at least partially isolated through pollen vector specificity.
Synonyms:
See all synonyms of Caralluma turneri
Description: Caralluma turneri is an exquisite and distinct "spidery flowered" species. The main distinguishing is that it flowers in the upper half of stems which is distinct thin, cylindrical and deciduous. It forms tangled clusters up to 45 cm tall and 50 cm across. It is closely related to Caralluma priogonium and Caralluma gracilipes.
Stems: 5-15 cm long, lower part of branches 8-20 mm across, grey-green to brown, 4-angled, distinctly heteromorphic, upper (flowering) part tapering, very slender, cylindrical, sometimes branched, about 30 cm long, 3-4 mm in diameter, more or less 4-angled, bearing remote clusters of 1-4 pendent flowers, becoming woody in fruit, eventually deciduous. Ribs remote, serrate (saw-like), tubercles 8-14 mm long.
Leaves: Rudimentary about 2 mm long, lanceolate or subulate, succulent.
Inflorescence: 1-4 cm apart from each other, with 2-4 flowers. Flower-stalks 3 - 6 mm long, spreading.
Flowers: Sepals 2 mm long, long acuminate. Corolla, narrowly campanulate, deeply divided almost to the centre. Lobes obliquely oblanceolate to spatulate, mobile, pendent, apiculate, flexibly attached, 8-12 mm, 2-3 mm wide, blackish- to brownish purple, usually with some cream-coloured transverse bands, rarely entirely dark, almost completely folded back along the midrib with long purple hairs towards base. Hairs clavate purple, vibratile. Corona 0.7 mm, short-stalked. Outer corona-lobes small spreading 0.7 mm long, rectangular or squarish, deeply 2-horned, appendages filiform. Inner lobes erect, more or less oblong, apically weakly irregularly thoothed, about 1.5 mm long, apically reaching far over the style head, touching each other in the upper half.
Fruit: Grey to straw-coloured, 8 cm long and 0.5 cm in diameter.
Subspecies, varieties, forms and cultivars of plants belonging to the Caralluma turneri group
Caralluma turneri

E.A.Bruce

: (subsp. turneri)
Caralluma turneri subs. ukambensis

(P.R.O.Bally) L.E.Newton

: Is smaller than ssp. turneri; Branches nearly straight and leaf rudiments shorter. Corolla lobes hairy. Stalk of the corona club-shaped. Distribution Kenya, Southem Province.
Bibliography: Major references and further lectures
1) Focke Albers, Ulrich Meve "Illustrated Handbook of Succulent Plants: Asclepiadaceae: Asclepiadaceae", Volume 4 Springer Science & Business Media, 2002
2) Stuart Max Walters "The European Garden Flora: A Manual for the Identification of Plants Cultivated in Europe, Both Out-of-doors and Under Glass", Volume 6, Part 4 Cambridge University Press, 01 December 2000
3) The National Cactus and Succulent Journal: The Official Journal of the National Cactus & Succulent Society, National Cactus and Succulent Society, 1976
4) Rauh. "Die grossartige Welt she Sukkulenten". pl. 35, 1967
5) Candollea 24:18, 1969
6) Blundell. "Wild flowers of East Africa". 303, 1987
7) Haseltonia 3: 57, 1995.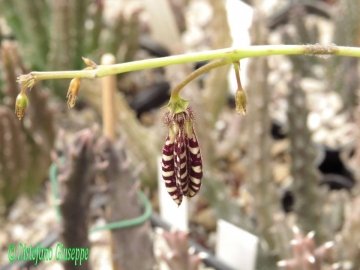 Caralluma turneri
Photo by: Giuseppe Distefano
Send a photo of this plant.
The gallery now contains thousands of pictures, however it is possible to do even more. We are, of course, seeking photos of species not yet shown in the gallery but not only that, we are also looking for better pictures than those already present.
Read More...
Cultivation and Propagation: Caralluma turneri is a relatively quick-growing species and not as difficult to cultivate as was originally thought. It can stand drought for quite a period, which is the only time when it loose its leaves. Keep dry in Winter. Water a little more than other succulents in Summer.