Donate now to support the LLIFLE projects.
Your support is critical to our success.
Since 4 Aug 2013
= Sempervivum arachnoideum f. cristatum hort.

Accepted Scientific Name: Sempervivum arachnoideum L.
Sp. Pl. 465 1753. [1 May 1753] L.
Sempervivum arachnoideum f. fasciatum (Sempervivum arachnoideum f. cristatum) Photo by: Valentino Vallicelli
Origin and Habitat: Garden origin (Nursery produced cultivar). The original natural habitat of this species are the ountain of Europe from the Pyrenees to the Carpathians where many variations occur naturally.
Synonyms:
See all synonyms of Sempervivum arachnoideum
Common Names include:
ENGLISH:
Hens & Chicks, Cobweb Houseleek
Description: Sempervivum arachnoideum is a small, evergreen perennial succulent that grow in very tight rosette forming mats up to 30cm (or more) in diameter, often cultivated in rock gardens. It is a very variable species.
Crested form Sempervivum arachnoideum f. cristatum is a curiosity that is fasciated (crested). The fasciation is not very stable and most of the rosettes are normal.
Rosettes: Each rosette is small. Some of the rosettes are fasciated (crested) while for the most part they are ball shaped and may have up to 50-60 leaves. The tips of the leaves are connected together by a very fine webbing that looks just like cobwebs thin, but there are many different clones. Some are very furry other slightly furry, there are also types that are red, some maroon, others green.
Flowers: Pink (usually) but also white or bright-red about 1-2.5 cm across. Flowers are raised on thick 20 cm tall stems and hermaphroditical (having both male and female reproductive organs)
Blooming season: Summer, lasting into early autumn. The rosette that bloomed then dies after setting seeds.
Subspecies, varieties, forms and cultivars of plants belonging to the Sempervivum arachnoideum group
Bibliography: Major references and further lectures
1) William Robinson "Hardy Flowers" Applewood Books, 01/Jan/2009
2) Gwen Moore Kelaidis "Hardy Succulents: Tough Plants for Every Climate" Storey Publishing, 01/Mar/2012
3) Collins, "The alpine flowers of Britain and Europe" 1979
4) James Cullen, Sabina G. Knees, H. Suzanne Cubey "The European Garden Flora Flowering Plants: A Manual for the Identification of Plants Cultivated in Europe, Both Out-of-Doors and Under Glass" Cambridge University Press, 11/Aug/2011
5) Grey-Wilson & Blamey. "Alpine flowers of Britain and Europe." 75 1979
6) Houslekes 13(1): 22 1982
7) Jelitto & Schacht "Hardy herbaceous perennials" 2: 611 1990
8) Botanical Magazine, 68 1942
9) Praeger. "An account of the Sempervivum group." 23. 36 1932
10)Reichenbach. "Icons florae Germanicae et Helveticae" 23: t. 72 1896-99
11)Grey-Wilson & Blarney, "Alpine flowers of Britain and Europe" 75 1979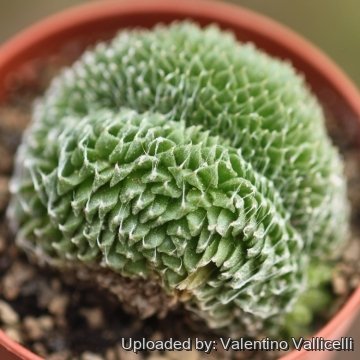 Sempervivum arachnoideum f. fasciatum
(Sempervivum arachnoideum f. cristatum)
Photo by: Valentino Vallicelli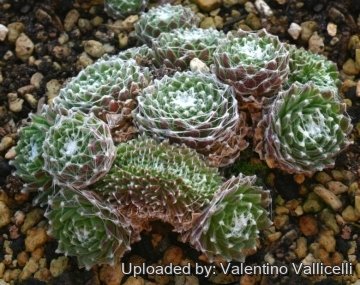 Sempervivum arachnoideum f. fasciatum
(Sempervivum arachnoideum f. cristatum)
Photo by: Valentino Vallicelli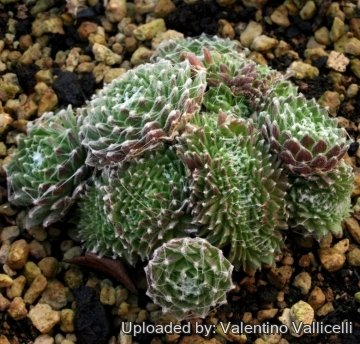 Sempervivum arachnoideum f. fasciatum
(Sempervivum arachnoideum f. cristatum)
Photo by: Valentino Vallicelli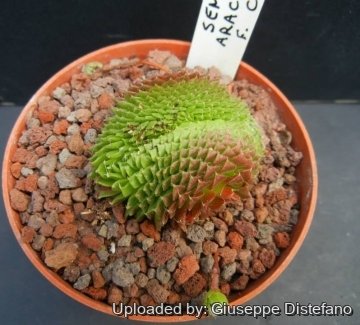 Sempervivum arachnoideum f. fasciatum
(Sempervivum arachnoideum f. cristatum)
Photo by: Giuseppe Distefano
Cultivation and Propagation: Always an interesting plant and relatively easy to grow in container or in the rock garden but resents winter wet. The 'cobweb' catches and holds the rain so that rot is likely to set in. Frost Tolerance: Hardy at least to -12°C (or less). After the plant blooms and sets seed it will die, but there will be many offsets to take its place. It need full sun to light shade and tolerates shade, but a sunny spot is nicest, though in warmer climates it needs protection from too much sun because it is not very heat tolerant.
Require a well drained succulent soil mix. It takes little water & could rot if watered too often. During the growing season, the plants are watered and allowed to dry slightly before watering again. Although they can take a great deal of drought, they seem to do better with regular (but moderated) watering. During the winter months, plants are watered very little.
Outdoors it will spread itself through narrow locations between rockery stones. It does not prefer rich loamy soil; gritty dirt with pea gravel suits it. Excess moisture can damage the plant in winter and it will benefit from being brought into the shelter of the greenhouse or cold frame.
Crested growth: Unlike 'monstrose' varieties of plants, where the variation from normal growth is due to genetic mutation, crested growth can occur on normal plants. Sometimes it's due to variances in light intensity, or damage, but generally the causes are unknown. A crested plant may have some areas growing normally, and a cresting plant that looks like a brain, may revert to normal growth for no apparent reason. Any normal shoots should be removed to promote the growth of the crest.
Propagation: Is very easily propagated by division of larger clumps or by offsets.
Curiosity: In Europe, the sempervivums (A.k.a. Houseleek or Hens & Chicks) are sometimes used in roofing, with the plants grown in between roofing tiles; they are believed to ward off lightening.