Donate now to support the LLIFLE projects.
Your support is critical to our success.
Since 4 Aug 2013
Euphorbia virosa Photo by: Guillermo Rivera
Origin and Habitat: Euphorbia virosa grows in a vast area from the Orange river (South Africa) to the north of Namibia and South Angola.
Habitat: It grows among the rocks, generally perched on mountain slopes and precipitous cliffs in very dry and hot places along with other succulents like Euphorbia avasmontana, Commiphora sp., Tylecodon hallii and Aloe dichotoma, but E. virosa is the more common and often the dominating plant.
Synonyms:
See all synonyms of Euphorbia virosa
Common Names include:
ENGLISH:
Poison Tree, Gifboom, poisonous spurge
AFRIKAANS (Afrikaans):
Gifboom
ARABIC ( لعربية ):
فربيون نفاذ الرائحة
RUSSIAN (Русский):
Молочай ядовитый
Description: Euphorbia virosa or "poisonous spurge." is a slow-growing but vigorous wide-branching cactus-like shrub or small tree with angled, upright, leafless and spiny stems, forming fairly dense clumps of growth, up to 1-1.5 metres, occasionally to 3 metres across and high; the numerous branches usually arise in whorls from the base conferring it a candelabra-like shape which is similar in appearance to the unrelated organ pipe cacti of the Americas. The plant is protected against over-heating by its irregular stem and light thorns that reflect the sunlight. It is well named, the "venomous euphorbia," for the virulent poison of its milky latex, an effective defence against most herbivores (with the exception of the black rhinoceros). E. virosa was discovered by Lieut. William Paterson when he made his way to the shores of the Orange River in 1778
Stem: Main stem (trunk) very short at most 30 cm in diameter, divided into large numbers of basal whorled, spreading and curved ascending branches, rarely rebranched 50-60(-70) mm thick, in the lower part 3-angled, often spiral, in the upper part 5-8-angled, grey-green, with a bluish tint, probably glaucous, and constricted at short but irregular intervals in a series of joints 50-90 mm length, so that the angles appear to be broadly scolloped. Angles irregular, not spirally twisted, separated by concave channels about 2 cm deep, slightly sinuate-toothed almost bent at right angles. Stems are adapted for water storage and covered in a thick cuticle which reduces water loss.
Ribs: Vertical or slightly spiralling, (5-)7(-8) divided by sharp-angled grooves to 10 mm deep, angles with sinuate teeth.
Stipular spines: Spine pairs, dark red and shiny when young, becoming grey or brownish-grey with darker tips, joined in a continuous horny margin 4-4 mm broad, 6-12 mm apart, ferocious, sharp, widely diverging, straight or slightly curved, upward-pointing up to 4-13 mm long.
Leaves: Rudimentary, transverse, about 1 mm long and 4 mm broad, truncate, soon deciduous. In habitat the few very small leaves of E. virosa appear in summer (January), and the conditions are therefore most favourable for transpiration and surface-evaporation during the hottest months.
Inflorescence: The inflorescence is a solitary, subsessile cyme seated 4-6 mm above the spine-pairs and nearer the pair of spines above them.
Flowers (cyathia): Up to 1 cm in diameter. Nectar glands elliptic, yellow and touching.
Blooming season (south Africa): The flowers are produced mostly at the end september, and beginning of October (in northern hemisphere spring)
Fruit: Smallish about 1-1,5 cm, fleshy, rusty-brown hardening at maturity.
Seeds: Globose about 5 mm in diameter and finely rugose.
Subspecies, varieties, forms and cultivars of plants belonging to the Euphorbia virosa
Euphorbia virosa

Willd.

: forms dense clumps of growth, up to 3 m across and with numerous branches in whorls from the base conferring it a candelabra-like shape. Distribution: NW South Africa to the north of Namibia and South Angola.

Euphorbia virosa subs. arenicola

L.C.Leach

: has a more spreading habit with decumbent rebranching stems. Inflorescences often 2-forcked. Distribution: coastal belt south of Moeamedes in Angola.
Bibliography: Major references and further lectures
1) Doreen Court "Succulent Flora of Southern Africa" CRC Press, 01 June 2000
2) Urs Eggli "Illustrated Handbook of Succulent Plants: Dicotyledons" Volume 2. Springer, 2002
3) N. E. Brown, J. Hutchinson "Flora Capensis", Vol 5, 1925
4) "Medicinal Plants", Volume 1 PROTA, 2008
5) Hans Dieter Neuwinger "African Ethnobotany: Poisons and Drugs : Chemistry, Pharmacology, Toxicology" CRC Press, 1996
6) Mary Rice, Craig Gibson "Heat, Dust, and Dreams: An Exploration of People and Environment in Namibia's Kaokoland and Damaraland" Struik, 2001
7) Alain Campbell White, Robert Allen Dyer, Boyd L. Sloane "The Succelent Euphorbisae (southern Africa)" Abbey garden Press, 1941
8) Patricia Craven, Christine Marais "Damaraland Flora: Spitzkoppe, Brandberg, Twyfelfontein" Gamsberg Macmillan, 01 January 1992
9) "The Annals of the Bolus Herbarium", Volume 1 Cambridge University Press, 1915
Euphorbia virosa
Photo by: Guillermo Rivera
Euphorbia virosa
Photo by: Guillermo Rivera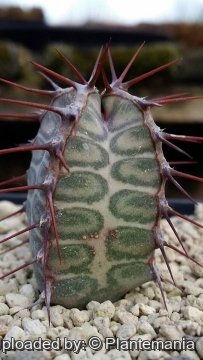 Euphorbia virosa
Photo by: © Plantemania
Send a photo of this plant.
The gallery now contains thousands of pictures, however it is possible to do even more. We are, of course, seeking photos of species not yet shown in the gallery but not only that, we are also looking for better pictures than those already present.
Read More...
Cultivation and Propagation: Commonly sold at garden outlet centres they are some of the easiest and care-free Euphorbias to grow, both in pots and in the ground in areas with a mild climate, but they can even be grown indoors. They grow well in a very draining mineral potting substrate, but they aren't picky about soil. During the summer they enjoy average feeding and watering. When dormant, plants are relatively cold tolerant. They will rapidly mound, branch and spread. These are widely adaptable, able to take full sun that helps the plants to keep their compact growth-form, but different clones vary in their tolerance of full sunshine
Propagation: This species produce clumps of stems at the base of the main stem, these can be removed and rooted in spring to summer. It can also be grown from seed.
Warning: As with all other Euphorbias when a plant get damaged it exudes a thick white milky sap known as latex. The latex (resin) of Euphorbia virosa is virulently poisonos and contains some of the most potent irritants known. The latex is particularly dangerous for the eyes, skin, mucous membranes and open wound. It can produce burning pain in bones. Pains in limbs and paralytic weakness in the joints. Important respiratory and skin symptoms, terrible burning pains. So pay extreme attention not to get any in your eyes or mouth. Cultivated plants must be handled carefully.
Traditional uses: In Kaokoland in Namibia the white poisonous milky latex of Euphorbia virosa is mixed by the Bushmen with that of Adenium boehmianum and used as an arrow-poison to hunt small animals, the poison sap is also poured into water-holes at which game were accustomed to drink .
Landscape: Euphorbia virosa and other species are used as hedge plants.
Note: Honey from Euphorbia virosa is unpalatable because it causes a burning sensation when eaten.