Donate now to support the LLIFLE projects.
Your support is critical to our success.
Since 4 Aug 2013
Accepted Scientific Name: Haworthia truncata Schönland
Trans. Roy. Soc. South Africa i. 391 (1910)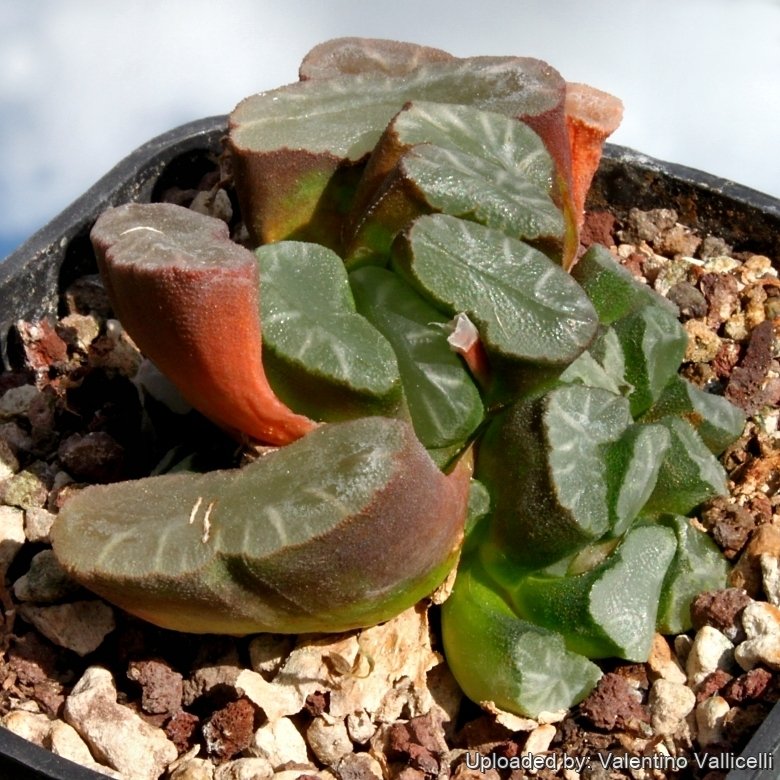 Haworthia truncata f. crassa Photo by: Valentino Vallicelli
Origin and Habitat: South Africa South and East of Calitzdorp, Western Cape, South Africa
Habitat: They grow in the shade of bushes and occasionally in open areas. They grow underground with only the apex of the leaves rising above the soil surface so that they are difficult to find. This is an excellent protection against herbivores. This very singular plant has contractile roots that will pull the plant into the ground during times of drought, leaving only the windowed tops exposed.
Synonyms:
See all synonyms of Haworthia truncata
Description: Haworthia truncataSN|11540]]SN|11538]] forma crassa is an interesting form of Hawothia truncata characterised by leaves in dichotomous order, but rounded like Haworthia maughaniSN|11538]]SN|11540]]i. This plant grows together with maughanii and hybridize freely giving rise to all froms in between. It is a distichous medium sized plants, with windowed leaves on upper margin. Solitary or slowly clumping.
Stem: Stemless.
Leaves: The leaves look as if they have been roughly cut off at the tops and they are arranged like a fan, not a rosette. As the plant grows take on an almost crested appearance. The leaf size and thickness, of the end-areas will vary greatly from clone to clone. The surface is broadly elliptical, irregular, warty and the blunt end is pellucid approx 1,5-4 cm wide and 9-12(-20)mm thick.
Inflorescence: Up to 20 cm tall, single, unbranched, erect and wiry; raceme lax about 10-15 cm long.
Flowers: 20 to 30 tiny, short-lived, small, inconspicuous, white with greenish-brown veins, and not especially attractive.
Blooming season: Spring to summer.
Note: Of interest to botanists are the translucent windows that illuminate the interior photosynthetic areas of the leaves. These are called "window leaves" and represent a xerophytic adaptation. Similar transparent windows, as been described for Fenestraria rhopalophyllaSN|11322]]SN|11322]] and certain species of Conophytum ( e.g. in Conophytum maughaniiSN|22606]]SN|22606]])
Subspecies, varieties, forms and cultivars of plants belonging to the Haworthia truncata group
Notes: Contractile roots pull the this plant deeper into the soil to protect it from sun and heat during the dry season. Contractile roots are found in many plants species mainly at the base of an underground organ (bulb, corm, succulent rosette, etc.) The contractile roots continually pull the plants deeper into the ground as the stem elongates so the it remain subterranean or at an appropriate level in the ground. Contractile roots are usually broad, fleshy, vertical, tapering, wrinkled looking and very distinct of the rather cylindrical fine absorbent roots and are capable of incredible effort.
In most cases, contractile roots not only produce a strong pulling force on but also push away the substratum and create a soil channel in which plant movement is made easier. For example in Haworthia the fleshy contractile roots swell with moisture in the wet season creating a space in the substrate then - after the full drying out of soil during the dry season - a considerable parts of this roots die off leaving empty spaces in the substratum that allow plant movement with minimum or no resistance, at the same time the other roots dehydrates and shrinks vertically, drawing the plant down into the ground. This is repeated early permitting the top of the plant to remain constantly at the soil level.
Bibliography: Major references and further lectures
1) Linda R. Berg "Introductory Botany: Plants, People, and the Environment" Cengage Learning, 02/Mar/2007
2) Dieter J. Von Willert "Life strategies of succulents in deserts: with special reference to the Namib desert" CUP Archive, 1992
3) Urs Eggli "Illustrated Handbook of Succulent Plants: Monocotyledons" Springer, 2001
4) Charles L. Scott "The genus Haworthia (Liliaceae): a taxonomic revision" Aloe Books, 1985
5) Stuart Max Walters "The European Garden Flora: Pteridophyta, Gymbospermae, Angiospermae-Monocotyledons" Cambridge University Press, 1984
6) M. B. Bayer "The new Haworthia handbook" National Botanic Gardens of South Africa, 1982
7) John Pilbeam "Haworthia and Astroloba: A Collector's Guide" B. T. Batsford Limited, 1983
8) Gordon D. Rowley "The illustrated encyclopedia of succulents" Crown Publishers, 01/Aug/1978
Haworthia truncata f. crassa
Photo by: Valentino Vallicelli
Send a photo of this plant.
The gallery now contains thousands of pictures, however it is possible to do even more. We are, of course, seeking photos of species not yet shown in the gallery but not only that, we are also looking for better pictures than those already present.
Read More...
Cultivation and Propagation: Not difficult to cultivate, though it is not fast growing and takes several years to form good looking heads. Haworthias are very responsive to differing cultural conditions both as regards colour, length and shape of leaves, rate of growth and size of plant.
Soil: It grows best in sandy-gritty soil and requires good drainage as it it is prone to root rot.
Fertilization: Feed it once or twice during the growing season with a fertilizer specifically formulated for cactus and succulents (poor in nitrogen), including all micro nutrients and trace elements diluted to ½ the strength recommended on the label.
Repotting: Must be repotted frequently, because every year a part of their roots die and then rots in the pot.
Watering Needs: Water regularly in the growing season, but avoid water-logging and let dry between watering, they should never dry out completely during the rest period. If grown in a container, bottom watering by immersing the container is recommended. It must have very dry atmosphere.
Sun Exposure: Keep cool and shaded in summer, and provide locations with diffuse sunlight or light shade, it can tolerate shade, shelter from direct sun during the hottest hours.
Frost Tolerance: It requires a minimum temperature of about 5°C (But will take a light frost and is hardy down to -5(-7)° C for short periods if it is in dry soil). USDA zones 9A – 11. In areas prone to frost, grow in an intermediate greenhouse or conservatory, in pots.
Pests and diseases: May be susceptible to mealybugs and rarely scale.
Propagation: Seeds, offsett or leave and root cutting. Cuttings root easily and remain true to the species, while seeds tend to hybridize.