Donate now to support the LLIFLE projects.
Your support is critical to our success.
Since 4 Aug 2013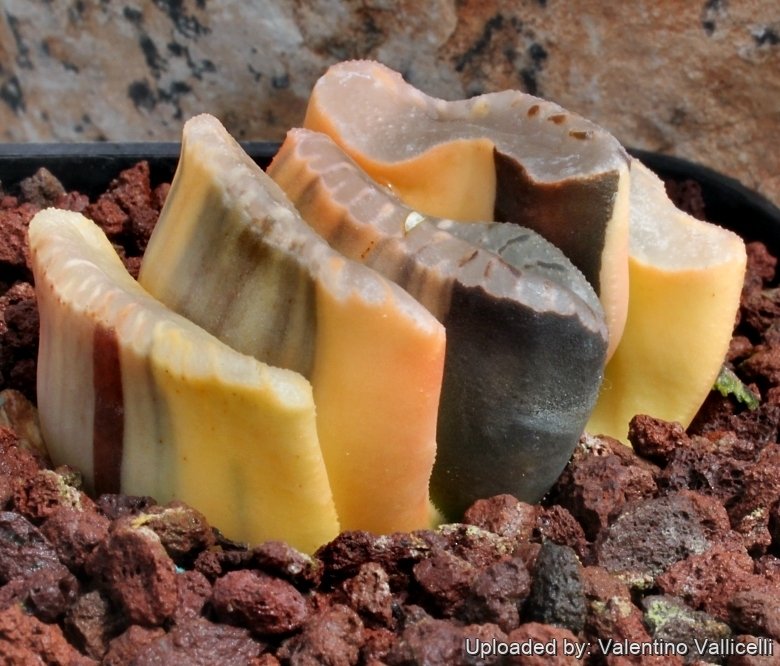 Haworthia truncata f. variegata Photo by: Valentino Vallicelli
Origin and Habitat: Garden origin (Nursery produced cultivar)
Synonyms:
See all synonyms of Haworthia truncata
Description: Haworthia truncataSN|11538]]SN|11538]] is a superb plant, unique, distinctive stemless distichous plants, with windowed leaves on upper margin. Solitary or slowly clumping depending on the clone (Unpredictably, some plants remain unbranched, while others readily cluster)
Leaves: The leaves look as if they have been roughly cut off at the tops and they are arranged like a fan, not a rosette. As the plant grows take on an almost crested appearance. The leaf size and thickness, of the end-areas will vary greatly from clone to clone. The surface is warty and the blunt end is transparent whit some interesting leaf markings, others are rather plain, this "lightning flash" patterns in the leaves do not come out until the plant reaches maturity.
Fenestrate leaves: This plant is a choice example of the window-leaf ( fenestrate leaf) adaptation found in many Haworthias, Mesembreanthemums and Peperomias, the translucent 'glassy' windowed apices allow light into the internal plant body rich in chlorophyll-bearing layers of cells, thereby providing a much larger assimilation area.
The windows greatly increase the photosynthesizing area by allowing light into the centres of leaves and at the same time avoiding water loss.
Remarks: This species has been the subject of passionate work of breeding and selection by the Japanese, and a number of wonderful cultivars with white lacy patterns on green-grey windowed tips have been developed and propagated, and some specimens have a very unique leaf shape.

Variegation: A variegated plant has stripes with two or more different colours, even distinct shades of brownish-green. Plants with variegated leaves are often attractive and highly prized. The leaves are normally green, and variegated epidermis is an uncommon mutation, termed a chimera. A chimeral variegation is due to losing the ability to produce chlorophyll in some of the plant's tissue, so that this tissue is no longer green. Tissues lacking chlorophyll are usually white or pale yellow-coloured (due to carotenoid pigments) or red (due to betalain or anthocyanin pigments) contrasting with the normal brownish-green tissue. There are several forms of variegation, depending on the tissues that have been affected. The variegation in some forms is unstable. The extent and nature of the variegation can vary, and sometimes the plant will return to the green form. In others it is stable and does not change under normal conditions. Because the variegation is due to the presence of two kinds of plant tissue, propagating the plant must be by a vegetative method of propagation that preserves both types of tissue in relation to each other.
Subspecies, varieties, forms and cultivars of plants belonging to the Haworthia truncata group
Bibliography: Major references and further lectures
1) M. B. Bayer "The new Haworthia handbook" National Botanic Gardens of South Africa, 1982
2) John Pilbeam "Haworthia and Astroloba: A Collector's Guide" 1983
3) Stuart Max Walters, James Cullen "The European Garden Flora: Pteridophyta, Gymnospermae, Angiospermae" Cambridge University Press, 1986
4) Gibbs Russell, G. E., W. G. Welman, E. Reitief, K. L. Immelman, G. Germishuizen, B. J. Pienaar, M. v. Wyk & A. Nicholas. "List of species of southern African plants." Mem. Bot. Surv. S. Africa 1987
5) Ernst Van Jaarsveld, Ben-Erik Van Wyk, Gideon Smith "Succulents of South Africa: A Guide to the Regional Diversity" Tafelberg Publishers, Limited, 01/lug/2000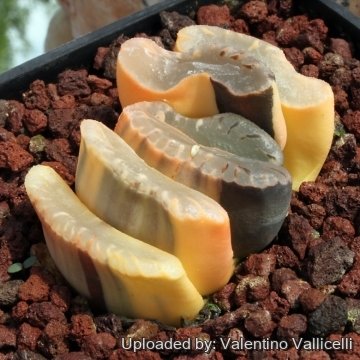 Haworthia truncata f. variegata
Photo by: Valentino Vallicelli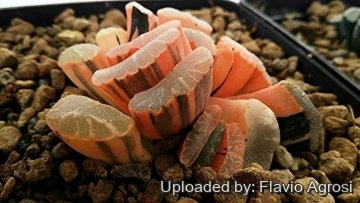 Haworthia truncata f. variegata
Photo by: Flavio Agrosi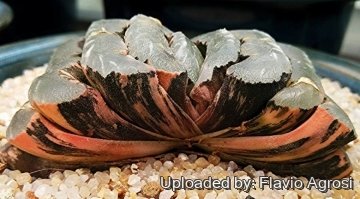 Haworthia truncata f. variegata
Photo by: Flavio Agrosi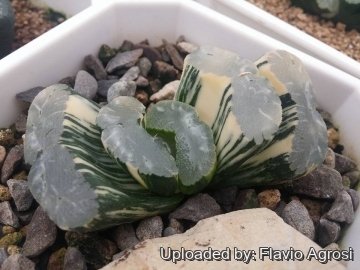 Haworthia truncata f. variegata
Photo by: Flavio Agrosi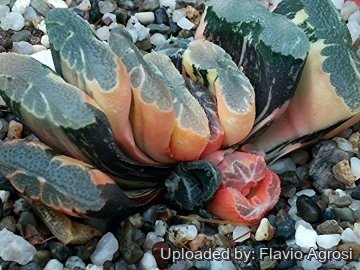 Haworthia truncata f. variegata
Photo by: Flavio Agrosi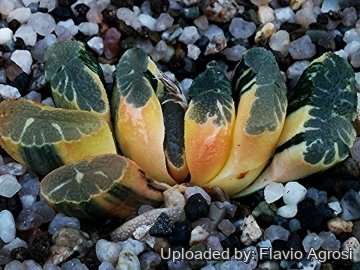 Haworthia truncata f. variegata
Photo by: Flavio Agrosi
Haworthia truncata f. variegata
Photo by: Flavio Agrosi
Send a photo of this plant.
The gallery now contains thousands of pictures, however it is possible to do even more. We are, of course, seeking photos of species not yet shown in the gallery but not only that, we are also looking for better pictures than those already present.
Read More...
Cultivation and Propagation: Variegated haworthia are regarded as choice and difficult in cultivation, but despite that many of them are relatively easy to grow. But be aware that they cannot tolerate prolonged exposure to direct sun light (especially during the hottest summer days), so grow them in half-shade or under filtered sun. However they are not so difficult to cultivate, though they are not fast growing and takes several years to form good looking heads. Haworthias are very responsive to differing cultural conditions both as regards colour, length and shape of leaves, rate of growth and size of plant.
Soil: Use mineral well-permeable substratum with little organic matter (peat, humus)and requires good drainage as it it is prone to root rot.
Fertilization: Feed it once or twice during the growing season with a fertilizer specifically formulated for cactus and succulents (poor in nitrogen), including all micro nutrients and trace elements diluted to ½ the strength recommended on the label.
Repotting: Must be repotted frequently, because every year a part of their roots die and then rots in the pot.
Watering Needs: Water regularly in the growing season, but avoid water-logging and let dry between watering, they should never dry out completely during the rest period. If grown in a container, bottom watering by immersing the container is recommended. It must have very dry atmosphere.
Sun Exposure: Keep cool and shaded in summer, and provide locations with diffuse sunlight or light shade, it can tolerate shade, shelter from direct sun during the hottest hours.
Frost Tolerance: Keep dry in winter at temperatures from 0 to 15 degrees centigrade. (In general these plants are more tender and cannot endure freezing temperatures ) In the rest period no high atmospheric humidity!!conservatory, in pots.
Pests and diseases: May be susceptible to mealybugs and rarely scale.
Propagation: By a vegetative method of propagation ( Leave-cuttings, division of old clustered specimens or micropropagation )Cuttings root easily and remain true to the species, while seeds tend to hybridize.