Donate now to support the LLIFLE projects.
Your support is critical to our success.
Since 4 Aug 2013
Accepted Scientific Name: Adromischus marianae (Marloth) A.Berger
Nat. Pflanzenfam., ed. 2 [Engler & Prantl] xviii a. 416 (1930) Engl. & Prantl
Cotyledon marianae (Adromischus marianae) Photo by: Julio C. García
Origin and Habitat: South Africa, South West Namibia.
Habitat: It grows among the crevices of the rocks or in the shade of shrubs and bushes and forms mats. It is widespread with many local forms. ( The typical Adromischus marianae var. marianae is limited in a small area on Foothills of the Cederberg around Clanwilliam).

Synonyms:
See all synonyms of Adromischus marianae
Common Names include:
CHINESE (中文):
玛丽安水泡
Description: Adromischus marianae is a bizarre-looking succulent plant with fleshy grey-green leaves spotted brown, but one of the most variable species in the genus and comprises innumerable morphological and geographical variants, every clone is distinct and individuals may be very different one to each other even within the same population. Some forms are so different that no identifying feature helps to relate them to each other. Cultivated plants can be reliably distinguished only when seeds or details of wild source are available.
Habit: Erect. rarely decumbent about 8 cm tall, with often tuberous roots.
Stem: Short, creeping or ascending.
Leaves: 2-12 cm long and x4-25 mm broad, linear-lanceolate to elliptic,rarely oborate, almost terete with a more or less pronounced central groove above, grey-green to greyish brown. rarely with bloom or spots. Tip acute or truncate. Base wedge-shaped. Margin at least in places horny.
Inflorescence: Spike-like thyrse with 1-flowered cyme 10-25 cm high, grey-green.
Flowers: Buds terete, slightly grooved. gradually tapered towards tip, erect at first. later spreading. Flowers upright, 1-1,2 cm long, with 5 fused petals, pale pink to white, with a thick bloom. Corolla-lobes 2-3 mm long, acute, spreading or recurved, white with purple margins, rough and with club-shaped hairs mainly in throat. Anthers not protruding from corolla tube.
Seeds: Very small.
Typical Adromischus marianae var. marianae (sensu stricto): is a sparsely branched, clump-forming plant up to 10 cm tall with thick old fibrous roots, leaves fairly narrow oblauceolate to elliptic, rarely lanceolate, concave above, often more or less spotted with grey to reddish darker markings, with a horny margin, usually distinct from tip to middle of leaf and resembles the dead twigs of surrounding bushes. It has the longest margin along the top edge of each leaf of any A. marianae variety.
Subspecies, varieties, forms and cultivars of plants belonging to the Adromischus marianae group
Notes: All Adromischus marianae varieties and forms can be distinguished from all other species by the ever-present horseshoe shaped margin, although sometimes it is tiny at the tip.
Bibliography: Major references and further lectures
1) Urs Eggli "Illustrated Handbook of Succulent Plants: Crassulaceae" Springer for Science, 01/gen/2003
2) Werner Rauh "Die großartige Welt der Sukkulenten : Anzucht und Kultur sukkulenter Pflanzen mit Ausnahme der Kakteen" Hamburg ; Berlin : P. Parey, cop. 1967
3) D. J. Court "Succulent Flora of Southern Africa" A.A. Balkema, 1981
4) James Cullen, Sabina G. Knees, H. Suzanne Cubey "The European Garden Flora Flowering Plants: A Manual for the Identification of Plants Cultivated in Europe, Both Out-of-Doors and Under Glass" Cambridge University Press, 11/ago/2011
5) J.P. Roux "Flora of South Africa" 2003
6) Domitilla Raimondo "Red list of South African plants 2009" South African National Biodiversity Institute, 2009
7) Ernst Van Jaarsveld, Ben-Erik Van Wyk, Gideon Smith "Succulents of South Africa: A Guide to the Regional Diversity" Tafelberg Publishers, Limited, 01/lug/2000
8) Ben P. Barkhuizen "Succulents of Southern Africa: With Specific Reference to the Succulent Families Found in the Republic of South Africa and South West Africa" Purnell, 1978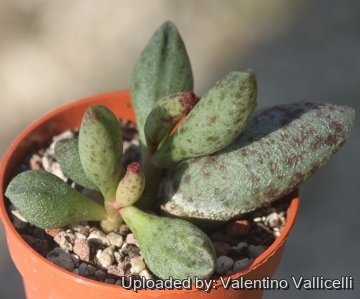 Cotyledon marianae
(Adromischus marianae)
Photo by: Valentino Vallicelli
Send a photo of this plant.
The gallery now contains thousands of pictures, however it is possible to do even more. We are, of course, seeking photos of species not yet shown in the gallery but not only that, we are also looking for better pictures than those already present.
Read More...
Cultivation and Propagation: Adromischus marianae is a most beautiful succulent but rarely seen in cultivation. It is not the easiest species to cultivate, and highly prone to rotting off, both at the height of winter or summer. It will not tolerate over-watering.
Growth rate: It is a relatively fast growing species.
Soil: Use mineral well-permeable substratum with very little organic matter (peat, humus).
It needs perfect drainage to flourish.
Repotting: Repotting every 2-3 years. As it is especially prone to rot under-pot in a smaller container filled with very porous compost. Use pot with good drainage. All species of this genus are happy in small pots.
Exposure: It grows best in a partially shaded position. It got sunburned if exposed to midday sun.
Hardiness: Require a minimum temperature 5°C (But hardy down to -7°C for short periods), with good drainage and dryness in winter to resist the cold.
Watering: It takes more water than cacti, but let the soil dry between soaking, in the wild, it receives rain mostly in spring and fall. Must have very dry atmosphere. Water less in winter but do not allow it to shrivel.
Pest & disease: It is vulnerable to mealybugs and rarely scale. It is prone to rotting from the tuberous base or from dried inflorescences. If the plants are not watered and "aired" correctly, fungicides won't help all that much.
Maintenance: As the plant matures, the centre becomes bare. When it does, restart it from side cuttings and throw away the central part. Remove flower spikes before winter.
Propagation: Usually propagate from single leaves (leaf cuttings) or stem cuttings seed propagation is rarely used. Leaves easily root and produce new plants. Twist off a leaf and permit it to dry out a couple of days, lay it on the soil and insert the stem end partially into the soil. The original leaf should not be removed until it has dried up. Try to keep the leaf somewhat upright so that the roots are able to grow downward. If grown in a container, bottom watering by immersing the container is recommended.