Donate now to support the LLIFLE projects.
Your support is critical to our success.
Since 4 Aug 2013
Adromischus marianiae var. hallii, Lorelei, Namibia
Origin and Habitat: Adromischus marianiae var. hallii grows within 30 km of the coast of the northern Richtersveld (West Bushmanland), Republic of South Africa, and in south-western Namibia.
Synonyms:
See all synonyms of Adromischus marianae
Description: Adromischus marianiae var. hallii is a rare plant from the South African/Namibian border, it has the broadest, thickest leaves within the Adromischus marianiae complex. Leaves are shorter, more rounded, chalky, grey-green either red spotted or plain. It is a dwarf to low-growing species, stays small and compact with tuberous roots and thick stems.
Roots: Tuberous.
Leaves: Broadly obovate to circular, 1.5 - 2.5 cm long, greyish-white to reddish green, occasionally spotted, lamina smooth, dorsiventrally flattened to globose. Marginal ridge raised, horny in the upper half and usually undulate.
Subspecies, varieties, forms and cultivars of plants belonging to the Adromischus marianae group
Bibliography: Major references and further lectures
1) Urs Eggli "Illustrated Handbook of Succulent Plants: Crassulaceae" Springer for Science, 01/January/2003
2) Doreen Court "Succulent Flora of Southern Africa" CRC Press, 01 June 2000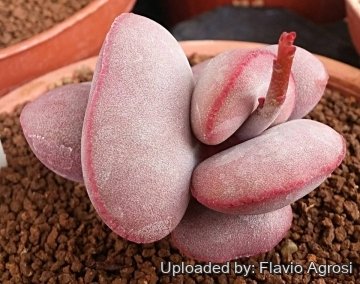 Adromischus marianiae halli Aurus Mountain, Slow growing.
Photo by: Flavio Agrosi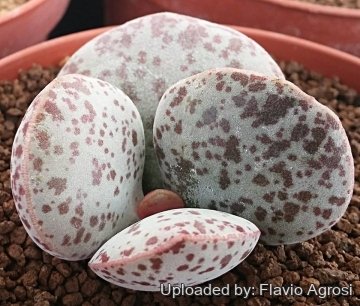 Adromischus marianiae var. hallii CR1235 Skimmelberg
Photo by: Flavio Agrosi