Donate now to support the LLIFLE projects.
Your support is critical to our success.
Since 4 Aug 2013
Accepted Scientific Name: Ananas sagenaria (Arruda) Schult. & Schult.f.
Syst. Veg., ed. 15 bis [Roemer & Schultes] 7: 1286 1830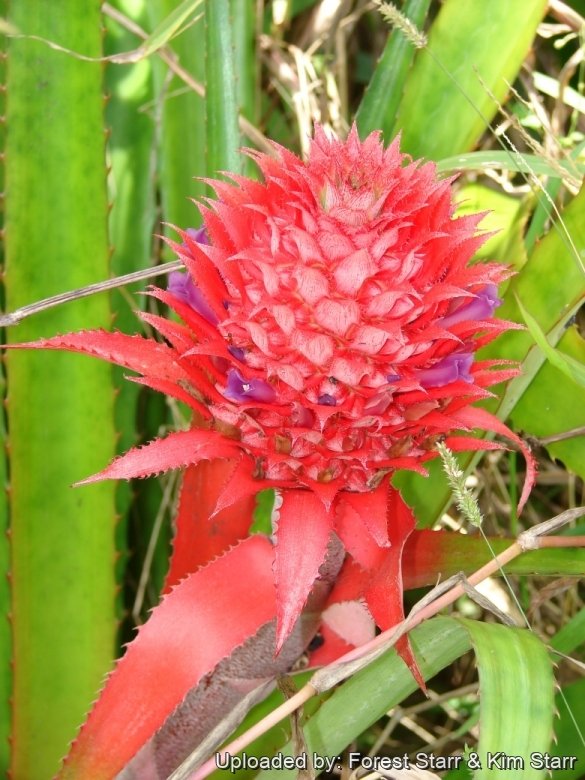 Bromelia sagenaria (Ananas sagenaria) Photo by: Forest Starr & Kim Starr
Flowers at Hana Gardenland, Maui, Hawaii (USA). March 21, 2007.
Origin and Habitat: Argentina, Bolivia, Brasil, Ecuador y Paraguay.
Habitat & ecology: Ananas sagenariaSN|24055]]SN|24055]] forms large clumps, covering the forest floor in semi-shaded dry, well-drained, semi-deciduous tropical forests or in heights rainforests. Usually appears with other terrestrial bromeliads generically called "garabatás". Whereas these areas encounter flooding and rainy seasons most of the year it is somewhat drought tolerant. It is very hard to find the fruit when ripe in the woods, for before they are devoured eagerly by many wild animals.
Synonyms:
See all synonyms of Ananas sagenaria
Accepted name in llifle Database:
Ananas sagenaria
(Arruda) Schult. & Schult.f.
Syst. Veg., ed. 15 bis [Roemer & Schultes] 7: 1286 1830
Synonymy: 18
Common Names include:
ENGLISH:
Pseudananas, Red Pineapple
FRENCH (Français):
Ananas sauvage, Ananas requin
PORTUGUESE (Português):
Pseudo-ananás, Abacaxi, Croá, Caraguatá, Caruatá, Caravatá, Gravatá do Mato, Gravatá, Gravata de Red, Arruda da Camara
SPANISH (Español):
Piña de Bárbaro, Gravata, Piña montañera
Description: Ananas sagenariaSN|24055]] (Pseudananas sagenariusSN|24059]]SN|24059]]) is a non-woody, understory perennial herb that resembles a pineapple plant, but differs from the "true pineapple" for the complete lack of crown and asexual reproduction by stolons. It is referred to by some as the "pineappple's first cousin". Ananas sagenaria is a naturally occurring tetraploid with 100 chromosomes. Some of the Ananas sagenariaSN|24055]]SN|24055]] characteristic suggests thait it could have originated by crosses of the genera Ananas and Bromelia, followed by chromosome duplication.
Leaves: Numerous, elongated, sword-like, up to 2,1 metres in length. The leaf margins bear strong, sharp, spines which are retrorse at the leaf base.
Inflorescence: Pineapple-like, crownless, with pink bracts with lavender blooms, which rises on a short peduncle from the centre of the rosette.
Fruit: The fruit is a small sincarpus ( A multiple fruit, in which several flowers, each with an ovary fuse with lower part of bracts and swell with receptacle to form the flesh of the sincarpus or pineapple). The decorative, red fruit differs from the common pineapple for its smaller size, higher acidity as well as lower sugar content and is more or less palatable.
Remarks: The commercial pineapple (Anans comosus), is probably a hybrid derived from the intersection of Ananas sagenariaSN|24055]]SN|24055]] (Pseudananas sagenariusSN|24059]]SN|24059]]), Ananas ananassoides, Ananas sagenariaSN|24055]] and other more wild pineapples which also yield edible fruits. All this species are found in the same geographical region, but in different ecological niches. The result of the intersection is the current commercial pineapple, a hybrid of better quality than their predecessors.
Bibliography: Major references and further lectures
1) Forest & Kim Starr "Pseudananas sagenarius (Pseudananas)". Plants of Hawaii. <http://www.starrenvironmental.com>. Downloaded on 20 August 2014.
2) James Cullen, Sabina G. Knees, H. Suzanne Cubey "The European Garden Flora Flowering Plants: A Manual for the Identification of Plants Cultivated in Europe, Both Out-of-Doors and Under Glass" Cambridge University Press, 11/Aug/2011
3) Wikipedia contributors. "Pseudananas sagenarius" Wikipedia, The Free Encyclopedia. Wikipedia, The Free Encyclopedia, 21 Aug. 2014. Web. 21 Aug. 2014
4) Klaus Kubitzki, H. Huber "Flowering Plants. Monocotyledons: Alismatanae and Commelinanae (except Gramineae)" Springer Science & Business Media, 27/Aug/1998
5) D. P. Bartholomew, Robert E. Paull, K. G. Rohrbach "The Pineapple: Botany, Production, and Uses" CABI, 20/Nov/2002
6) Girish Sharma "Systematics of Fruit Crops" New India Publishing, 2009
7) Claude Py, Jean Joseph Lacoeuilhe, Claude Teisson "Ananas" Editions Quae, 1987
8) David H. Benzing "Bromeliaceae: Profile of an Adaptive Radiation" Cambridge University Press, 06/Apr/2000
9) A. Charrier "Tropical Plant Breeding" Editions Quae, 01/Jan/2001
10) John William Purseglove "Tropical crops: monocotyledons" Volume 1 Halsted Press Division, Wiley, 1972
Flowers at Hana Gardenland, Maui, Hawaii (USA). March 21, 2007.
(Ananas sagenaria)
Photo by: Forest Starr & Kim Starr
Flowers at Hana Gardenland, Maui, Hawaii (USA). March 21, 2007.
(Ananas sagenaria)
Photo by: Forest Starr & Kim Starr
Cultivation and Propagation: Ananas sagenariaSN|24055]]SN|24055]] is a valuable ornamental bromeliads due to the beauty of the foliage and of the inflorescence and the facility of cultivation. It grows best with maximum heat, regular waterings, good drainage and plenty of compost but it will survive on benign neglect.
Growing substrate: It requires a well-drained, aerated, porous and moisture-retentive substratum which is rich of organic substance (e.g. 2 parts peat moss to 1 part loam to 1 part sand or perlite). Use only acidic soil.
Exposition: It will grow in any exposure from full sun to full shade. Growth is faster and the leaves are more rigid in full sun..
Watering: In summer it enjoys constant moderate waterings from rain or sprinkler, but allow the plant to dry in-between waterings, and reduced in winter. However it is quite drought-tolerant. In dry and hot climate, humidity can be increased with nebulisations utilizing water at room temperature and not calcareous. Requires complete and perfect drainage as root rot can be a problem if the soil is too moist.
Fertilizing: Fertilize every 4-week during the growing season with a balanced fertilizer diluted to ½ the strength recommended on the label. Apply mild solutions (one-quartet strength) of foliar fertilizer at 3-month intervals to both garden and container plants.
Hardiness: Ananas sagenariaSN|24055]]SN|24055]] is referred to by many as a little hardier than a tropical pineapple. It cultivated in open air in the tropical and humid subtropical climate countries, but can withstand light frost for short periods if very dry (hardy down to -2 to -6º C, even if with damage to the foliage) in these situations it will better resist if sheltered by the winter rains, seen that the humidity and low temperatures render it more sensitive to rottenness. Plants in containers however, suffered major leaf loss. USDA Zone 9b to 11.
Pest & diseases: It is susceptible to scale, trips and mosquitos that will sometimes breed in the pools of water that are trapped between the leaves. Mealybugs infestations are also a frequent problem.
Pruning: Remove old leaves from plant base and dead ?ower spikes only. Remove older plant crown when it begins to fade.
Ornamental uses: They are grown as ornamental plants for its fruit and can be used as hedges for home security. In colder places they can be grown indoors as a houseplant. Specimen plant; mass planting; container plant; tropical foliage and colourful ?owers. Red Pineapple is grown in tropical gardens and is used as a security hedge because of its spiny leaves. In colder places it can be grown indoors as a houseplant in luminous and spacious locations, seen the dimensions of the plant, even if there is the tendency to select for this purpose varieties of smaller sizes. Some ornamental varieties, including variegated cultivars are very valuable landscape plants that require very little care and create exotic tropical look.
Food uses: The bush yields the edible fruit known by natives as "nanas" or "ananas" (hence the genus name), that looks somewhat like a miniature pineapple, and from which is made a kind of wine.
Other uses: In Brazil, from the leaves they get particularly resistant fibres known as "gravata" that can be woven to make mats, hammocks, covers, bags and purses, clothing, fishing nets, string and ropes.
Propagation: Remove and replant stout offshoots and sukers from the base of the parent plant. Starting from the offshoots at least 3 years are needed for the blossoming. This plant also tufts quickly and easily reproduces in a vegetative way by means of the new plants which come out from the axillary gemmae placed between the leaves and on the stem under the fruit.
Warning: It is fiercely prickly. The edges of the leaves have sharp teeth so use extreme caution when handling.