Donate now to support the LLIFLE projects.
Your support is critical to our success.
Since 4 Aug 2013
Accepted Scientific Name: Bulbine latifolia (L.f.) Spreng.
Syst. Veg. (ed. 16) [Sprengel] 2: 86. 1825 [Jan-May 1825] Spreng.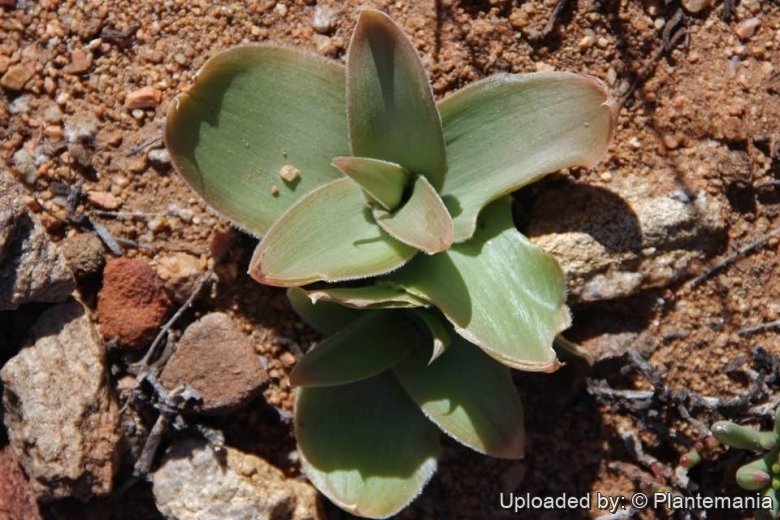 Bulbine brunsvigiifolia Photo by: © Plantemania
In habitat.
Origin and Habitat: Modderfontein, Little Namaqualand, North-West Cape Province, South Africa, South Africa.
Altitude range: Around 450-600 metres above sea level.
Synonyms:
See all synonyms of Bulbine latifolia
Description: Bulbine brunsvigiifoliaSN|34294]]SN|34298]] (previously known as B. brunsvigiæfolia or B. brunsvigiaefolia) was first named in 1987 by J. G. Baker. It is generally included within (as a synonym of) Bulbine latifoliaSN|34298]]SN|34294]] |SN|34294]], suggesting that there is not really a fundamental difference between the two, and hard to name accurately without knowing where they come from. The name brunsvigiifolia, meaning "Brunsvigia-like leaves", refers to the leaves that lie flat on the ground at the manner of Brunsvigia. The leaves distinguish this species from the other low growing species.
The original description included the following information:
Leaves: Thin, lorate-oblong (tongue shaped), 15-20 cm long, 5 cm broad, subobtuse, minutely cuspidate, glabrous on the surface, densely persistent, shortly ciliated on the edge.
Inflorescence: Peduncle stout, a foot long; flowers many in a lax raceme 7.5-10 cm long; pedicels ascending or spreading, 12-18 mm long; bracts membranous, ovate-lanceolate, 8-12 mm long; perianth 12 mm long; segments oblanceolate, obtuse, distinctly keeled with green; stamens 3 mm long; filaments densely stuppose in the upper half; anthers small, oblong; style filiform, 4 mm long; stigma capitate.
Subspecies, varieties, forms and cultivars of plants belonging to the Bulbine latifolia group
Bibliography: Major references and further lectures
1) J. G. Baker "Flora Capensis" 1897

Bulbine brunsvigiifolia
Photo by: © Plantemania
Send a photo of this plant.
The gallery now contains thousands of pictures, however it is possible to do even more. We are, of course, seeking photos of species not yet shown in the gallery but not only that, we are also looking for better pictures than those already present.
Read More...