Donate now to support the LLIFLE projects.
Your support is critical to our success.
Since 4 Aug 2013
sponsored link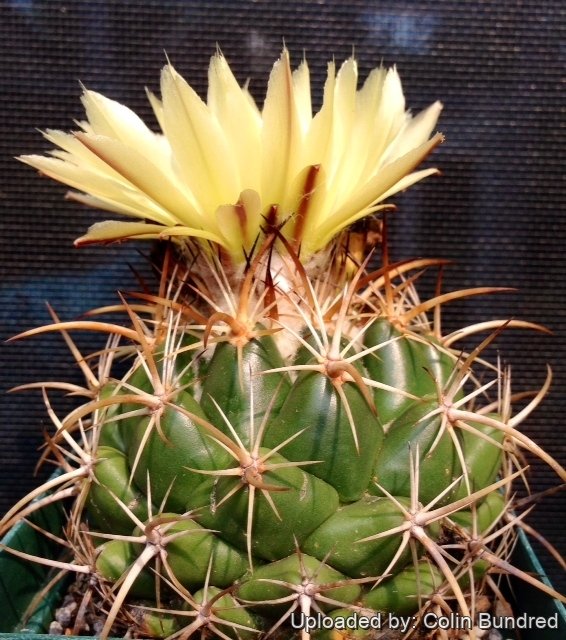 Coryphantha pallida subs. calipensis Photo by: Colin Bundred
A mature specimen showing the typical central spines of an older plant as well as the flower.
Origin and Habitat: Mexico, Puebla (Zinacan-tepec, Coxcatlan, San Jose Tilapa, San Gabriel Chilac ) and Oaxaca (Teotitlan del Camino, Cuicatlan, San Juan Tonaltepec.).
Type locality: Puebla - nearby of Calipan, Tehuacan
Altitude: Around 2000 metres above sea level.
Habitat: It dwells on foothills and ridges on gravel, alluvial terrain often on limestone.
Synonyms:
See all synonyms of Coryphantha pallida
Accepted name in llifle Database:
Coryphantha pallida subs. calipensis
(Bravo ex S.Arias, S.Gama López & U.Guzmán) Dicht & A.Lüthy
J. Mammillaria Soc. 40(4): 50 (2000)
Synonymy: 3
Accepted name in llifle Database:
Coryphantha pallida
Britton & Rose
Cactaceae (Britton & Rose)
Synonymy: 6
Accepted name in llifle Database:
Coryphantha pallida subs. pseudoradians
(Bravo) U.Guzmán & Vázq.-Ben.
Cactaceae Syst. Init. 6: 16 (11 Oct. 2003). Remarks: first published in U.Guzmán et al., Catálogo Cact. Mex.: 40 (May 2003), without basionym reference
Synonymy: 3
Description: Coryphantha calipensisSN|10082]]SN|10082]] is a low branching cactus forming more or less compact clusters with age. It is one of the most peculiar coryphanthas with pineapple appearance. This species is dimorphic with distinct young and mature forms. It passes a purely radial-spined youth stage with short tubercles, but develops central spines and long tubercles as it ages, giving the plant its characteristic appearance.
Stem: Almost globular to slightly elongated, 7-9 cm high, 5–9 cm in diameter blue green, greyish green or olive green, apex rounded very woolly.
Tubercles: Prominent, set in 5 and 8 series, conical, rhomboidal at the base, appressed to body with their apexes facing up, 2,5-3 cm broad, 2 cm long, with a deep woolly furrow.
Axils: With white wool, more dense at the top.
Areoles: Circular to oval, 2 mm in diameter, woolly in youth.
Radial spines: (8-)10–13(-16), 7-8 of them radiating, horizontally arranged, straight to slightly curved, 1-1,2 cm long, hyaline, white, the other ones longer at the upper part of the areoles, straight, more densely set, dirty white with dark tips, longer, up to 18 mm.
Central spine: 1 to 3 longer, one dominant, subulate, curved down-wards to almost hooked, basally yellowish-white with brownish to almost black tips, becoming grey. The 1-2 supplementary centrals (if present) are straight or slightly curved to the side and somewhat protruding upwards, thinner and shorter.
Flowers: 6-7 cm in diameter, whitish-yellow to lemon-yellow, stamens red, style with 8 yellow green stigma.
Fruits: Greenish-brown up to 20 mm long.
Seeds: Brown.
Flowering period: Summer. 4–5 years from seed.
Subspecies, varieties, forms and cultivars of plants belonging to the Coryphantha pallida group
Coryphantha pallida

Britton & Rose

Coryphantha pallida subs. calipensis

(Bravo ex S.Arias, S.Gama López & U.Guzmán) Dicht & A.Lüthy

: Has larger tubercles, fewer and shorter radial spines and shows a strong clustering habit. Distribution: east of ssp. pallida, without any interference between the two forms.
Coryphantha pallida subs. pseudoradians

(Bravo) U.Guzmán & Vázq.-Ben.

: Central spines are usually not formed. Rarely are one or two available. Distribution: Sierra Mixteca, Oaxaca, Mexico.
Bibliography: Major references and further lectures
1) Dr. med. Reto F. Dicht, Adrian D. Lüthy "Coryphantha: Cacti of Mexico and Southern USA" Springer, 2005
2) Walter Haage "Kakteen von A bis Z" by Kakteen-Haage
3) Bolanos Bautista, E. "Cactus. Cactáceas de la Reserva de la Biósfera Tehuacán/Cuicatlán."
4) Urs Eggli, Leonard E. Newton: "Etymological Dictionary of Succulent Plant Names." Springer, Berlin/Heidelberg 2010
5) Cactaceas y Suculentas Mexicanas. volume 37, Number 3, 1992, S. 71–72.
6) Reto F. Dicht, Adrian D. Lüthy: "A new conspectus of the genus Coryphantha." In: Cactaceae Systematics Initiatives. Number 11, 2001.
7) Clive Innes, Charles Glass "Cacti" Portland House, 01/May/1991
8) Arias, S., Zavala-Hurtado, A. & Hernández, C. 2013. Coryphantha pallida. In: IUCN 2013. "IUCN Red List of Threatened Species." Version 2013.2. <www.iucnredlist.org>. Downloaded on 14 January 2014.
Purely radial-spined youth stage.
Photo by: Valentino Vallicelli
Field number AF9 Tehuacan, Puebla, Mexico.
Photo by: Agócs György
Coryphantha pallida subs. calipensis
Photo by: Colin Bundred
Juveile areoles.
Photo by: Cactus Art
Field number AF9 Tehuacan, Puebla, Mexico.
Photo by: Agócs György
- mature form with central spines and long tubercles.
Photo by: Colin Bundred
Coryphantha pallida subs. calipensis
Photo by: Cactus Art
Send a photo of this plant.
The gallery now contains thousands of pictures, however it is possible to do even more. We are, of course, seeking photos of species not yet shown in the gallery but not only that, we are also looking for better pictures than those already present.
Read More...
Cultivation and Propagation: In culture Coryphantha pallida subs. calipensisSN|10081]]SN|10081]] is without problems and regularly shows its large yellow flowers. It is a summer-growing species of easy cultivation but sensitive to overwatering (rot prone).
Growth rate: Slow growing. It needs about 8-12 years to reach the typical, definite outlook.
Soil: Grow it in an open sandy-gritty cactus compost.
Pots: It needs a relatively shallow pot to accommodate its fibrous roots and provide a very good drainage. They may stay in the same pot for many years.
Watering: Water in moderation, it prefer a completely dry place during winter. Mature individuals easily rot and die especially after planting so be extremely cautious with watering. Keep dry in winter or when night temperatures remain below 10° C. Water it less than average if in bigger pots.
Special need: Provide very good ventilation. Nearly all problems occur as a result of overwatering and poor ventilation, especially when weather conditions are dull and cool or very humid.
Fertilization: Feed them once during the growing season with a fertilizer specifically formulated for cactus and succulents (high potash fertilizer with a dilute low nitrogen), including all micro nutrients and trace elements diluted to ½ the strength recommended on the label. They thrive in poor soils and need a limited supplies of fertilizer to avoid the plants developing excess vegetation, which is easily attacked by fungal diseases.
Exposure: It will do its best with lots of sun and become stressed with inadequate light which could result in poor growth and unnatural shape.
Hardiness: It likes warmth (recommended minimum winter temperature 5° C) however plants kept perfectly dry can can survive low temperatures, approx. -5°, but for safe cultivation it is best to avoid freezing temperatures.
Use: It can be cultivated outdoors in raised beds, terraces if sheltered from winter rain.
Pests & diseases: These cacti may be attractive to a variety of insects, but plants in good condition should be nearly pest-free, particularly if they are grown in a mineral potting-mix, with good exposure and ventilation. Nonetheless, there are several pests to watch for:
- Red spiders: Red spiders may be effectively rubbed up by misting the plants from above.
- Mealy bugs: Mealy bugs occasionally develop aerial into the new growth and flowers with disfiguring results, but the worst types develop underground on the roots and are invisible except by their effects.
- Rot: Rot is only a minor problem if the plants are watered and "aired" correctly. If they are not, fungicides won't help all that much.
Propagation: Seeds. The seeds can be sown in pots of fine, well-drained sandy soil, any time during the spring when temperatures are warm. Cover the seeds with a fine layer of grit and water from below with a fungicide to prevent damping off. For the 1-2 weeks cover the pots with a sheet of glass/clear perspex to keep the humidity levels high. Remove the glass and replace it with light shade-cloth and mist once or twice a day for the next two weeks after which most seeds should have germinated. From then on mistings can be reduced to every second and then every third day as the little plants grow.