Donate now to support the LLIFLE projects.
Your support is critical to our success.
Parodia rudibuenekeri Photo by: Prof. Ilham Alakbarov
Origin and Habitat: Parodia rudibuenekeriSN|14374]]SN|14374]] comes from Brazil (West of Sao Gabriel, Rio Grande do Sul). It is known from 5 or less locations, and the population can also be considered severely fragmented (extent of occurrence of 2 km2)
Altitude: 200-400 metres above sea level.
Habitat and Ecology: It grows on exposed rocks in grasslands. There are many threats affecting this species, the most important are trampling from cattle, mining, fires and agro-forestry of exotic species (Eucalyptus).
Synonyms:
See all synonyms of Parodia rudibuenekeri
Description: Parodia rudibuenekeriSN|14374]]SN|14374]] is a white, fuzzy cactus, usually solitary, or slowly clustering with spiral of dense white spines in columns.
Stem: Globose-Cylindrical, erect, green, up to 20 cm tall, 5 cm in diameter.
Spines: Long, erect, very white, glassy and soft.
Flowers: Diurnal, opening in during the day and closing at night. Pale to bright yellow up to 4 cm in diameter, developing from white flower-buds.
Blooming season: Summer.
Subspecies, varieties, forms and cultivars of plants belonging to the Parodia rudibuenekeri group
Parodia rudibuenekeri

(W.R.Abraham) Hofacker & P.J.Braun

: Usually solitary, with a dark-green to blue-green stem, with 25-30 ribs. Radial spines about 25. Distribution: Near Sao Gabriel.

Parodia rudibuenekeri f. albissima

hort.

: Selected form with long, very white and soft spines.

Parodia rudibuenekeri subs. glomerata

(N.Gerloff) Hofacker

: Usually clustered. The stems are are dark green to gray-green, with 20-26 ribs, and it has 25-30 radial spines. distribution: Minas do Camaqua and Santana da Boa Vista.
Bibliography: Major references and further lectures
1) Larocca, J. 2013. Parodia rudibuenekeri. In: IUCN 2013. "IUCN Red List of Threatened Species." Version 2013.2. <www.iucnredlist.org>. Downloaded on 05 March 2014.
2) David Hunt, Nigel Taylor "The New Cactus Lexicon" DH Books, 2006
3) Edward F. Anderson "The Cactus Family" Timber Press, 2001
4) James Cullen, Sabina G. Knees, H. Suzanne Cubey "The European Garden Flora Flowering Plants: A Manual for the Identification of Plants Cultivated in Europe, Both Out-of-Doors and Under Glass"Cambridge University Press, 11/ago/2011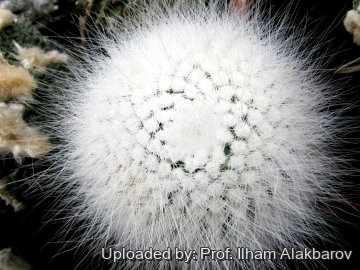 Parodia rudibuenekeri
Photo by: Prof. Ilham Alakbarov
Send a photo of this plant.
The gallery now contains thousands of pictures, however it is possible to do even more. We are, of course, seeking photos of species not yet shown in the gallery but not only that, we are also looking for better pictures than those already present.
Read More...
Cultivation and Propagation: This is an easy plant to cultivate. It require a mineral-based potting mix with a good drainage. Can support quite some water during the growing season but pot plants in winter are wet-sensitive and needs to be kept dry (rots easily if soil is wet and cold). Usually it is recommended to over-winter this plant in a bright and warm greenhouse with at least 8-10° C, but it has proved to tolerate temperatures as low as -5° C for short periods.
Sun Exposure: Light shade to full sun but doesn't like full, hot blazing sun in the central summer month.
Propagation: Seeds, cuttings. Not too difficult to raise from seed.