Donate now to support the LLIFLE projects.
Your support is critical to our success.
Discocactus latispinus
Succulenta (Netherlands) 56(11): 259. 1977 et in A.F.H. Buining, Discocactus: 95 (?1976).
Family: CACTACEAE
Accepted Scientific Name: Discocactus placentiformis (Lehm.) K.Schum.
Nat. Pflanzenfam. Nachtr. [Engler & Prantl] iii. 6 a. (1894) 190.
Discocactus latispinus Photo by: Agócs György
At Rebutialand cactus collection Demjén, Hungary.
Origin and Habitat: Joaquim Felicio and adjacent areas, Minas Gerais, Brazil.
altitude: 500-700 metres above sea level.
Habitat: It grows among rocks and grasses often under low growing shrubs.

Synonyms:
See all synonyms of Discocactus placentiformis
Accepted name in llifle Database:
Discocactus placentiformis
(Lehm.) K.Schum.
Nat. Pflanzenfam. Nachtr. [Engler & Prantl] iii. 6 a. (1894) 190.
Synonymy: 26
Description: Discocactus latispinusSN|1444]]SN|1444]] is one of the several local forms of the very variable Discocactus placentiformisSN|1430]]SN|1430]]. This plant can look similar to the other "placentiformis", but with 5 spines of which the lowest one more long and characteristically flattened. All the other characteristics show that they are congeneric, namely size and form of tubercles, flowers and fruits. Discocactus latispinusSN|1444]]SN|1444]] blooms on warm summer nights. Its fragrant flowers are pollinated by moths.
Stem: Low, flattened-globular, less than 7 cm tall (without cephalium) and about 10-12 cm in diameter light to dark green, with woolly cephalium.
Ribs: mostly 13-15 low to acute up to 1,5 cm high, not or only slightly tuberculate, distinctly enlarged at the areoles and without acute sinuses between adjacent areoles on the same rib.
Areoles: Round to oval 5-8 on each rib on plants with cephalium.
Cephalium: 3,5 cm tall, 4-6 cm in diameter, with cream-white to greyish-white wool and black bristles 1,5-2.5 cm long.
Radial spines: 5(-6) conspicuous, pale grey to brown/black with darker tips, becoming grey with age, slightly recurved backwards, of which 2(-3) pointing upwards about 5 mm long, 2 lateral pointing dowmward about 1,5 cm long, and 1 lower spine up to 2,5 cm long, clawlike, somewat fleattened and up to 2 mm thick.
Central spine: Usually absent.
Flowers: Nocturnal lasting only a single night, and rapidly collapsing into mush the next morning, extremely fragrant, slender funnelform, up to to 7,5 cm long, white arising from the cephalium.
Blooming season: Summer, it needs a good exposure to with some sun to bloom , so it's pretty rare to have blossoms when in cultivation in greenhouses. It is not unusual for this Melocactus to take 7 or more years before it starts blooming, but once it does, it should every year.
Fruit: Club shaped white or cream sometime with a pink tip, up to 3 cm long and 0,8 cm in diameter containing a few black seeds.
Subspecies, varieties, forms and cultivars of plants belonging to the Discocactus placentiformis group
Bibliography: Major references and further lectures
1) Edward Anderson "The Cactus family" Timber Press, Incorporated, 2001
2) James Cullen, Sabina G. Knees, H. Suzanne Cubey "The European Garden Flora Flowering Plants: A Manual for the Identification of Plants Cultivated in Europe, Both Out-of-Doors and Under Glass" Cambridge University Press, 11/Aug/2011
3) David R Hunt; Nigel P Taylor; Graham Charles; International Cactaceae Systematics Group. "The New Cactus Lexicon" dh books, 2006
4) N. L. Britton, J. N. Rose "The Cactaceae. Descriptions and Illustrations of Plants of the Cactus Family." Volume 4, The Carnegie Institution of Washington, Washington 192
4) Urs Eggli, Leonard E. Newton "Etymological Dictionary of Succulent Plant Names" Birkhäuser 2004.
5) Clive Innes "Complete Handbook of Cacti and Succulents" Van Nostrand Reinhold Company, 01/Dec/1981
6) John Pilbeam "Cacti for the Connoisseur: A Guide for Growers & Collectors" Timber Press, 01/Jul/1987
Discocactus latispinus
Photo by: Valentino Vallicelli
HU640
Photo by: Agócs György
Discocactus latispinus
Photo by: Valentino Vallicelli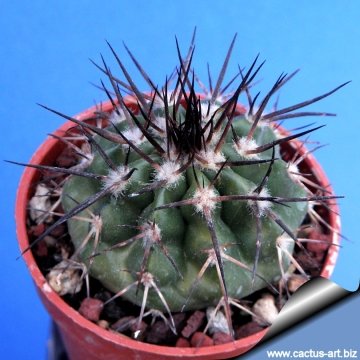 Discocactus latispinus
Photo by: Cactus Art
Discocactus latispinus
Photo by: Valentino Vallicelli
At Rebutialand cactus collection Demjén, Hungary.
Photo by: Agócs György
Discocactus latispinus
Photo by: Agócs György
Send a photo of this plant.
The gallery now contains thousands of pictures, however it is possible to do even more. We are, of course, seeking photos of species not yet shown in the gallery but not only that, we are also looking for better pictures than those already present.
Read More...
Cultivation and Propagation: Discocactus latispinus is not the easiest plant to keep happy, so it isn't a plants for beginners, in fact collectors consider the Discocactus to be rarities which requires skilful cultivation. Under glass, it isn't difficult, but appreciates milder winter temperatures and more generous summer watering than most of the other genera of compact cacti. When grown to maturity, however, it possess an exotic look shared by no other cacti, and it generally attract a lot of attention.
Growing rate: It is slow growing.
Soil: It likes very porous standard cactus mix soil. Prefer a low pH compost, avoid substrata rich in limestone; otherwise growth will stop altogether.
Repotting: They generally resent being repotted and can take a long time to establish.
Fertilization: Feed with a high potassium fertilizer in summer.
Exposition: The plant tolerates bright situations but enjoys filtered sunlight or afternoon shade, inside it needs bright light, and some direct sun. Tends to bronze in strong light, which encourages flowering and heavy spine production.
Waterings: Discocacti are very rot prone when kept on their own roots and though they can't endure long stretches of total dryness, too much water with cool will rot them, as their weak root systems tend to be inefficient at sucking up water from wet soil.
Hardiness: It is rather difficult to grow and frost tender, it can't stand cold, or even fairly cool temperatures and should be kept at above 15° C if grown on its own roots (8°C if grafted).
Uses: It is an excellent plant for container growing. It always looks good and stays small.
Pests & diseases: It may be attractive to a variety of pests or diseases:
- Red spiders: Red spiders may be effectively rubbed up by watering the plants from above.
- Mealy bugs: Mealy bugs occasionally develop aerial into the new growth among the wool with disfiguring results, but the worst types develop underground on the roots and are invisible except by their effects.
- Scales: Scales are rarely a problem.
- Rot: Rot it is only a minor problem with cacti if the plants are watered and "aired" correctly. If they are not, fungicides won't help all that much.
Propagation: Seeds or grafting. Seeds germinate in 7-14 days at 21-27° C in spring, remove gradually the glass cover as soon the plants will be well rooted (ca 1-2 weeks) and keep ventilated, no full sun for young plants! .Young seedlings are often grafted on a low stock to keep the plant in a good shape.