Donate now to support the LLIFLE projects.
Your support is critical to our success.
Since 4 Aug 2013
Pediocactus bradyi Photo by: Valentino Vallicelli
SB470 Coconino Co, Arizona, USA
Origin and Habitat: Pediocactus bradyi is endemic to Navajo Bridge and House Rock Valley, Coconino County, in northern Arizona, USA. It occurs scattered in naturally small populations (>300 individuals). There are less than 2500 individuals.
TL: Near the Marble Canyon of the Colorado River, Coconino County.
Altitude: 100-1350 metres above sea level.
Habitat: It occurs in desert shrubland on gravelly, gently sloping benches and terraces in open, exposed, sunny situations. Mycorrhiza are associated with the roots of this cactus. The fungus is acquired from the parent plant (the seed germinating immediately alongside the parent plant) or from the roots of grasses. The plants retracts in the ground during dry periods. The main threats for Pediocactus bradyi are overcollecting for the horticultural trade, highway construction and maintenance, off-road vehicles and grazing.
Synonyms:
Common Names include:
ENGLISH:
Marble Canyon Cactus, Brady's Pincushion Cactus, Brady Plains Cactus, Brady's Hedgehog Cactus
Description: Pediocactus bradyi is a small cactus species with globular semi-globose stem, 4-6 cm tall, 5 cm in diameter (in habitat forms clumps and individual heads are only 1-2 cm across).
Areoles: Elliptic, densely felted.
Central spines: Generally it has no central spine(s).
Radial spines: 12 to 15 short spreading, almost pectinate, white to yellow, 2 to 6 mm long.
Flowers: Pale-yellow to olive-white silky, 2,5-4 cm in diameter, 2 cm high. Back of petals brown-edged in white.
Blooming season: Early March-April.
Notes: Hunt et al. (2006) treat Pediocactus desainii and Pediocactus winkleri as subspecies of P. bradyi, but these are widely accepted as being good species. They are considered separate species here.
Bibliography: Major references and further lectures
1) Marshall Cavendish Corporation "Endangered Wildlife and Plants of the World" Volume 2 Marshall Cavendish, 2001
2) Edward Anderson "The Cactus family" Timber Press, Incorporated, 2001
3) James Cullen, Sabina G. Knees, H. Suzanne Cubey "The European Garden Flora Flowering Plants: A Manual for the Identification of Plants Cultivated in Europe, Both Out-of-Doors and Under Glass" Cambridge University Press, 11/Aug/2011
4) David R Hunt; Nigel P Taylor; Graham Charles; International Cactaceae Systematics Group. "The New Cactus Lexicon" dh books, 2006
5) Butterworth, C. & Porter, J.M. 2013. Pediocactus bradyi. In: IUCN 2013. "IUCN Red List of Threatened Species". Version 2013.2. <www.iucnredlist.org>. Downloaded on 12 March 2014.
SB470 Coconino Co, Arizona, USA (yellow spines type)
Photo by: Prof. Ilham Alakbarov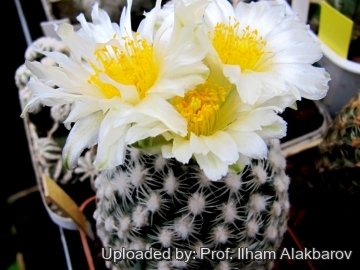 SB470 Coconino Co, Arizona, USA (white spines type)
Photo by: Prof. Ilham Alakbarov
Pediocactus bradyi
Photo by: Valentino Vallicelli
Pediocactus bradyi
Photo by: Valentino Vallicelli
Dark areoles type at at Rebutialand cactus collection Demjén, Hungary.
Photo by: Agócs György
White areole type.
Photo by: Valentino Vallicelli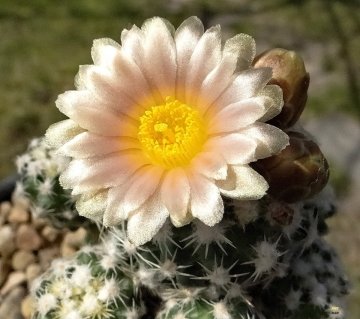 Pediocactus bradyi
Photo by: Agócs György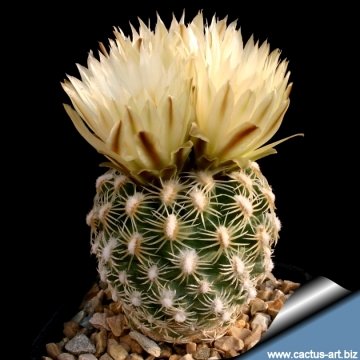 Pediocactus bradyi
Photo by: Cactus Art
Cultivation and Propagation: Under cool temperatures and wet conditions, it is highly susceptible to root rot. For this reason it is usually cultivated as a grafted plant, which is very easy to cultivate and free flowering. Best for full sun exposures.
The flowers buds stay dormant on the plant apex all winter, they will then open in spring when the temperature rises.
To avoid any damage to the buds don't let grafted plants that stay in the heated greenhouse completely dry out. Some light watering in winter is useful for keeping the flower hydrated and healthy.
Your Photos
---
by Valentino Vallicelli

by Valentino Vallicelli

by Valentino Vallicelli

by Valentino Vallicelli

by Cactus Art