Donate now to support the LLIFLE projects.
Your support is critical to our success.
Since 4 Aug 2013
Gymnocalycium erinaceum Photo by: Valentino Vallicelli
STO 90-352/2 El Sauce to Rio Pinto, Cordoba, Argentina. (Collector: Helmut Amerhause, Franz Strigl and Hans Till) It has a small shiny stem with short brow spines that fade cream-white near the end, It makes for a very handsome appearance. The flowers are white with reddish throat
Origin and Habitat: Gymnocalycium erinaceum is endemic to Argentina, South America, where it occurs in Córdoba (Sierra de Tulumba, Sauce Punco). It has a relatively wide range. It is not particularly abundant but it is common.
Altitude range:It grows at elevations of 500 to 1,200 metres above sea level.
Habitat and Ecology: The species grows in chaco forest. There are no major threats affecting this species.
Synonyms:
See all synonyms of Gymnocalycium erinaceum
Accepted name in llifle Database:
Gymnocalycium erinaceum
J.G.Lamb.
Succulenta (Netherlands) 64(3): 66 (1985)
Synonymy: 2
Description: Gymnocalycium erinaceum is a small species with solitary or clustering stems, it may clusters when small. This slow-growing plant will eventually form clusters up to 15 cm across.
Derivation of specific name: erinaceus Latin, hedgehog, for the prickly spination.
Stem: Globose-Flattened dark grey-green to brownish green glaucous, 5-6 cm in diameter and up to 5 cm long.
Ribs: About 12.
Areoles: Rounded to elongated with short cream-white wool.
Spines: Short, thin, dense, spider-like, slightly curved which are dark brownish-red to brownish-black as they leave the grey-white areole, and then fade near the end to the same colour as the areole wool.
Central spines: 1-2 up to 10 mm long similar to radials.
Radial spines: 7-9, straight, one pointed downward, the others arranged in pairs pointing sideways, 6-8 mm long.
Flowers: Bell to funnel-shaped, pure white or white whit a reddish throat, 5-5-5 cm long, diameter approx 4.8 cm.
Blooming season: Spring.
Fruits: Spindle shaped, green/bluish up to1,6 cm long and 1,3 cm wide.
Bibliography: Major references and further lectures
1) Edward Anderson "The Cactus family" Timber Press, Incorporated, 2001
2) Hunt, D., Taylor, N. and Charles, G. (compilers and editors). "The New Cactus Lexicon." dh Books, Milborne Port, UK. 2006.
3) Demaio, P. & Trevisson, M. 2013. Gymnocalycium erinaceum. The IUCN Red List of Threatened Species 2013: e.T152089A595927. http://dx.doi.org/10.2305/IUCN.UK.2013-1.RLTS.T152089A595927.en. Downloaded on 19 November 2016.
4) Charles, G. "Gymnocalycium in Habitat and Culture. Graham Charles, Stamford". 2009.
5) Eggli, Urs; Newton, Leonard E. "Etymological Dictionary of Succulent Plant Names." Springer. 2004.
6) Succulenta. volume 64, Number 3, 1985, pp. 64–66.
7) Metzing, D., M. Meregalli, and R. "Kiesling. An annotated checklist of the genus Gymnocalycium Pfeifferex Mittler (Cactaceae)." Allionia 33:181-228.1995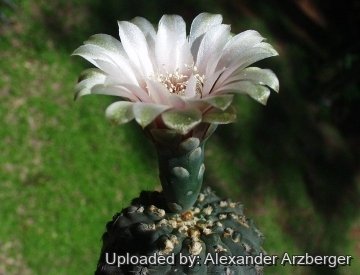 Gymnocalycium erinaceum
Photo by: Alexander Arzberger
Gymnocalycium erinaceum
Photo by: Valentino Vallicelli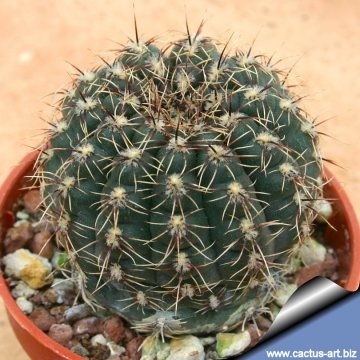 Gymnocalycium erinaceum
Photo by: Cactus Art
Gymnocalycium erinaceum
Photo by: Cactus Art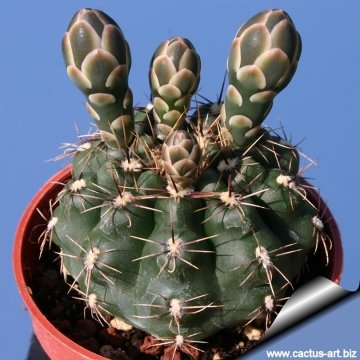 Gymnocalycium erinaceum
Photo by: Cactus Art
Gymnocalycium erinaceum
Photo by: Cactus Art
Gymnocalycium erinaceum
Photo by: Cactus Art
Send a photo of this plant.
The gallery now contains thousands of pictures, however it is possible to do even more. We are, of course, seeking photos of species not yet shown in the gallery but not only that, we are also looking for better pictures than those already present.
Read More...
Cultivation and Propagation: Gymnocalycium erinaceum is one of the most cold-tolerant South American species. It can grow outdoors and is hardy to -12° C or less. Prefer a low pH compost; otherwise growth will stop altogether. The plant tolerates extremely bright situations but enjoys some shade during the hottest part of the day in summer. Water regularly in summer, keep rather dry in winter
Propagation: Seeds, offsets