Donate now to support the LLIFLE projects.
Your support is critical to our success.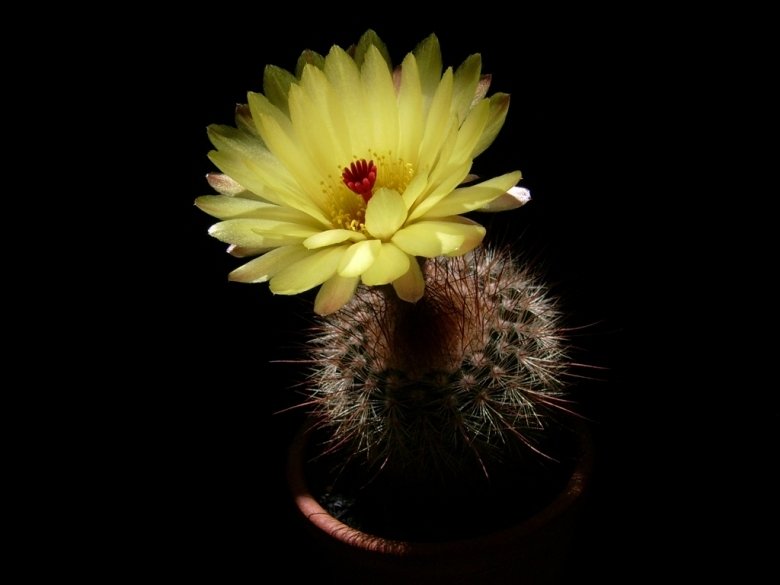 Parodia tabularis Photo by: Cactus Art
Photo by: Mladen Turcinovic Dubrovnik CROATIA
Origin and Habitat: Brazil and Uruguay at low altitudes.
Synonyms:
See all synonyms of Parodia tabularis
Description: Parodia tabularis, best known as Notocactus tabularis, is a small cactus species with stems thickly clothed with dense white and brown, darker-tipped spines. The flowers are glossy yellow with contrasting carmine stigma lobes.
Habit: It is a solitary perennial stem succulent. Multiple branches may also been produced when the apex is damaged.
Stem: Globose often flattened apically or short-columnar 8-10 cm across, bluish-green.
Ribs: 16-18(-23), somewhat crenate, obtuse, glaucous.
Radial spines: (12-)16 to 18, acicular, spreading, whitish, to 10 mm long.
Central spines: 3 to 4 forming a cross, curving slightly, white with brown tips, to 12 mm long.
Flowers: Glossy yellow, coming from near the apex of the plant, about 5-6 cm long; perianth-segments narrow, acute; scales of ovary and floral tubes bearing dense white wool and long brown bristles in their axils. Stigma lobes carmine red to purple.
Fruits: Egg-shaped, yellowish green, to 1,2 cm long and 0,7 cm across.
Seeds: Hemispheric or cap-shaped with a broad truncate base, brownish-black, papillose-roughened, about 1 mm broad.
Subspecies, varieties, forms and cultivars of plants belonging to the Parodia tabularis group
Bibliography: Major references and further lectures
1) Edward Anderson "The Cactus family" Timber Press, Incorporated, 2001
2) Nathaniel Lord Britton, Joseph Nelson Rose "Cactaceae: Descriptions and Illustrations of Plants of the Cactus Family" vol. 4 The Carnegie Institution of Washington, Washington 1923
3) James Cullen, Sabina G. Knees, H. Suzanne Cubey "The European Garden Flora Flowering Plants: A Manual for the Identification of Plants Cultivated in Europe, Both Out-of-Doors and Under Glass" Cambridge University Press, 11/Aug/2011
12) David R Hunt; Nigel P Taylor; Graham Charles; International Cactaceae Systematics Group. "The New Cactus Lexicon" dh books, 2006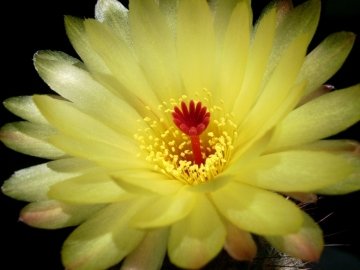 Photo by: Mladen Turcinovic Dubrovnik CROATIA
Photo by: Cactus Art
Parodia tabularis
Photo by: Alexander Arzberger
Cultivation and Propagation: This is an easy plant to cultivate. It require a mineral-based potting mix with a good drainage. Can support quite some water during the growing season but pot plants in winter are wet-sensitive and needs to be kept dry (rots easily if soil is wet and cold). Usually it is recommended to over-winter this plant in a bright and warm greenhouse with at least 8-10° C , but it has proved to tolerate temperatures as low as -5° C for short periods.
Sun Exposure: Light shade to full sun but doesn't like full, hot blazing sun in the central summer month.
Propagation: Seeds, cuttings. Not too difficult to raise from seed.