Donate now to support the LLIFLE projects.
Your support is critical to our success.
Echinopsis pugionacantha Photo by: Valentino Vallicelli
The flowers are diurnal, scented, yellow, pink, orange or red, up to 4,5 cm long and in diameter.
Origin and Habitat: Southern Bolivia (Chuquisaca, Potosí and Tarija), northern Argentina (Jujuy).This species is common in the northern subpopulation.
Altitude: (3000-)3400-3800(4100) metres above sea level.
Habitat and Ecology: The species grows in puna on rocky soils. The only threat is urbanization close to the southern subpopulation occurring in Argentina.



Synonyms:
See all synonyms of Echinopsis pugionacantha
Description: Usually simple or rarely basally branched. This species reputedly grows almost completely hidden below the soil (in habitat), and is extremely hard to find unless it is in bloom. Three subspecies are recognized, the nominate form, subsp. haemantha (Rausch) M.Lowry and subsp. rossii (Boed.) G.Navarro.
Stem: Globose, dull green, thick and growing mostly underground, but the stem of the plant in cultivation is usually globular or ovoidal and aerial. Dimension: 8-15 cm tall, 4-5 cm in diameter.
Ribs: 16 to 17, straight or spiralled.
Areoles: Oval filled, with grey wool in youth.
Radial spines: 4 to 7 (or more), flatly spreading, yellow to white with black tips, straight, subulate, dagger‑shaped, up to 3 cm (or more) long, though variable from plant to plant.
Central spines: lacking.
Roots: Long, fat, tuberose taproot.
Flower: Diurnal, scented, funnelform, yellow, pink, orange or red, up to 4,5 cm long and in diameter.
Fruits: Green, small, globose, semidry and dehiscent.
Subspecies, varieties, forms and cultivars of plants belonging to the Echinopsis pugionacantha group
Bibliography: Major references and further lectures
1) Lowry, M. & Demaio, P. 2013. Echinopsis pugionacantha. The IUCN Red List of Threatened Species. Version 2015.1. <www.iucnredlist.org>. Downloaded on 19 June 2015.
2) David R Hunt; Nigel P Taylor; Graham Charles; International Cactaceae Systematics Group. "The New Cactus Lexicon" dh books, 2006
3) Edward Anderson "The Cactus family" Timber Press, Incorporated, 2001
4) James Cullen, Sabina G. Knees, H. Suzanne Cubey "The European Garden Flora Flowering Plants: A Manual for the Identification of Plants Cultivated in Europe, Both Out-of-Doors and Under Glass" Cambridge University Press, 11/Aug/2011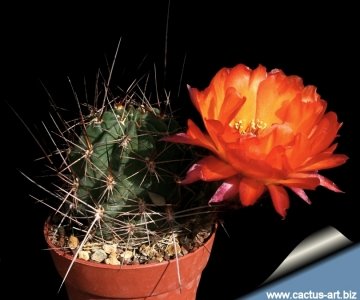 Echinopsis pugionacantha
Photo by: Cactus Art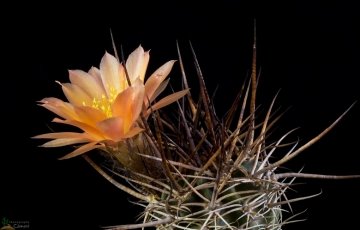 Lobivia pugionacantha (Echinopsis pugionacantha) LF626 Salo, Potosi, Bolivia 3726 m)
Photo by: Peiffer Clement
Echinopsis pugionacantha
Photo by: Peiffer Clement
Echinopsis pugionacantha
Photo by: Cactus Art
Echinopsis pugionacantha
Photo by: Cactus Art
La Quiaca, Jujuy, Argentina
Photo by: Valentino Vallicelli
Echinopsis pugionacantha
Photo by: Valentino Vallicelli
Send a photo of this plant.
The gallery now contains thousands of pictures, however it is possible to do even more. We are, of course, seeking photos of species not yet shown in the gallery but not only that, we are also looking for better pictures than those already present.
Read More...
Cultivation and Propagation: is a summer-growing species that offers no cultivation difficulties. Water regularly in summer (but do not over-water). It is rot prone, and should be planted in a shallow pot. Like most Echinopsis cultivated for their blossoms, it needs a soil mixture that's a little richer than for the average cactus, still with excellent drainage. Keep rather dry in winter.
It is quite frost resistant if kept dry (hardy to -5°(-18°) C Outside full sun or afternoon shade, inside it needs bright light, and some direct sun.
Propagation: Sow directly after last frost, offsets (if available).