Donate now to support the LLIFLE projects.
Your support is critical to our success.
Parodia fusca Photo by: Valentino Vallicelli
The flowers are numerous and very showy, they are yellow with glossy petals and have a dark purple stigma.
Origin and Habitat: Brazil, Rio Grande do Sul (Sao Francisco de Assis, Cerro de Tigre, Fazienda Ité, Paradao Itaqui, Barragem do Itu, Passo Novo, Manuel Viana, Itacurubi, Alegrete)
Synonyms:
Description: Small solitary cactus.
Stem: Globular, 10-12 cm wide, up to 18 cm tall, apex depressed. Epidermis dark green.
Ribs: 19-26, approx 5-11 mm wide, vertical or spiralling and slightly mammillate.
Areoles: 2-4 mm in diameter, very closely set ( 3-6 mm apart) filled with abundant white wool, especially those near the stem apex.
Radial spines: 10-16 acicular, radiating, yellowish-brown to greyish-white 5 – 14 mm long
Central spines: 4 (or sometimes 2) more robust 2 – 25(-35) mm long forming a cross, dark reddish-violet with a brown base, becomig grey as they age.
Flowers: Approx 3 cm long and wide and stand near the top. Yellow or pale yellow, with a typical glossy shine. Sepals thin, the outer ones often red tinged at the tips. Floral tube with small scales, and white wool. Stamens yellow, stigma lobes dark purple.
Blooming season: Sping to summer
Fruits: 18-25 mm long, olive-green turnig reddish at maturity, with 70-90(-200).
Seeds: Dull black, finely tubercled. 0,8 mm long, 1 mm wide, 0,9 mm thick.
Parodia fusca
Photo by: Cactus Art
Parodia fusca
Photo by: Cactus Art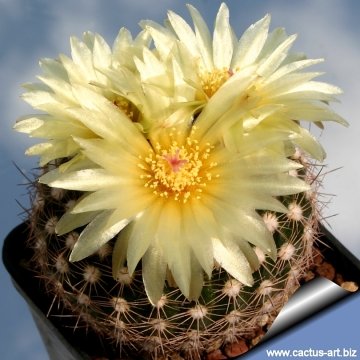 Parodia fusca
Photo by: Cactus Art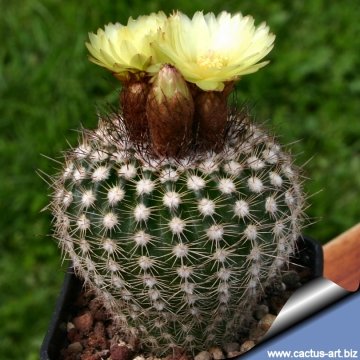 Parodia fusca
Photo by: Cactus Art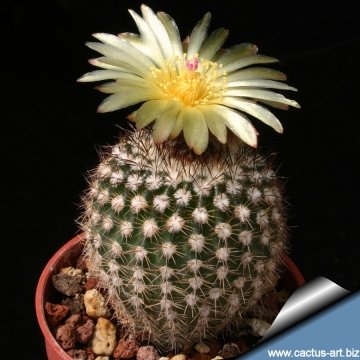 Parodia fusca
Photo by: Cactus Art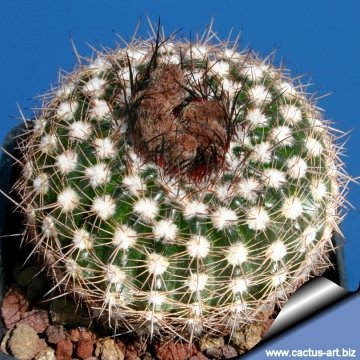 Parodia fusca
Photo by: Cactus Art
Cultivation and Propagation: It is easy to grow. It prefers a neutral to slightly acidic mineral-based potting mix with plenty of extra grit and feed during the summer. It likes a warm bright location, does great in partial shade but doesn't like full, hot blazing sun in the central summer month. Can support quite some water during the growing season but pot plants in winter are wet-sensitive and needs to be kept dry (rots easily if soil is wet and cold) tends to lose its roots in winter. Water Best if watered with rain water. Usually it is recommended to over-winter this plant in a bright and warm greenhouse with at least 8-10° C and rather dry (it tends to lose its roots and to rot if the substrate is wet and cold) but it has proved to tolerate temperatures as low as -5° C for short periods.
Propagation: Seeds.