Donate now to support the LLIFLE projects.
Your support is critical to our success.
Since 4 Aug 2013
sponsored link
Accepted Scientific Name: Neolloydia conoidea (DC.) Britton & Rose
Bull. Torrey Bot. Club 1922, xlix. 252.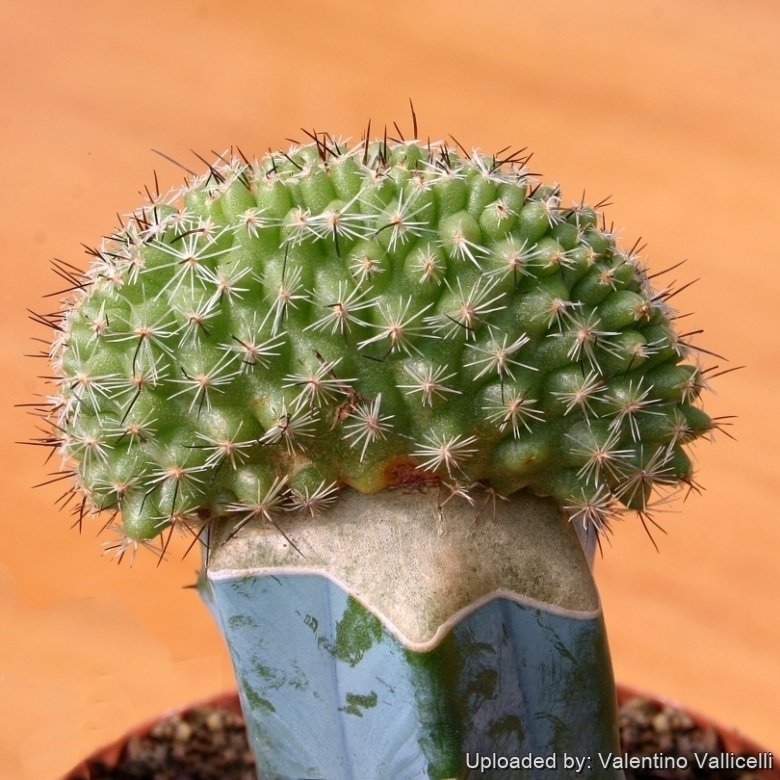 Neolloydia conoidea f. cristata Photo by: Valentino Vallicelli
Origin and Habitat: Garden origin (Nursery produced cultivar). The wild form grows in south-western Texas and northern Mexico into Queretaro.
Synonyms:
See all synonyms of Neolloydia conoidea
Accepted name in llifle Database:
Neolloydia conoidea
(DC.) Britton & Rose
Bull. Torrey Bot. Club 1922, xlix. 252.
Synonymy: 20
Description: Neolloydia conoideaSN|10089]]SN|10089]], a.k.a. "Cone Cactus", is a small, low growing cactus species, with stem densely covered with white, radial spines and longer, black, central spines. Bears funnel-shaped, purple-violet flowers in late spring. The crested form Neolloydia conoideaSN|10089]]SN|10089]] f. cristata - despite to its beauty - is still very rare and sought after by collectors, for its unique features.
Stem: Fan shaped, yellowish green, dull grey-green or blue-green, 3-6 cm thick.
Ribs: Poorly developed, almost completely split in tubercles separated by deep valleys which interrupt ribs continuity.
Tubercles: 3-10 mm long, 6-10 mm broad, 5-9 mm high, well developed, conical, obtuse, but somewhat compressed horizontally by crowded, almost overlapping position, their axils very woolly. Much white wool is formed along these grooves, but this wears off in age.
Areoles: Dimorphic, 3-5 mm in diameter, 8-12 mm apart, circular with white wool when new becoming enlarged with an areolar groove extending upward and inward to axil of tubercle, broadening into larger felted area from which flower comes. After blooming, original circular part remains as spine-bearing portion, usually losing wool.
Spines: Very numerous, which stand out conspicuously from the green of the stems, but often completely covering the plant.
Radial spines: Usually 15-16 or more, even, widely radiating and lying flat on the stem, rigid, straight, white, or whitish with a dark tip, fading to grey, 5 to 10 mm long.
Central spines: Usually one, but sometime up to 4 or absent, projecting outward, straight, rigid, stouter and longer than the radials, up to 3 cm long, light brown to black when young, fading to grey, the lowest one is longest and heaviest.
Flowers: Diurnal, broadly funnelform, arising from the base of the areolar groove of young tubercles, bright magenta, violet or violet-pink, 2-3 cm long, 4-6 cm in diameter, opening rather widely. Pericarpels naked of scales but occasionally have 1-2 small, rounded, white-edged scales. Outer perianth-segments dull purple, lighter toward the margins. Inner perianth-segments rich purple or pinkish-violet, lanceolate, with pointed tips and entire edges. Anthers bright orange, filaments pale yellow, purplish at base. Style and stigma-lobes white or pale yellow, the latter 5 or 6.
Blooming season: Spring to early summer, (peak from April to June)
Fruit: Compressed-globose, 4-5 mm in diameter, naked, but sometimes having 1-2 tiny scales, green becoming dull yellow or greenish brown, mottled with red, fleshy at first but becoming dry and papery, then brown, indehiscent.
Seeds: Black, pear shaped, tuberculate, 1-1,5 mm broad, with a large basal hilum with an uneven lip over part of the hilum.


Subspecies, varieties, forms and cultivars of plants belonging to the Neolloydia conoidea group
Bibliography: Major references and further lectures
1) Edward Anderson "The Cactus family" Timber Press, Incorporated, 2001
2) James Cullen, Sabina G. Knees, H. Suzanne Cubey "The European Garden Flora Flowering Plants: A Manual for the Identification of Plants Cultivated in Europe, Both Out-of-Doors and Under Glass" Cambridge University Press, 11/Aug/2011
3) David R Hunt; Nigel P Taylor; Graham Charles; International Cactaceae Systematics Group. "The New Cactus Lexicon" dh books, 2006
4) Brian Loflin, Shirley Loflin "Texas Cacti: A Field Guide" Texas A&M University Press, 26/ott/2009
5) Albert Michael Powell, James F. Weedin "Cacti of the Trans-Pecos and Adjacent Areas" Texas Tech University Press, 2004
6) Del Weniger "Cacti of the Southwest: Texas, New Mexico, Oklahoma, Arkansas, and Louisiana" University of Texas Press, 1969
7) "Rare Plants of Texas: A Field Guide" Texas A&M University Press, 2007
8) Nathaniel Lord Britton, Joseph Nelson Rose "Cactaceae: Descriptions and Illustrations of Plants of the Cactus Family" Volume 3, 1922
9) Christopher Brickell "RHS Encyclopedia of Plants and Flowers" Dorling Kindersley Ltd, 01/set/2010
10) Campbell Loughmiller "Texas Wildflowers" University of Texas Press, 2006
11) Pierre C. Fischer "70 Common Cacti of the Southwest" Western National Parks Association, 1989
Cultivation and Propagation: Although regarded as a choice and difficult plant is not too difficult in a greenhouse, although grows quite slowly. It is sometime seen as a grafted plant but grows very well on its own roots too.
Soil: Use mineral well permeable mineral soil with little organic matter (peat, humus).
Exposure: They need a good amount of light shade to full sun this help to keep the plants healthy, although slow growth.
Watering: Water sparingly from March till October (weekly during summertime, if the weather is sunny enough) , with a little fertilizer added. Less or no water during cold winter months, or when night temperatures remain below 10° to prevent root loss. It is sensitive to overwatering (rot prone).
Fertilization: Feeding may not be necessary at all if the compost is fresh then, feed in summer only if the plant hasn't been repotted recently. Do not feed the plants from September onwards as this can cause lush growth which can be fatal during the darker cold months.
Hardiness: Keep perfectly dry in winter at temperatures from 5 to 15 degrees centigrade. (but it is relatively cold resistant and hardy to -5° C, or possibly colder for short periods) In the rest period no high atmospheric humidity!! (Temperature Zone: USDA 9-11)
Crested growth: Unlike 'monstrose' varieties of plants, where the variation from normal growth is due to genetic mutation, crested growth can occur on normal plants. Sometimes it's due to variances in light intensity, or damage, but generally the causes are unknown. A crested plant may have some areas growing normally, and a cresting plant that looks like a brain, may revert to normal growth for no apparent reason. If you have any of the crested part left you need to remove the normal growth and leave the crested part behind this will need to be done regularly.
Propagation: Grafting or cuttings. Plants are usually grafted onto column-shaped cacti but proved to be able to produce their own roots if degrafted. Cuttings will take root in a minimum temperature of 20° C (but better in hot weather). Cuttings of healthy shoots can be taken in the spring and summer. Cut the stem with a sharp, sterile knife, leave the cutting in a warm, dry place for a week or weeks (depending on how thick the cutting is) until a callus forms over the wound. Once the callus forms, the cutting may be inserted in a container filled with firmed cactus potting mix topped with a surface layer of coarse grit. They should be placed in the coarse grit only; this prevents the cut end from becoming too wet and allows the roots to penetrate the rich compost underneath. The cuttings should root in 2 to 6 weeks. Large crested piece must be placed on the soil surface without burying the plant base down in the soil.