Donate now to support the LLIFLE projects.
Your support is critical to our success.
Accepted Scientific Name: Frailea phaeodisca (Speg.) Backeb. & F.M.Knuth
Kaktus-ABC [Backeb. & Knuth] 250, in obs. 1936 [12 Feb 1936] Backeb., F.M.Knuth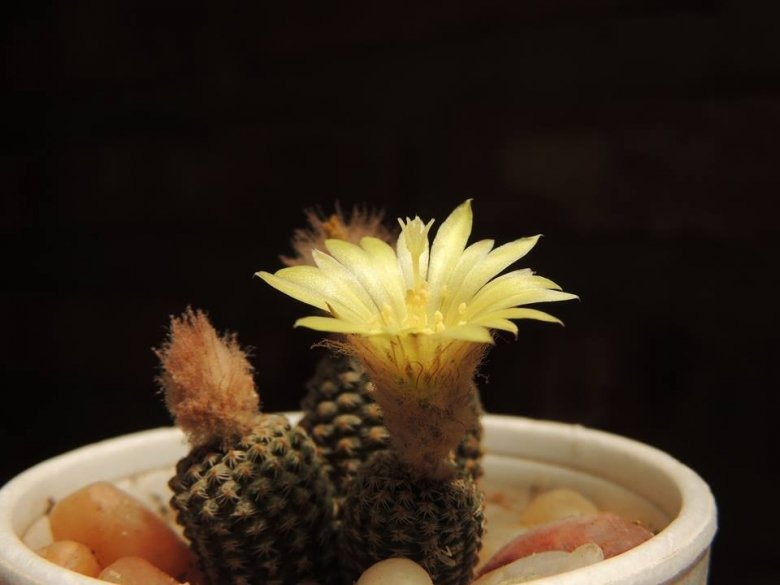 Frailea schlosseri Photo by: Carolina González
Origin and Habitat: North-west Paraguay
Synonyms:
See all synonyms of Frailea phaeodisca
Accepted name in llifle Database:
Frailea phaeodisca
(Speg.) Backeb. & F.M.Knuth
Kaktus-ABC [Backeb. & Knuth] 250, in obs. 1936 [12 Feb 1936]
Synonymy: 8
Description: Frailea phaeodiscaSN|21481]] is a dwarf cactus with unique and remarkably beautiful shape. It is one of the geographical forms of the variable Frailea schlosserianaSN|3669]] and is distinguished for the dark purple "moons" under its areoles and fewer straw-coloured not interlacing spines.
Habit: It is a small solitary (unless damaged) perennial stem succulent that grows deep seated flat to the ground surface.
Roots: Long, tapered fusiform root, with fine lateral diffuse roots.
Stem: Simple, disk-shaped to globose or somewhat elongate, 1,5-3 tall, 1,5-5,5 cm in diameter dark grey-green or dark brown.
Ribs: 22-26 completely flat or divided into very low tubercles with dark purple "moons" under each areola.
Areoles: Elongate with dull orangish to brownish (always paler than in the type).
Central spines: Usually absent.
Radial spines: 6-14 small, pectinate more or less pointing downward, not interlaced 1-4 mm long, dull creamy-white to orangish, (darker than in the type), completely adpressed.
Flowers: 2,2-3,5 long, 2,2-4 cm in diameter, tepals acuminate, sulphur-yellow or paler. Stigma-lobes 6-7 up to 3,5 mm long.
Fruit: 10 mm across.
Seeds: 1,5-2 mm long 2,1-3 rum broad, shiny, dark brown, smooth, hilum narrowly oblong-ovate.
Subspecies, varieties, forms and cultivars of plants belonging to the Frailea phaedisca group
Frailea perbella

Prestlé

: has a more elongated body, darker areoles and whiter interlaced spines covering the whole body. Distribution: between the cities of Santana do Livramento and Quaraí. (Rio grande do Sul)

Frailea phaeodisca

(Speg.) Backeb. & F.M.Knuth

: has a simple disk like body, elongate brownish black areoles and glassy white, not interlaced spines. Has a long, tapered fusiform root. Distribution: Southern Brazil (Rio grande do Sul) and Uruguay (Tacuarembo)

Frailea schlosseri

Prestlé

: has dark grey-green disk-shaped stems with dark purple "moons" under their areoles. Distribution: North-west Paraguay.
Notes: Some of the most sought-after Fraileas are those with dark purple "moons" under their areoles. Frailea schlosseriSN|3597]] is the most typical example of this group, but remarkable dark "moons" are also found in several other species like: Frailea buenekeriSN|3646]], Frailea klinglerianaSN|25385]], Frailea mammiferaSN|3534]] and Frailea cataphractaSN|21482]].
Bibliography: Major references and further lectures
1) Edward Anderson "The Cactus family" Timber Press, Incorporated, 2001
2) James Cullen, Sabina G. Knees, H. Suzanne Cubey "The European Garden Flora Flowering Plants: A Manual for the Identification of Plants Cultivated in Europe, Both Out-of-Doors and Under Glass" Cambridge University Press, 11/Aug/2011
3) Ashingtonia 1(5): 54 (Illlustration) 1974
4) Succulenta 59(5): 116–119, 185-185 (Illlustration) 1980
5) Keith Grantham, Paul Klaassen "The plantfinder's guide to cacti & other succulents" Timber Press, 18/May/1999
6) David R Hunt; Nigel P Taylor; Graham Charles; International Cactaceae Systematics Group. "The New Cactus Lexicon" dh books, 2006
7) Clive Innes, Charles Glass "Cacti" Portland House, 1991
8) Marlon C Machado. "Fascinating Frailea, Part 1: General impressions." Cactus World (BCSS) Volume 25 No. 1 March 2007
9) Marlon C Machado."Fascinating Frailea, Part 2: Review of the species from Rio Grande do Sul." Cactus World (BCSS) Volume 25 No. 2 June 2007
Frailea schlosseri
Photo by: Valentino Vallicelli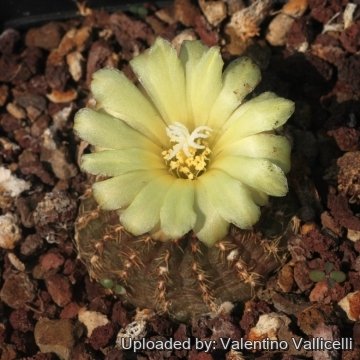 Frailea schlosseri
Photo by: Valentino Vallicelli
Frailea schlosseri
Photo by: Valentino Vallicelli
Send a photo of this plant.
The gallery now contains thousands of pictures, however it is possible to do even more. We are, of course, seeking photos of species not yet shown in the gallery but not only that, we are also looking for better pictures than those already present.
Read More...
Cultivation and Propagation: Fraileas are are tiny plants with comparatively big yellow flowers, often bigger than the whole plant itself and are especially suitable for those with limited growing space. They can be easily grown in a sunny windowsill or a small greenhouse. The secret for keeping Fraileas happy and growing is to pot them in a rich, porous soil with good drainage and aeration, to give them lots of water and let them dry out between waterings. Fraileas do like more water than most other cacti. If you over-pot them (in about 6-7 cm pots) they grow much better and healthier, as they can be quite short-lived if not given correct growing conditions. During winter they like cool and dry places (minimum temperature of 5-10° C) but even light frosts do not harms them. Characteristically, during the dry season plants retract completely under the ground, both in the wild and in cultivation too. Occasional light spray of water during the winter helps plants from shrivelling up too much. In the summer they like the pot to be filled with rainwater (which is always better to use than tap water) quickly absorbed by the plants, and one can almost see the little bodies swelling up. After a day or two, it is best to drain off any remaining water in the under-pots.
Sun Exposure: They enjoy full sun. In a shaded position the plants grow faster, but are not flat shaped or dark coloured.
Propagation: With fresh harvested seeds or (rarely) by grafting. The seeds germinates well. Sow the them on the soil surface, so that they can grow to a reasonable size before they have to be pricked out into a bigger tray. The seed trays go into a heated propagator on a windowsill where they catch the afternoon sun. It does not take long for the seeds to germinate, and some will do so within a day or two after sowing. When they have reached a height of about 1 cm they are pricked out into a larger tray, where they remain until they are large enough to go into individual pots.