Donate now to support the LLIFLE projects.
Your support is critical to our success.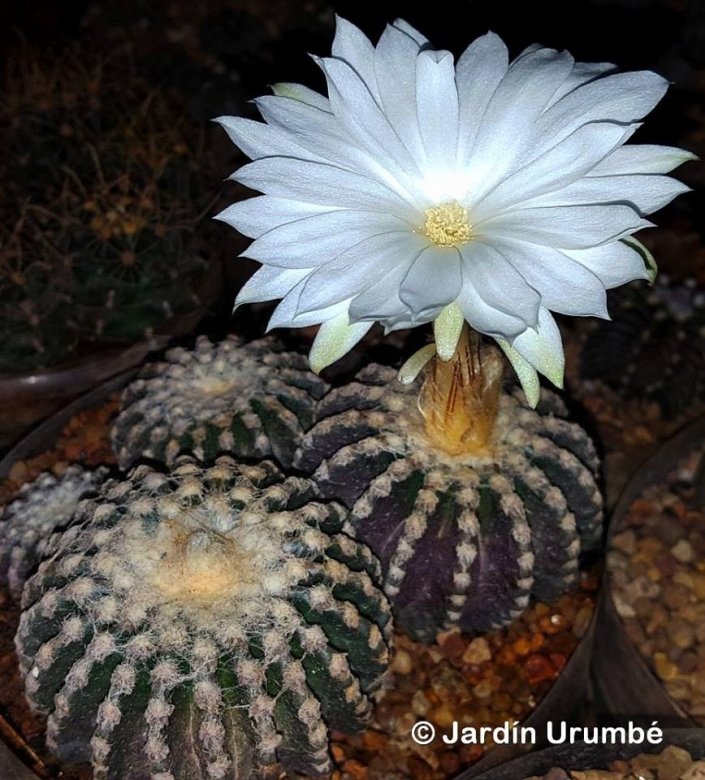 Discocactus horstii Photo by: Alexander Arzberger
Origin and Habitat: North-west of Grao Mogol in the Serra do Barão in northern Minas Gerais, Brazil (extent of occurrence is less than 100km2 and its area of occupancy is around 6km2, and it is known from three locations).
Altitude: It grows at altitudes between 800 and 1200 metres above sea level.
Habitat and Ecology: This southeastern campo rupestre (Grão Mogol) element grows in quartz gravel and sand beneath shrubs in campo rupestre. It declined substantially in the past due to collection for the international horticulture trade as well as quartz extraction, but populations are stable at the moment, as the entire population is under strict protection and included in the Parque Nacional de Grão Mogol.
Synonyms:
See all synonyms of Discocactus horstii
Accepted name in llifle Database:
Discocactus horstii
Buining & Bredero
Kakteen (H. Krainz) 53: CVIf 1973
Synonymy: 4
Description: It is a small solitary cactus with a radially segmented body showing the typical habitus of this flat, globular genus. The cephalium, which stays just as flat, is covered by the flowers that come out of it. These cacti are not easy to cultivate, but when grown to maturity, however, they possess an exotic look shared by no other cacti, and they'll generally attract a lot of attention. D. horstii is really distinctive and obviously deserving of specific rank.
Stem: About 5-6 cm in diameter (up to 8 in culture) The plant with cephalium only grows to be 2-3(-5) cm tall; The colour of the epidermis is at first green and later dark red/brown to almost black.
Ribs: 12 to 22 prominent, narrow, straight, of even width not thikened at the areoles and not tuberculate, with 12 to 14 areoles per rib on plants with cephalium.
Radial spines: 8 to 10 inconspicuous, light coloured recurved backwards in a comb like arrangement, 2-4(-7) mm long.
Flowers: The deliciously fragrant nocturnal blooms are 7.5 cm long, 6 cm inches in diameter. They come in profusion in summer, out of a cephalium covered by whitish to light brown wool and bristles. Fruit is white.
Remarks: Discocactus horstiiSN|21884]] takes up fog-water through its thorns and also it has a peculiar epidermal surface that may be capable of permitting water to enter the stem.
Subspecies, varieties, forms and cultivars of plants belonging to the Discocactus horstii group
Bibliography: Major references and further lectures
1) Edward Anderson "The Cactus family" Timber Press, Incorporated, 2001
2) James Cullen, Sabina G. Knees, H. Suzanne Cubey "The European Garden Flora Flowering Plants: A Manual for the Identification of Plants Cultivated in Europe, Both Out-of-Doors and Under Glass" Cambridge University Press, 11/Aug/2011
3) David R Hunt; Nigel P Taylor; Graham Charles; International Cactaceae Systematics Group. "The New Cactus Lexicon" dh books, 2006
4) Machado, M., Braun, P., Taylor, N.P. & Zappi, D. 2013. Discocactus horstii. In: IUCN 2013. "IUCN Red List of Threatened Species." Version 2013.2. <www.iucnredlist.org>. Downloaded on 16 February 2014.
Discocactus horstii
Photo by: Prof. Ilham Alakbarov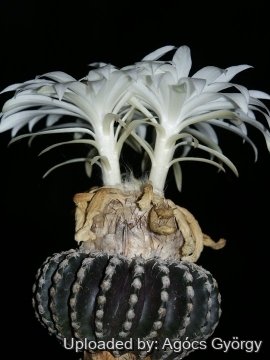 Discocactus horstii
Photo by: Agócs György
Discocactus horstii
Photo by: Agócs György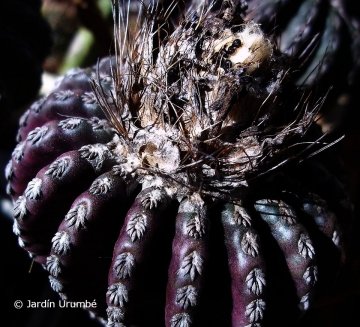 Discocactus horstii HU 360 (Collector Leopoldo Horst) Locality: Serra de Barro, Grao Mogol, Minas Gerais, Brazil.
Photo by: Alexander Arzberger
Discocactus horstii
Photo by: Cactus Art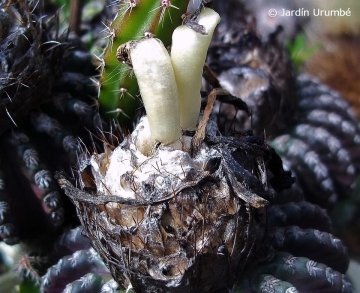 Discocactus horstii
Photo by: Alexander Arzberger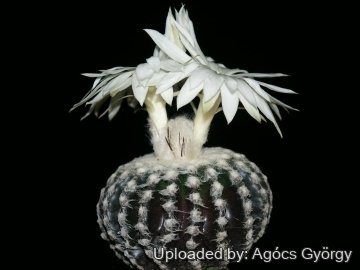 Discocactus horstii
Photo by: Agócs György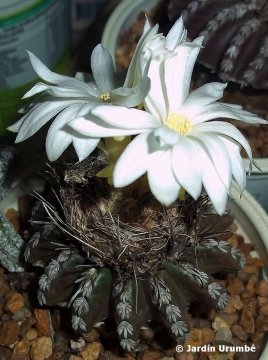 Discocactus horstii
Photo by: Alexander Arzberger
Cultivation and Propagation: It is rather difficult to grow and frost tender, should be kept at above 15° C if grown on its own roots (8°C if grafted) need full sun or afternoon shade. Young seedlings are generally grafted because they are slow growing and very rot prone when kept on their own roots and though they can't endure long stretches of total dryness, too much water will rot them, as their weak root systems tend to be inefficient at sucking up water from wet soil. They generally resent being repotted and can take a long time to establish.
Propagation: Seed or grafting.
Your Photos
---

by Valentino Vallicelli
by Prof. Ilham Alakbarov

by Cactus Art
by Cactus Art

by Valentino Vallicelli