Donate now to support the LLIFLE projects.
Your support is critical to our success.
Since 4 Aug 2013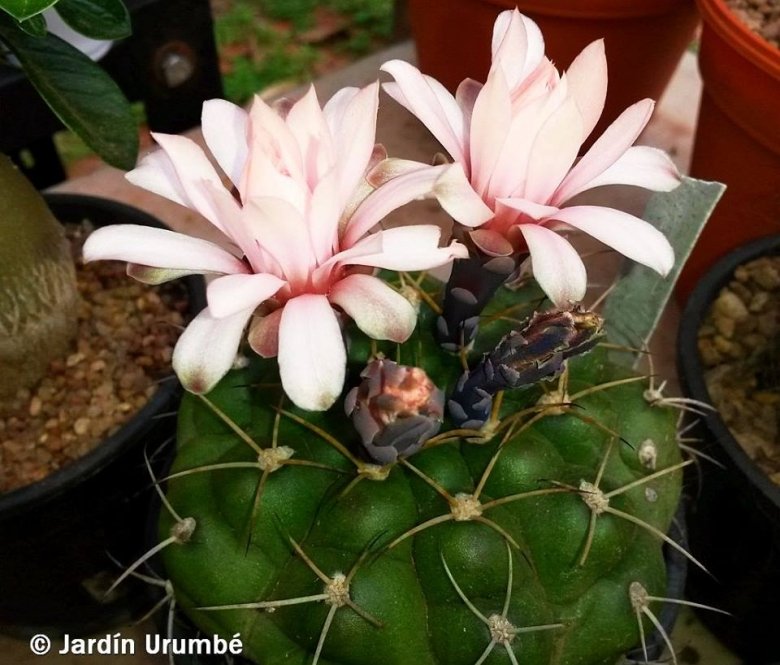 Gymnocalycium chiquitanum Photo by: Alexander Arzberger
Origin and Habitat: Province Chiquitos, department Santa Cruz, south of San Jose, Bolivia.
Altitude: 250-650 (-1200?) metres above sea level.
Habitat and Ecology: This endemic species developed in isolation grows on large slabs of stone, in mould-filled crevices and slots within clear terrain among grass, under bushes or ferns in the Bolivian chaco vegetation. The plants are not abundant and grow together with Echinopsis hammerschmidii, Gymnocalycium damsii v. torulosum, Frailea uhligiana and Frailea amerhauseri.

Synonyms:
See all synonyms of Gymnocalycium chiquitanum
Description: Gymnocalycium chiquitanum Cardenas is a small cactus with spines that wrap against the body of the plant.
Habit: It is a perennial stem succulent rising only a few centimetres above ground level, usually solitary in habitat, but plants in the plains grow bigger and sprout more strongly, groups with a dispersion of up to one metre are no rarity.
Stem: Depressed-spherical, grey-green to light green, sometimes bronzed in full sun, 2-4 cm or more high, 6-9 cm in diameter.
Ribs: 6-7 rounded with prominent chinlike protrusions divided by transverse furrows.
Tubercles: 5 mm high, 2,5 cm wide at the base.
Areoles:1-2 cm apart, circular or elliptical, 5 mm long, covered with white to grey felt.
Central spines: Usually absent, sometimes one, 1.5-2 cm long greyish with darker brown tip.
Radial: spines 5-9, yellowish brown to gray, with dark tips, adpressed, somewhat curved backward, 1-2.5 cm long.
Flowers: Funnel-shaped growing from the depression at the apex, very pale lilac-pink, sometimes white or salmon with magenta throat, 5-7 cm long and in diameter. Outer perianth segments spatulate to lanceolate, 2 cm long, pink in colour. Inner perianth segments 2,5 cm long, pointed, pinkish-lilac, violet at the base. Ovary spherical, curved, 5 mm in diameter, dark magenta in colour, with 3mm wide Tube up of long, reddish-brown or violet-red, externally with reddish scales with white edges that are up to 5 mm wide. Filaments magenta, 5 mm long; anthers yellow. Style 22 mm long, violet-red; 8 stigma lobes, yellow, 3 mm long.
Fruits: Spindle shaped, first bluish in colour, later dark bluish violet or purple, to 2 cm long and about 1 cm across.
Seeds: Light brown 1,0 to 1,2 millimetres large and tubercular (granular testa). The seeds belong to the seed group Microsemineum Schütz.

Subspecies, varieties, forms and cultivars of plants belonging to the Gymnocalycium chiquitanum group
Bibliography: Major references and further lectures
6) Lowry, M. 2013. Gymnocalycium chiquitanum. In: IUCN 2013. "IUCN Red List of Threatened Species." Version 2013.2. <www.iucnredlist.org>. Downloaded on 10 February 2014.
7) Edward Anderson "The Cactus family" Timber Press, Incorporated, 2001
8) David R Hunt; Nigel P Taylor; Graham Charles; International Cactaceae Systematics Group. "The New Cactus Lexicon" dh books, 2006
9) James Cullen, Sabina G. Knees, H. Suzanne Cubey "The European Garden Flora Flowering Plants: A Manual for the Identification of Plants Cultivated in Europe, Both Out-of-Doors and Under Glass" Cambridge University Press, 11/Aug/2011
10) Curt Backeberg "Cactus Lexicon" Sterling Publishing Company, Incorporated, 1978
11) Franz Buxbaum, Hans Krainz "Die Kakteen: Eine Gesamtdarstellung d. eingeführten Arten nebst Anzucht- u. Pflege-Anweisungen." Part 38/39 1968
12) Gymnocalycium chiquitanum Cardenas, Cactus (Paris) 18 (78), pp. 95-97, 1963
Gymnocalycium chiquitanum
Photo by: Valentino Vallicelli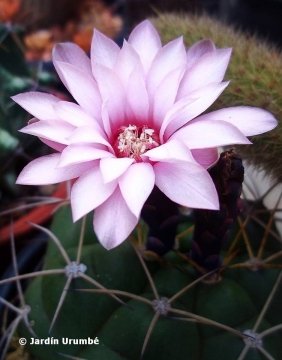 Gymnocalycium chiquitanum
Photo by: Alexander Arzberger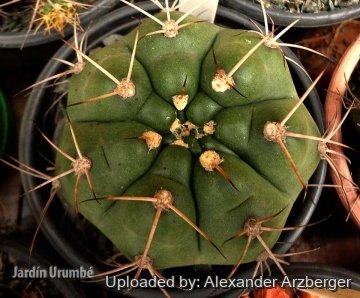 Gymnocalycium chiquitanum
Photo by: Alexander Arzberger
Gymnocalycium chiquitanum
Photo by: Alexander Arzberger
Gymnocalycium chiquitanum
Photo by: Valentino Vallicelli
Send a photo of this plant.
The gallery now contains thousands of pictures, however it is possible to do even more. We are, of course, seeking photos of species not yet shown in the gallery but not only that, we are also looking for better pictures than those already present.
Read More...
Cultivation and Propagation: Gymnocalycium chiquitanum is an easy to grow succulent, more cold tolerant than most and less fussy regarding soil conditions.
Growth rate: It is a relatively rapidly growing and easily flowering species that will make clumps given the best conditions.
Soils: It likes very porous standard cactus mix soil.
Repotting: Use pot with good drainage.
Watering: Water regularly in summer, but do not overwater (Rot prone), keep dry in winter.
Fertilization: Feed with a high potassium fertilizer in summer.
Hardiness: Reputedly somewhat resistant to frost if kept on the dry side prior to, and during, cold weather (hardy to -12 C ° C, or less for short periods).
Exposition: Outside bright but filtered sunlight or afternoon shade, inside it needs bright light, and some direct sun. Tends to bronze in strong light, which encourages flowering and heavy spine production.
Uses: It is an excellent plant for container growing. It always looks good and stays small. It look fine in a cold greenhouse and frame or outdoor in a rockery.
Pests & diseases: It may be attractive to a variety of insects, but plants in good condition should be nearly pest-free, particularly if they are grown in a mineral potting-mix, with good exposure and ventilation. Nonetheless, there are several pests to watch for:
- Red spiders: Red spiders may be effectively rubbed up by watering the plants from above.
- Mealy bugs: Mealy bugs occasionally develop aerial into the new growth among the wool with disfiguring results, but the worst types develop underground on the roots and are invisible except by their effects.
- Sciara Flies: Sciara flies are one of the major problems for seedlings. It is a good practice to mulch your seedlings with a layer of grit, which will strongly discourage the flies.
- Scales: Scales are rarely a problem.
- Rot: Rot it is only a minor problem with cacti if the plants are watered and "aired" correctly. If they are not, fungicides won't help all that much.
Propagation: Division, direct sow after last frost. Seeds germinate in 7-14 days at 21-27° C in spring, remove gradually the glass cover as soon the plants will be well rooted (ca 1-2 weeks) and keep ventilated, no full sun for young plants! To make a cutting twist off a branch and permit it to dry out a couple of weeks, lay it on the soil and insert the stem end partially into the soil. Try to keep the cutting somewhat upright so that the roots are able to grow downward.