Donate now to support the LLIFLE projects.
Your support is critical to our success.
Since 4 Aug 2013
= Echinocereus poselgeri f. cristata hort.

Accepted Scientific Name: Echinocereus poselgeri Lem.
Cactées 57. 1868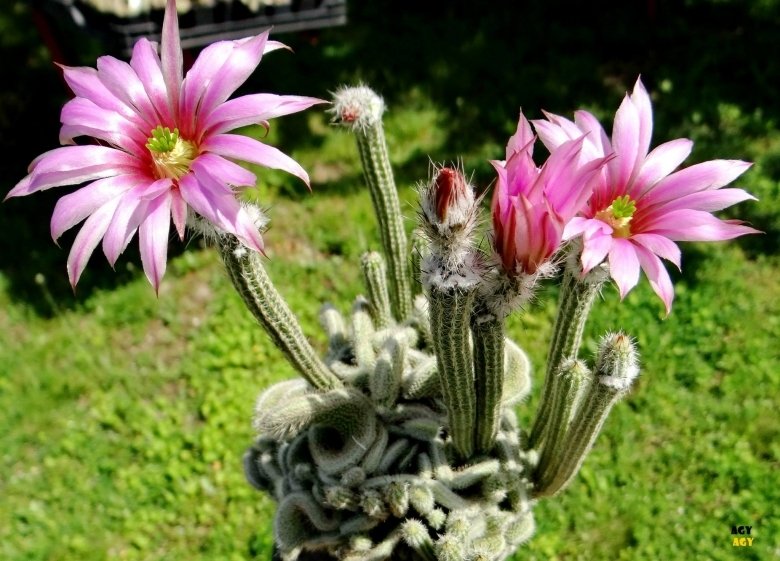 Wilcoxia poselgeri f. cristata (Echinocereus poselgeri f. cristata) Photo by: Agócs György
Origin and Habitat: West & South West USA (Texas) and Mexico (Coahuila, Nuevo Leon, Tamaulipas). The crested form is of garden origin (Nursery produced cultivar).
Synonyms:
See all synonyms of Echinocereus poselgeri
Description: The typical Echinocereus poselgeri is a shrubby columnar cactus that grows often in groups, erect at first sometimes climbing then leaning and sprawling all over and best tied to something so it wont fall and grow decumbent. It would be good for hanging baskets.
Crested form: The crested forms are cultivated for their beautiful stem with dense bristly spine and pronounced sculpture effects. These plants produce monstrous crests, and crests occasionally produce normal shoots. Flowers are produced only on the the apex of normal stems. Crested specimens are often grafted on stronger species, called the stock, that can be any number of different columnar cactus.
Stem: Normal stems are very tall and slender, dark coloured up to 1.2 m long and 2 cm in diameter. Crested stems, forming brain shaped mounds up to 20 (or more) cm wide.
Spines: Tan-greyish white; 1 central up to 9 mm long, enlarged at its base, 4mm long; 8-15 straight radials, 4,5mm long, closely appressed (except at the stem tip)
Roots: Tuberlike, 10-20 mm in diameter, with a length of 60-100 mm. The colour is light brown in youth, later dark brown.
Flower: Pink Rose/Mauve Magenta (Pink-Purple).
Fruits: Ovoidal 20 mm Long, 10-15 mm Ø, dark green to brownish, pulp white
Seeds: Black 1,5 mm.
Blooming season: Late Spring/Early Summer.
Subspecies, varieties, forms and cultivars of plants belonging to the Echinocereus poselgeri group
Bibliography: Major references and further lectures
1) Corral-Díaz, R., Goettsch, B.K., Gómez-Hinostrosa, C., Terry, M. & Heil, K. 2013. Echinocereus poselgeri. The IUCN Red List of Threatened Species. Version 2014.3. <www.iucnredlist.org>. Downloaded on 25 May 2015.
2) Taylor, N.P. (1985): "The Genus Echinocereus", A Kew Magazine Monograph: 64. Collingridge Books
3) Edward F. Anderson "The Cactus Family". Timber Press, Portland (Oregon) 2001
4) James Cullen, Sabina G. Knees, H. Suzanne Cubey "The European Garden Flora Flowering Plants: A Manual for the Identification of Plants Cultivated in Europe, Both Out-of-Doors and Under Glass" Cambridge University Press, 11/Aug/2011
5) David R Hunt; Nigel P Taylor; Graham Charles; International Cactaceae Systematics Group. "The New Cactus Lexicon" dh books, 2006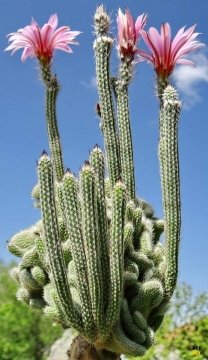 Wilcoxia poselgeri f. cristata
(Echinocereus poselgeri f. cristata)
Photo by: Agócs György
Wilcoxia poselgeri f. cristata
(Echinocereus poselgeri f. cristata)
Photo by: Agócs György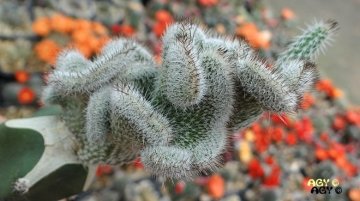 Wilcoxia poselgeri f. cristata
(Echinocereus poselgeri f. cristata)
Photo by: Agócs György
Send a photo of this plant.
The gallery now contains thousands of pictures, however it is possible to do even more. We are, of course, seeking photos of species not yet shown in the gallery but not only that, we are also looking for better pictures than those already present.
Read More...
Cultivation and Propagation: Do not over water. They need to be kept in a cool, dry place during winter rest (at -5 +10°C). This is important for the flowers as well as for their health. Without this cool winter period they normally won't get any buds. It is quite frost hardy -7 (-10)° C.
Sun Exposure: Best in full or partial sun exposure. In mild climate they grow well when planted freely outside in well-drained soil.
Crested growth: Unlike 'monstrose' varieties of plants, where the variation from normal growth is due to genetic mutation, crested growth can occur on normal plants. Sometimes it's due to variances in light intensity, or damage, but generally the causes are unknown. A crested plant may have some areas growing normally, and a cresting plant that looks like a brain, may revert to normal growth for no apparent reason. If you have any of the crested part left you need to remove the normal growth and leave the crested part behind this will need to be done regularly.
Propagation: Grafting or cuttings. Plants are usually grafted onto column-shaped cacti but proved to be able to produce their own roots if degrafted. Cuttings will take root in a minimum temperature of 20° C (but better in hot weather). Cuttings of healthy shoots can be taken in the spring and summer. Cut the stem with a sharp, sterile knife, leave the cutting in a warm, dry place for a week or weeks (depending on how thick the cutting is) until a callus forms over the wound. Once the callus forms, the cutting may be inserted in a container filled with firmed cactus potting mix topped with a surface layer of coarse grit. They should be placed in the coarse grit only; this prevents the cut end from becoming too wet and allows the roots to penetrate the rich compost underneath. The cuttings should root in 2 to 6 weeks. Large crested piece must be placed on the soil surface without burying the plant base down in the soil.