Donate now to support the LLIFLE projects.
Your support is critical to our success.
Since 4 Aug 2013
sponsored link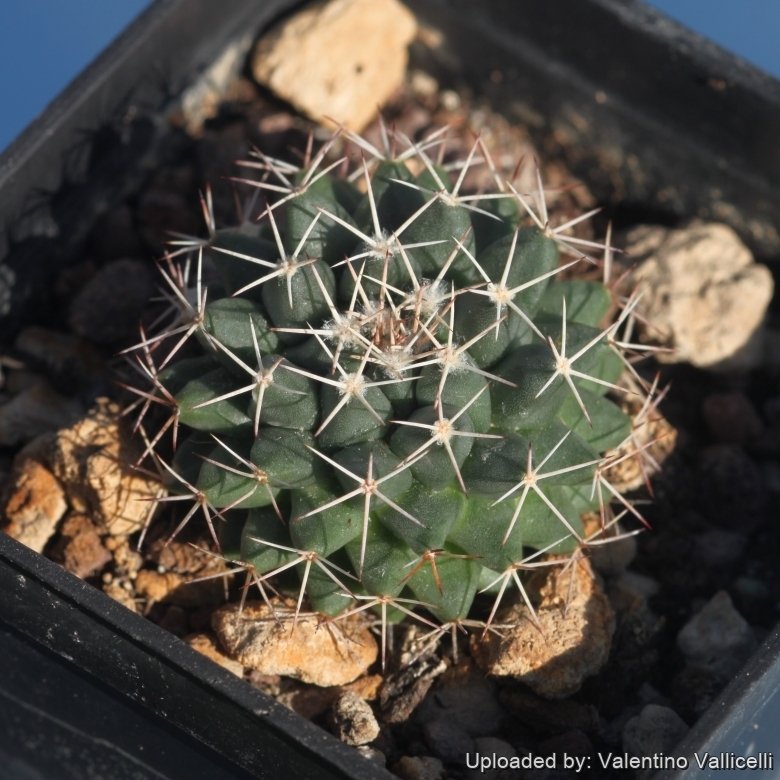 Mammillaria roseoalba Photo by: Valentino Vallicelli
Origin and Habitat: Mammillaria roseoalba is a poorly known plant endemic to Mexico, occurring in the states of Tamaulipas, San Luis Potosí, Nuevo León and Coahuila.
Altitude range: 720 to 1,800 metres above sea level (Pilbeam 1999).
Habitat and Ecology: This specie grows in xerophytic shrublands together with Mammillaria sphaerica, Mammillaria baumii, Mammillaria rubrograndis, Obregonia denegrii, Ritterocereus pruinosus, Ferocactus victoriensis, Myrtillocactus geometrizans, Pilosocereus palmeri and Echinocereus viereckii. There is no information available on the threats.
Synonyms:
Description: Mammillaria roseoalba is a small depressed globose cactus, densely covered with thin, white-brown spines, easily broken. The small, whitish flowers are followed by masses of bright red fruits that contrast nicely with the spination. Very little is known about Mammillaria roseoalba, there are doubts about the accuracy of its distribution range and about its taxonomic distinctness. Some people consider this species to be conspecific with Mammillaria heyderi. The species is used as an ornamental and there is increased commercial propagation, however, whether the plants sold under this name are in fact this species or not is debateable.
Stems: Flattened globose, to 6 cm high, 8-10(-18) cm in diameter.
Tubercles: Pyramidal, dorsally flattened and distinctly angled, keeled, bluish up to 8 mm in diameter at the base, arranged in 8 and 13 spiral, with latex, axils densely woolly.
Areoles: Up to 3 mm across, woolly at first, later naked.
Central spines: Absent.
Radial spines: 4-5, rarely 6, slightly curved, unequal, needle-like, 1-2 upper ones smaller and less sub-central, the upper and lower ones whitish to brown-black, the laterals whitish with pink bases and black tips, 5 to 8 mm long. All straight, thin acicular or subulate, extended horizontally something ascending.
Flowers: Campanulate, whitish, to 15-30 mm long and in diameter. Outer perianth segments, lanceolate with acuminate tip, midline greenish or pinkish brown, margins ivory and hairy. Inner perianth segments to 20 mm long and 2 mm wide white to pale pink, linear with margin entire, tip acuminate. Filaments pink-white, anthers pink, stigma lobes 5-7 green-yellow.
Fruits: Club shaped, somewhat recurved, red, to 15 mm long.
Seeds: Shortly pyriform, recurved 1.4 x 0.8 mm, brown. Hilum lateral
Bibliography: Major references and further lectures
1) "Anales del Instituto de Biología", Universidad Nacional Autónoma de México. Instituto de Biología Volume 23 El Instituto, 1952
2) Fitz Maurice, B, Fitz Maurice, W.A., Hernández, H.M. & Sotomayor, M. 2013. Mammillaria roseoalba. The IUCN Red List of Threatened Species 2013: e.T152043A590516. http://dx.doi.org/10.2305/IUCN.UK.2013-1.RLTS.T152043A590516.en . Downloaded on 22 October 2015.
3) David Hunt, Nigel Taylor "The New Cactus Lexicon" DH Books, 2006
4) Ulises Guzmán, Salvador Arias, Patricia Dávila "Catálogo de cactáceas mexicanas". Universidad Nacional Autónoma de México, Mexiko-Stadt 2003.
5) James Cullen, Sabina G. Knees, H. Suzanne Cubey "The European Garden Flora Flowering Plants: A Manual for the Identification of Plants Cultivated in Europe, Both Out-of-Doors and Under Glass"Cambridge University Press, 11/August/2011
6) Edward F. Anderson "The Cactus Family" Timber Press, 2001
7) John Pilbeam "Mammillaria The Cactus File Handbook" Nuffield Press. 1999.
Cultivation and Propagation: This is an easy to grow species, don't requires any special treatment, but need as much light as possible without burning the plant to encourage the heaviest spine formation. Needs a very good drainage with regular water in summer, dry in winter. Avoid any frost.
Propagation: Seeds, offsets (Allow cut surface to callous over before planting).