Donate now to support the LLIFLE projects.
Your support is critical to our success.
Accepted Scientific Name: Opuntia robusta J.C.Wendl.
Cat. Hort. Herrenh. 1835 H.Wendl.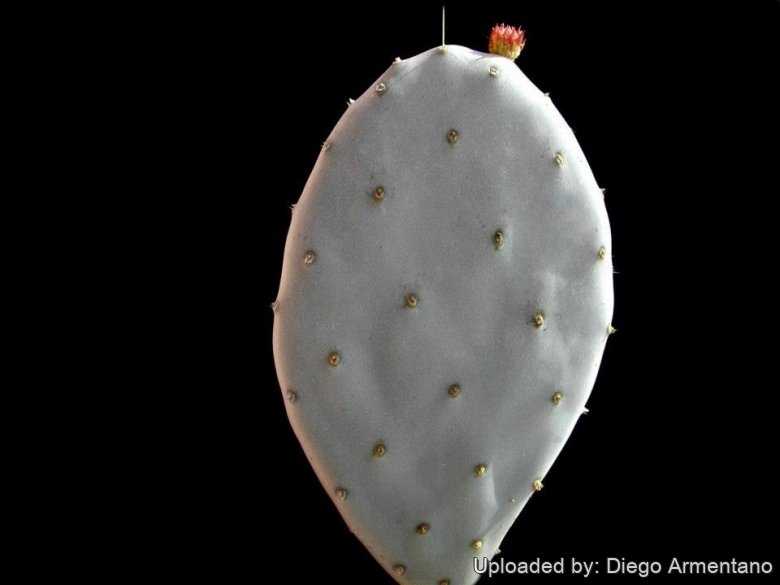 Opuntia camuessa (Opuntia robusta) Photo by: Diego Armentano
Origin and Habitat: Opuntia robustaSN|32724]]SN|32724]] is widely distributed in northern and central Mexico (Coahuila, Durango, Nuevo Leon, San Luis Potosi, Tamaulipas, Aguascalientes, Guanajuato, Guerrero, Hidalgo, Mexico, Queretaro provinces). In the United States it is found in Arizona. This species has expanded into North and South America and has been introduced into New Zealand and the Mediterranean region of southern Europe, South Africa, Madagascar and Australia where it is a significant environmental and pastoral weed, particularly in the states of South Australia, New South Wales, Queensland and Victoria.
Habitat and ecology: Arid and semi-arid areas in warm-temperate and sub-tropical regions mainly in xerophyllous and crassulacean vegetation, but also in Pinus and Quercus forests and grasslands where it grows well on shallow granite soils. O. robusta is particularly well adapted to arid areas, is known to survive in areas with annual rainfall greater than 150 mm and is quite resistant to the cold. The pulp of O. robusta fruits represents a rich source of water, sugars, and minerals, making them particularly attractive to frugivorous, carnivores and large herbivores which will move and occasionally disperse their seeds. There are no current major threats to this species. O. robusta has been proclaimed a noxious weed in Australia. A potential threat to species of the genus Opuntia is the invasion of the cactus moth Cactoblastis cactorum, which can exterminate populations completely, but Cactoblastis cactorum and Dactylopius spp., historically released as biocontrol agents for Opuntia in Australia, have limited efficacy against O. robusta.
Synonyms:
See all synonyms of Opuntia robusta
Accepted name in llifle Database:
Opuntia robusta
J.C.Wendl.
Cat. Hort. Herrenh. 1835
Synonymy: 7
Common Names include:
ENGLISH:
Wheel pear, Wheel cactus
FRENCH (Français):
figuier de Barbarie
SPANISH (Español):
Camuesa, Joconoxtle, Bartolona, Nopal comuseo, Nopal tapón, Tuna tapóna, Nopal
Description: Opuntia robustaSN|32724]]SN|32724]], popularly known as the 'wheel cactus' in reference the circular shape of the segments, is a much branched, often erect, succulent shrub or small tree, sometimes 4-6 meters high, but commonly 1 to 2 m, with more or less distinct trunks. The branch segments (also known as joints, pads, articles or cladodes), are commonly thought of as leaves but are really flattened stems and are.armed with tufts of numerous barbed bristles (glochids) and commonly spineless of with 1 to 5 sharp spines to 4 cm long arising from each areole. Both plants with male flowers, plants with female blossoms and plants with hermaphrodite flowers can be found in Opuntia robustaSN|32724]]SN|32724]]. The fruits, which may be red, orange, yellow or green, are produced in profusion, possess thick peel (with sharp glochids) and juicy pulp containing numerous seeds; they are edible but best for animal feeding.
Derivation of specific name: the epithet 'robusta' is from the Latin for 'solid', 'strong' or 'robust' and apparently refers to the general appearance of the plant.
Stems: Trunk well-defined, branches to 1.5 (or more) m long from the base. Segments fleshy, flat, glabrous, orbicular to oblong, 15-40 (or even more) cm long by 10 to 28 cm broad, very thick, up to 2.5 cm thick, each weighing up to 2 kg, bluish green, glaucous, without red purple spots under the areoles.
Areoles: Somewhat elevated to slightly sunken, ovate, in 7 to 8 series, variable in size, 4-5.5 cm apart. With short black felt in the margin and yellowish white or brown felt in the centre. The glochids are numerous, yellowish to brownish, silky, thin, 1 to 18 mm long, glochids in the edges areoles of the pad are longer and more abundant up to 25 mm long.
Leaves: 4 mm long, reddish, scale-like, conical, acute, produced beneath the areoles, on young segments only, soon shedding as segments mature.
Spines: 2 to 12, stout, subulate, flattened at the base, diverging, very diverse, brown or yellowish at base, white above, up to 5 cm long, but often wanting .
Flowers: 5-7 cm long, to 5-8 cm broad at anthesis, bright yellow. Outer perianth segments rhomboid, or mucronate, reddish yellow with green tint in the center and apex. Inner perianth segments obovate, emarginate to mucronate, bright yellow. Pericarpel with few thick tubercles and tuft of glochids up to 3 mm long. Stigma-lobes green.
Fruits: Globular to ellipsoid, at first more or less tuberculate, 7 to 9 cm long, deep red, but also orange, yellow or green, with light brown felt and yellow glochids c. 3 mm long. Pulp red.
Seeds: c. 5 mm long.
Phenology:: Flowering in spring (April to May). Fruiting in autumn (September to October).
Bibliography: Major references and further lectures
1) William Thomas Parsons, Eric George Cuthbertson "Noxious Weeds of Australia" Csiro Publishing, 2001
2) Hunt, D., Taylor, N. and Charles, G. "The New Cactus Lexicon." dh Books, Milborne Port, UK. 2006
3) N. L. Britton, J. N. Rose: "The Cactaceae. Descriptions and Illustrations of Plants of the Cactus Family." Vol I, The Carnegie Institution of Washington, Washington 1919
4) Joseph Nelson Rose "Studies of Mexican and Central American Plants" Volume 1, U.S. Government Printing Office, 1909
5) Anderson, E. F. "The cactus family" 2001.
6) Jim Cullen, Mic Julien, Rachel McFadyen "Biological Control of Weeds in Australia" Csiro Publishing, 05 March 2012
7) Del Castillo R, González-Espinosa M "Una interpretación evolutiva del polimorfismo sexual de Opuntia robusta (Cactaceae)." Agrociencia 71:184-196 (1988)
8) Kishan Gopal Ramawat "Desert Plants: Biology and Biotechnology" Springer Science & Business Media, 16 December 2009
9) Roy Wiersma "Luther Burbank Spineless Cactus Identification Project" AuthorHouse, 01 October 2008
10) Alejandro Estrada, T.H. Fleming "Frugivores and seed dispersal" Springer Science & Business Media, 06 December 2012
11) Joan Sydney Whitmore "Drought Management on Farmland" Springer Science & Business Media, 14 March 2013
12) Anna L. Snowden "Post-Harvest Diseases and Disorders of Fruits and Vegetables: Volume 1: General Introduction and Fruits" CRC Press, 14 February 2008
13) Curt Backeberg: "Die Cactaceae: Handbuch der Kakteenkunde." 2. edition, 1982
14) Allorge-Boiteau, L. "Les cactées introduites à Madagascar." Succulentes (France) 25(1): 9–16 .2002.
15) CONABIO. "Catálogo taxonómico de especies de México. 1." In Capital Nat. México. CONABIO, Mexico City. 2009
16) Opuntia robusta. (2015, 23 de abril). Wikipedia, La enciclopedia libre. Fecha de consulta: 14:37, marzo 24, 2016 desde https://es.wikipedia.org/w/index.php?title=Opuntia_robusta&oldid=81979928.
17) González D. A, Riojas L.M.E, Arreola N.H.J. "El género Opuntia en Jalisco. Guía de campo. Univ. de Guadalajara y Comisión Nacional para el Conocimiento y Uso de la Biodiversidad." Guadalajara, México. 135 pp. 2001
18) Castillo-Argüero, S., P. Guadarrama-Chávez, Y. Martínez-Orea, G. Montes-Cartas, O. Núñez-Castillo, M.A. Romero-Romero & I. Sánchez-Gallén. "Dinámica y conservación de la flora del matorral xerofilo de la Reserva Ecologica del Pedregal de San Angel (D.F., MX)." Boletín de la Sociedad Botánica de México 74: 51-75. 2004
19) Enríquez-Enríquez, E.D. & S.D. Koch. "Flora y vegetación de la Sierra de Órganos, municipio de Sombrerete, Zacatecas, México." Acta Botánica Mexicana 64: 45-89. 2003
20) Zimmermann, H.G., M. Pérez-SandyCuen, J. Goluvob, J. Soberón & J. Sarukhán. "Cactoblastis cactorum, una nueva plaga de muy alto riesgo para las Opuntias de México." Biodiversitas 33(1-6). 2000
21) Hernández, H.M., Cházaro, M. & Gómez-Hinostrosa, C. 2013. Opuntia robusta. The IUCN Red List of Threatened Species 2013: e.T152874A689177. http://dx.doi.org/10.2305/IUCN.UK.2013-1.RLTS.T152874A689177.en. Downloaded on 24 March 2016.
Cultivation and Propagation: Opuntia robustaSN|32724]]SN|32724]] is a low maintenance plant that tolerate considerable neglect and will naturalize. Easy to cultivate outdoor in warm dry climates.
Growth rate: it is a relatively fast growing species that can form large clumps just in a few year.
Soils: It grows well in sandy or gravely, well-drained soils. May be grown in clay soils as long as drainage is good and soils do not remain wet, it is very adaptable both in acid, neutral and basic (alkaline) soils, but prefers a pH in the range 6 to 7,5. For pot culture it needs regular cacti soil with little organic matter (peat, humus).
Repotting: Since they are big-sized plants, they need plenty of space for their roots. Repotting should be done every other year, or when the plant has outgrown its pot. Use pot with good drainage.
Watering Needs: Must be kept fairly dry in winter but likes a reasonable supply of water in the growing season, but do not overwater and allow to dry fully before watering again, tolerate dry condition but suffer if exposed to prolonged and severe drought. A position at the base of a south-facing wall or somewhere that can be protected from winter rain is best for this plant, but is however resistant to moisture and rain. Care must be taken with watering as they tends to become swollen and untidy in growth habit if given too much water and shade.
Fertilization: During the growing season enrich the soil using a fertilizer rich in potassium and phosphorous, but poor in nitrogen, because this chemical element doesn't help the development of succulent plants, making them too soft and full of water.
Sun Exposure: Full sun (only), in semi shaded position wont produce many flowers.
Hardiness: Reputedly hardy to -5° C or less for short periods (depending on clone). However some warmth throughout the year will increase the grower's success (minimum 5° to 8° C during rest season). In presence of high atmospheric humidity make sure that Opuntias are not exposed to freezing temperatures, or they may die. Outdoors this plant is very adaptable, as long as you avoid excessive humidity in the winter months (in good drained soils).
Garden uses: Excellent as landscape or patio plant. It is suitable for "desert" or "Mediterranean" gardens, in association with other xerophytes. Where the open air cultivation is not possible due to the climate, it is to be cultivated in pot in order to shelter it in winter.
Other uses: People encourage the propagation of this species. The edible fruit of this species is popular, and cattle and people eat young pads (it is the most edible of all the species). The optima] storage temperature of the fruits is 8° to 10°C, according to cultivar, and fruits may be stored thus for about 2 weeks. This plant is an excellent choice for fodder production, being more resistant to drought, cochineal and cactoblastis infestation than the green types although it is rather less palatable and productive.
Pests & diseases: It may be attractive to a variety of insects, but plants in good condition should be nearly pest-free, particularly if they are grown with good exposure and ventilation.
Warning: Opuntias bear spines and glochids (stiff bristles on the surface of the cladode) that can be very irritating to the skin.
Propagation: Reproducing by seed and from branch segments.