Donate now to support the LLIFLE projects.
Your support is critical to our success.
Since 4 Aug 2013
Accepted Scientific Name: Gymnocalycium paediophilum F.Ritter
Kakteen Sukk. 1: 269, fig. 1979
Gymnocalycium chacoense Photo by: Alexander Arzberger
Origin and Habitat: Gymnocalycium chacoense is widespread in the Bolivian department of Santa Cruz on the island of Cerro San Miguel.
Altitude range. Around 790 metres above sea level.
Habitat and ecology. This species grows in the pretty inaccessible step gorges of Cerro San Miguel, where thousands of them grows in groups in the upper third of the mountain on the rock in small crevices or cavities filled with deposits of humus. It is a relict habitat. Clusters with 50 bodies are not uncommon. The striking uniformity of the plants with nearly no recognizable trace of variety. The lack of genes-exchange, suggest that the population presumably reproduces mainly vegetatively. This theory is supported by the low germinative capacity of the seed.
Synonyms:
See all synonyms of Gymnocalycium paediophilum
Description: Gymnocalycium chacoense is a low growing species that form large groups of many pale-green stems, often of 25-50 heads. The plants offset very strongly. Probably due to the almost exclusively vegetative propagation, the population at the type site is very uniform. With time each individual offsets produce its own roots and becomes an independent plant. This species is strictly related to Gymnocalycium paediophilum and often synonymized with the latter (Hunt et alt. 2006), but G. Charles et Detlev Meting consider it a good species, distinguished from G. paediophilum by smaller flowers, that are white to pink sometimes becoming red at maturity and also by finer, golden-yellow, denser and bristly spines that give it a distinct identity. It's really a very interesting gymno, different from the rest of the genus.
Stems: Bright fresh green, spherical 40-75 mm tall, 55-80 mm in diameter, branching profusely from the base.
Roots: Shallow, fibrous.
Ribs: 8-12 rounded, hardly humped.
Areoles: Round 3 mm in diameter, 14-15 mm apart, with white or yellowish felt when young fading with time.
Spines: Thin, and stiff, rigid but elastic, more or less protruding, straight to slightly curved, initially light yellow with dark tips, greying later.
Central spines: 3, 15 to 21 mm long.
Radial spines: 6-9, 8 to 19 mm long.
Flowers: Several at a time, slender funnel-shaped, appearing on the apex of the stem closely embedded among the spines and barely open, 3.5-4.5 cm long (rarely 2.5 cm) and 2 to 3.2 cm in diameter, white to delicate light pink with a yellow-brown throat. Ovary flat-spherical c. 3 mm tall and 4 mm wide, rose-magenta, with several smooth, spineless scales. Scales half-rounded, pink with a pale-coloured margin. Outer perianth segments spatulate, 15-18 mm long, pale rose-magenta with a large whitish margin, the apex curved outward. Inner perianth segments lanceolate, 18 mm long, up to 6 mm wide at the widest point, milky-white. Filarnents thin, pale greenish-yellow, inserted throughout the tube wall, 9 mm long, pressed against the wall, the upper third curved inward, overlooking style. Anthers oval, 1 mm long, 0,5 mm in diameter, pollen yellow. Style 7 mm long, stigma 9 mm long, light yellow-green, overlooked by the last row of anthers.
Fruit: Small, elongated, green at first juicy, drying at maturity, 6-8 mm long, green 4-5 mm wide. Seeds stuck in a gelatinous mass.
Seeds: Small l mm long, 0,7 mm wide, red-brown, shiny, with with many warts, microphyle region slightly oblique.
Subspecies, varieties, forms and cultivars of plants belonging to the Gymnocalycium paediophilum group
Gymnocalycium chacoense

Amerh.

: has smaller white to pink flowers. The spines are finer, golden-yellow, denser and bristly. Distribution: Bolivian department of Santa Cruz on the island of Cerro San Miguel, 800 m asl.

Gymnocalycium paediophilum

F.Ritter

: Distribution: Cerro Leon, Boqueron department, Alto Paraguay, Paraguay. 220-270 m asl.
Bibliography: Major references and further lectures
1) "Gymnocalycium in habitat Gymnocalycium chacoense H. Amerhauser" retrieved on 23 July 2016 from: http://www.richtstatt.de/gymnos/standort/e_chacoense_amerhauser.htm
2) Helmut Amerhauser "Gymnocalycium chacoense, eine beachtenswerte neue Art aus Südostbolivien". In: Gymnocalycium. volume 12, number 4, 1999, pp 301–304
3) Hunt, D., Taylor, N. and Charles, G. (compilers and editors). "The New Cactus Lexicon." dh Books, Milborne Port, UK. 2006.
4) Volker Schadlidi Translated by Graham Charles. Photographs by the author. "ON THE WAY TO THE SOUTH-EASTERN PART OF THE KAA-IYA NATIONAL PARK OF THE GRAN CHACO IN THE LOWLANDS OF BOLIVIA" in: The Cactus Explorer Number 14 April 2015
5) John Pilbeam "Gymnocalycium – C – D" in: CactusWorld Vol. 25 (3), September 2007.
Gymnocalycium chacoense
Photo by: Alexander Arzberger
Gymnocalycium chacoense
Photo by: Alexander Arzberger
Gymnocalycium chacoense
Photo by: Alexander Arzberger
Gymnocalycium chacoense
Photo by: Alexander Arzberger
Gymnocalycium chacoense
Photo by: Alexander Arzberger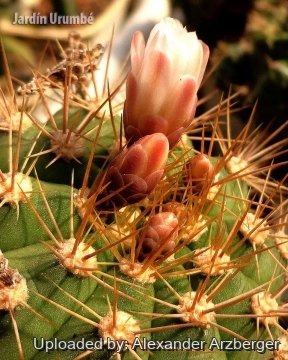 Gymnocalycium chacoense
Photo by: Alexander Arzberger
Gymnocalycium chacoense
Photo by: Alexander Arzberger
Send a photo of this plant.
The gallery now contains thousands of pictures, however it is possible to do even more. We are, of course, seeking photos of species not yet shown in the gallery but not only that, we are also looking for better pictures than those already present.
Read More...
Cultivation and Propagation: Gymnocalycium chacoense is a summer grower species that is easy to cultivate.
Growth rate: It is a relatively rapidly growing and easily flowering species that will make clumps given the best conditions.
Soils: It likes very porous standard cactus mix soil. Prefer a low pH compost, avoid substrata rich in limestone; otherwise growth will stop altogether.
Repotting: This plant needs plenty of space for its roots, repotting should be done every other year or when the it has outgrown its pot. Use pot with good drainage.
Watering: Needs moderate to copious waterings in summer, but do not overwater (Rot prone), keep dry in winter at a minimum temperature of 0°C.
Fertilization: Feed with a high potassium fertilizer in summer.
Hardiness: Reputedly resistant to frost if kept on the dry side prior to, and during, cold weather (hardy to -5 C ° C, or less for short periods).
Exposition: The plant tolerates extremely bright situations but enjoys filtered sunlight or afternoon shade, inside it needs bright light, and some direct sun. Tends to bronze in strong light, which encourages flowering and heavy spine production, but is likely to suffer from sun scorch or stunted growth if over exposed to direct sunlight during the hottest part of the day in summer.
Uses: It is an excellent plant for container growing. It always looks good and stays small. It look fine in a cold greenhouse and frame or outdoor in a rockery.
Pests & diseases: It may be attractive to a variety of insects, but plants in good condition should be nearly pest-free, particularly if they are grown in a mineral potting-mix, with good exposure and ventilation. Nonetheless, there are several pests to watch for:
- Red spiders: Red spiders may be effectively rubbed up by watering the plants from above.
- Mealy bugs: Mealy bugs occasionally develop aerial into the new growth among the wool with disfiguring results, but the worst types develop underground on the roots and are invisible except by their effects.
- Scales: Scales are rarely a problem.
- Rot: This species is particularly easy and accommodating, seldom suffer of cryptogamic diseases. Rot it is only a minor problem with gymnocalyciums if the plants are watered and "aired" correctly. If they are not, fungicides won't help all that much.
Propagation: Division, direct sow after last frost. Seeds germinate in 7-14 days at 21-27° C in spring, remove gradually the glass cover as soon the plants will be well rooted (ca 1-2 weeks) and keep ventilated, no full sun for young plants! To make a cutting twist off a branch and permit it to dry out a couple of weeks, lay it on the soil and insert the stem end partially into the soil. Try to keep the cutting somewhat upright so that the roots are able to grow downward.