Donate now to support the LLIFLE projects.
Your support is critical to our success.
Since 4 Aug 2013
Pygmaeocereus bylesianus Photo by: Valentino Vallicelli
Origin and Habitat: Chala, Atico, Camana, Rio Tambo and adjacent hills, Arequipa, Southern Peru.
Altitude: 50-1050 metres above sea level.
Habitat: It grows together with Islaya divaricatifloraSN|14245]]SN|14245]] in very dry hillsides along the coast of the sea often growing in extensive populations on mineral, sterile, alluvial sediments, sand dunes and exposed windy slopes above the Pacific Ocean where it almost never rains and where for many days of the year, the only source of humidity is the thick sea fog garua, which drift inland and condenses on the desert sand like dew. Pygmaeocereus bylesianusSN|3846]]SN|3846]] is found in Lomas communities (highly variable mixtures of annual, short-lived perennial, succulents and woody scrub ) that occur as islands of vegetation and are separated by varying distances of hyperarid habitat devoid of plant life.
Synonyms:
See all synonyms of Pygmaeocereus bylesianus
Accepted name in llifle Database:
Pygmaeocereus bylesianus
Andreae & Backeb.
Natl. Cact. Succ. J. 12: 86 (-87; photogrs.). 1957
Synonymy: 6
Description: Pygmaeocereus bylesianusSN|3846]]SN|3846]] is a diminutive columnar cactus with short, dense rust-coloured spines and remarkably beautiful white nocturnal flowers which open for just a single night. In common with some other night-flowering species, the flowers have a rather strange but not unpleasant scent, which would no doubt attract the pollinating insect.
Habit: Small, branching basally to form small clumps with several stems.
Roots: Large tuberous and fleshy.
Stems: Short cylindrical, dark green, up to 8(-15) cm tall and 2 cm in diameter.
Ribs: 12-14, wavy, notched at first, then forming distinct tubercles.
Areoles: Round white felted.
Spines: Numerous, dark, changing to grey with age, radiating, 4-5 mm long.
Flowers: Nocturnal, wide funnelform, white, to 6 cm long. Floral tubes very slender. The perfume and long, narrow flower tube suggest that the natural pollinator must be a long-tongued moth.
Fruits: Globose to pear-shaped.
Bibliography: Major references and further lectures
1) Edward Anderson "The Cactus family" Timber Press, Incorporated, 2001
2) James Cullen, Sabina G. Knees, H. Suzanne Cubey "The European Garden Flora Flowering Plants: A Manual for the Identification of Plants Cultivated in Europe, Both Out-of-Doors and Under Glass" Cambridge University Press, 11/Aug/2011
3) David R Hunt; Nigel P Taylor; Graham Charles; International Cactaceae Systematics Group. "The New Cactus Lexicon" dh books, 2006
4) Urs Eggli, Leonard E. Newton: "Etymological Dictionary of Succulent Plant Names" Springer, Berlin/Heidelberg 2010
5) Clive Innes, Charles Glass "Cacti" Portland House, 1991
Pygmaeocereus bylesianus
Photo by: Valentino Vallicelli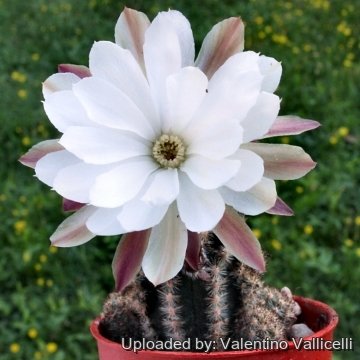 Pygmaeocereus bylesianus
Photo by: Valentino Vallicelli
Pygmaeocereus bylesianus
Photo by: Valentino Vallicelli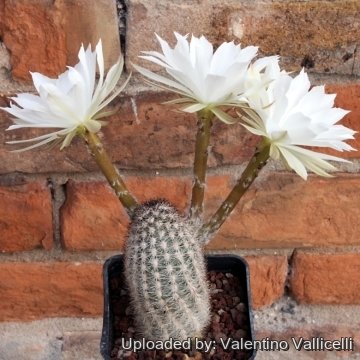 Pygmaeocereus bylesianus
Photo by: Valentino Vallicelli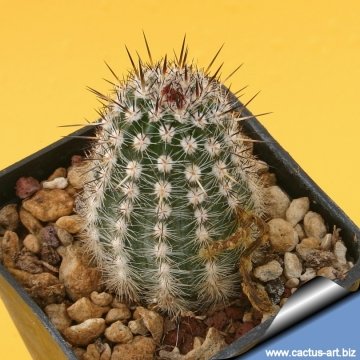 Pygmaeocereus bylesianus
Photo by: Cactus Art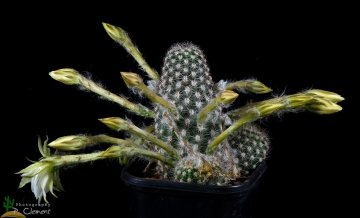 Pygmaeocereus bylesianus buds.
Photo by: Peiffer Clement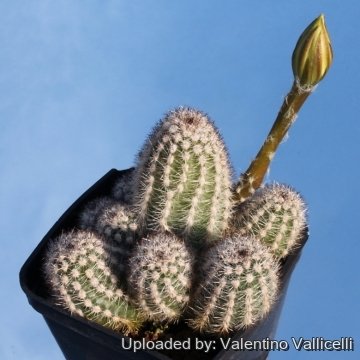 Pygmaeocereus bylesianus
Photo by: Valentino Vallicelli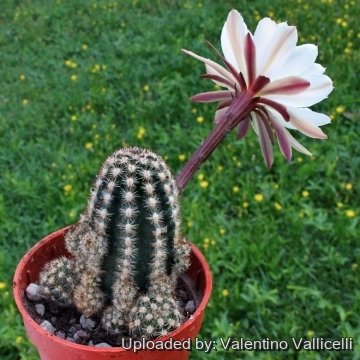 Pygmaeocereus bylesianus
Photo by: Valentino Vallicelli
Cultivation and Propagation: Pygmaeocereus bylesianusSN|3846]]SN|3846]] is a xerophytic, summer-growing, species adapted to very dry soils that, like many cacti of the Peruvian deserts, present some problems in cultivation. It is in fact somewhat rot prone if kept in a non ventilated place.
Growth rate: Slow-growing.
Soil: It requires a very fast draining drying open mineral, sandy-gritty cactus composts. Provide a very good drainage.
Repotting: Repotting will increase the number and size of stems, and will increase the number of flowers produced. Repot yearly until the plant reaches about 5 cm in diameter, then every two or three years will suffice. Repotting is best done at the end of winter, but it can also be done at other times. Do not water for a couple of weeks after repotting, to reduce the risk of root rot via broken roots.
Exposure: It is suited for sunny-brightly exposure, but can tolerate light shade. However it will do its best only with lots of sun and become stressed with inadequate light which could result in poor growth and unnatural shape. It has a good heat tolerance.
Watering: Water regularly in summer, but do not over-water and keep it completely dry during winter. Mature individuals easily rot and die especially after transplanting so be extremely cautious with watering. Keep dry in winter or when night temperatures remain below 10° C. Water it less than average if in bigger pots.
Fertilization: Feed them once during the growing season with a fertilizer specifically formulated for cactus and succulents (high potash fertilizer with a dilute low nitrogen), including all micro nutrients and trace elements diluted to ½ the strength recommended on the label. They thrive in poor soils and need a limited supplies of fertilizer to avoid the plants developing excess vegetation, which is easily attacked by fungal diseases.
Special need: It is suited for airy exposures. Provide very good ventilation. Nearly all problems occur as a result of overwatering and poor ventilation, especially when weather conditions are dull and cool or very humid. They must have very dry atmosphere.
Hardiness: These plants tolerate light frost (- 2 °C for a short period). They need to be kept in a cool place (min. temperature around 5° C) during winter rest. This is important for the flowers as well as for their health. Without this cool winter period they normally won't get many buds.
Heat tolerance: Good.
Pests & diseases: These cacti may be attractive to a variety of insects, but plants in good condition should be nearly pest-free, particularly if they are grown in a mineral potting-mix, with good exposure and ventilation. Nonetheless, there are several pests to watch for.
- Red spiders: All, especially the young, are susceptible to red spider mites. Red spiders may be effectively rubbed up by misting the plants from above.
- Mealy bugs: Mealy bugs occasionally develop aerial with disfiguring results, but the worst types develop underground on the roots and are invisible except by their effects.
- Scales, thrips and aphids: These insects are rarely a problem.
- Rot: Rot is only a minor problem if the plants are watered and "aired" correctly. If they are not, fungicides won't help all that much.
Propagation: Seeds, grafting or (usually) cuttings. The seeds can be sown in pots of fine, well-drained sandy soil, any time during the spring when temperatures are warm. The seedlings should not be disturbed until they are well rooted after which they can be planted separately in small pots. Cuttings: wait until the offsets that appear at the base of old clustered specimens are 1/3 the size of the parent and then detach and plant. Cuttings will take root in a minimum temperature of 20° C (but better in hot weather). Cuttings of healthy shoots can be taken in the spring and summer. Cut the stem with a sharp, sterile knife, leave the cutting in a warm, dry place for a week or weeks (depending on how thick the cutting is) until a callus forms over the wound. Once the callus forms, the cutting may be inserted in a container filled with firmed cactus potting mix topped with a surface layer of coarse grit. They should be placed in the coarse grit only; this prevents the cut end from becoming too wet and allows the roots to penetrate the rich compost underneath. The cuttings should root in 2 to 6 weeks. Sometimes it is grafted onto a strong grafting stock like Selenicereus sp. to avoid root rot problems as plants grafted on an hardy stock are easy to grow and no special skill is required. Such grafted seedlings can be been successfully cultivated for years.