Donate now to support the LLIFLE projects.
Your support is critical to our success.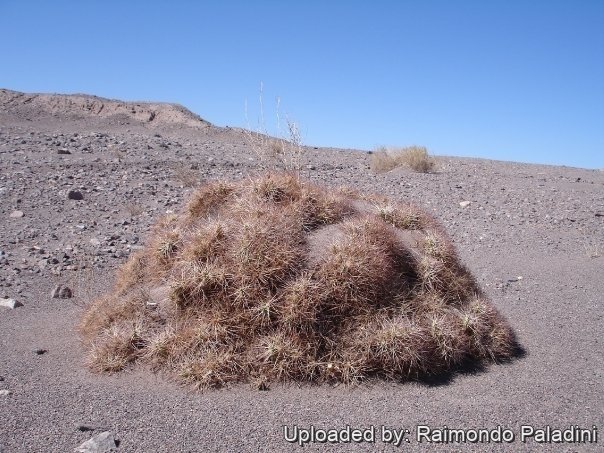 Cumulopuntia boliviana Photo by: Raimondo Paladini
A large clump partly covered by sand in the vicinity of San Pedro de Atacama, North Chile. This cactus never occurs on rocks, but rather on sandy grounds.
Origin and Habitat: Southern Peru (Puno, Tacna, Moquegua, Arequipa), the Bolivian altiplano, and Arica y Parinacota, Tarapacá, and Antofagasta regions of Chile to Argentina (Jujuy, Salta, Catamarca, La Rioja, and San Juan provinces)
Altitude: 2000 to 4400 metres above sea level (Medium altitude up to the timber line to extreme altitude well beyond the timber line).
Habitat and Ecology: This species grows in high altitudes close to the line of high Andes in somewhat dry areas where the drought may last 3-5 months. Precipitations 400-800 mm per annum concentrated in winter. It is present in areas fully exposed to the sun, generally in flat areas or slopes facing north. It never occurs on rocks, but rather on sandy grounds. This cactus does not seem to be affected by any threats.

Synonyms:
See all synonyms of Cumulopuntia boliviana
Common Names include:
SPANISH (Español):
Copana, Espina, Kepo, Puscaya
Description: Cumulopuntia bolivianaSN|4047]]SN|4047]] is a cushion-forming cactus densely armed with golden brown spines, native to high elevation deserts around 4000 m in the Andes. It forms large mounds up to 100 cm in diameter. Cumulopuntia bolivianaSN|4047]]SN|4047]] comprises several local or morphological forms that differ slightly in appearance from place to place throughout its range. In cultivation it seem a bit tricky, not developing the dense spines and not usually flowering. Four subspecies are recognized, the typical form (subsp. boliviana), subsp. dactylifera (Vaupel). D.R.Hunt, subsp. echinacea (F.Ritter) D.R.Hunt, subsp. ignescens (Vaupel) D.R.Hunt (Hunt et al. 2006). The complex is often assessed as a single species.
Root: It has a thick napiform root.
Stem segments: Elongate to ovoid, light green, tuberculate apically, 3.5-7 cm long 3,5-4 cm in diameter.
Tubercles: at first well delimited, later only dimly discernible, mostly on upper portions of segments.
Areoles: About 15, near the segment tips, rounded, about 4 mm across, bearing a ring of brownish yellow glochids, with a small white or yellowish woolly centre. Basal areoles spineless.
Leaves: Minute and ephemeral.
Spines: 1 to10 (or more), only on the uppermost areoles near the segment tips, erect or somewhat spreading, straight, rounded or slightly compressed, some thin and flexible, yellow to reddish brown, and sometimes a very few shorter, secondary spines (3-10 mm long) whitish and bristly, all becoming grey and even black with age.
Flowers: Yellow (rarely orange, pink or red), to 4-5,5 cm long, 5-6 cm in diameter; pericarpels bristly above. Tepals small spatulate more or less mucronate. Outer tepals pale yellow or slightly tinged with red. Stamens sensitive. Filaments are light yellow anthers of the same colour. Style light yellow. Stigma lobes 7-8, paler, whitish or greenish.
Fruits: Usually nearly spherical and truncated, fleshy, green to yellow, mostly spineless but sometimes with a few flexible bristles approximately 20 mm long.
Seeds: 3 x 2 mm testa, shinning, very hard, aril with prominent annular rim.
Subspecies, varieties, forms and cultivars of plants belonging to the Cumulopuntia boliviana group
Bibliography: Major references and further lectures
1) Edward Anderson "The Cactus family" Timber Press, Incorporated, 2001
2) James Cullen, Sabina G. Knees, H. Suzanne Cubey "The European Garden Flora Flowering Plants: A Manual for the Identification of Plants Cultivated in Europe, Both Out-of-Doors and Under Glass" Cambridge University Press, 11/Aug/2011
3) David R Hunt; Nigel P Taylor; Graham Charles; International Cactaceae Systematics Group. "The New Cactus Lexicon" dh books, 2006
4) Urs Eggli, Leonard E. Newton: "Etymological Dictionary of Succulent Plant Names" Springer, Berlin/Heidelberg 2010
5) Trevisson, M., Lowry, M., Kiesling, R., Cáceres, F., Faundez, L. & Ostalaza, C. 2013. Cumulopuntia boliviana. In: IUCN 2013. "IUCN Red List of Threatened Species." Version 2013.2. <www.iucnredlist.org>. Downloaded on 05 December 2013.
6) Friedrich Ritter "Kakteen in Südamerika. Ergebnisse meiner 20jährigen Feldforschungen." volume 2: Argentinien/Bolivien." Selbstverlag, Spangenberg 1980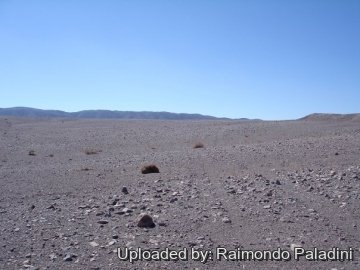 Cumulopuntia boliviana in habitat at San Pedro de Atacama, North Chile.
Photo by: Raimondo Paladini
San Pedro de Atacama, North Chile.
Photo by: Raimondo Paladini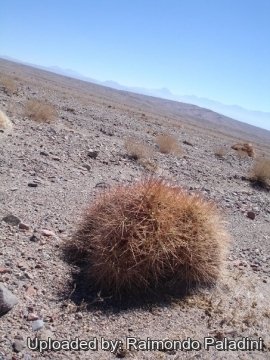 Habit - San Pedro de Atacama, North Chile.
Photo by: Raimondo Paladini
Cumulopuntia boliviana - San Pedro de Atacama, North Chile.
Photo by: Raimondo Paladini
Cultivation and Propagation: Cumulopuntia bolivianaSN|4047]]SN|4047]] cannot endure any standing heat and need an absolutely airy and sunny place this brings very healthy plants with a good spination and flowers, but often in cultivation the plants are rarely so compact as they are best grown inside a greenhouse because of our very humid weather in North Europe and America which gives a relatively low light intensity compared to the temperature. However, this species takes considerable frost and is certainly worth growing.
Soil: Use a very draining compost-mix with a high mineral content, they needed deeper pots to accommodate the big tap root.
Watering: Water and feed in the vegetation period from April until to mid of September, keep dry and cool in winter, they have to be stimulated to bloom by dryness and you may give them water first when the plants start to produce the new buds.
Repotting: Generally, these plants should be re-potted every other year, in order to provide fresh soil. Pot bound, starved plants will rapidly look tatty and won't flower well.
Hardiness: Hardiness Zone 8. The plant tolerates low temperatures (-8°C), can tolerate occasional snow cover for up to a couple of weeks per year.
Propagation: Cuttings (let dehydrate the cuttings for a few weeks and the roots will coming quick). To get new clones it is necessary to use seeds. Seeds require some preliminary manipulations, in fact, the shell/husks of the seeds are very hard (like a hazelnut), it is necessary to soak the seeds 24 hours, and break or scarify the husks before planting, by any means. In these conditions, germination occurs in 5 or 6 days. Otherwise, with intact seeds, germination can take several months or even years.