Donate now to support the LLIFLE projects.
Your support is critical to our success.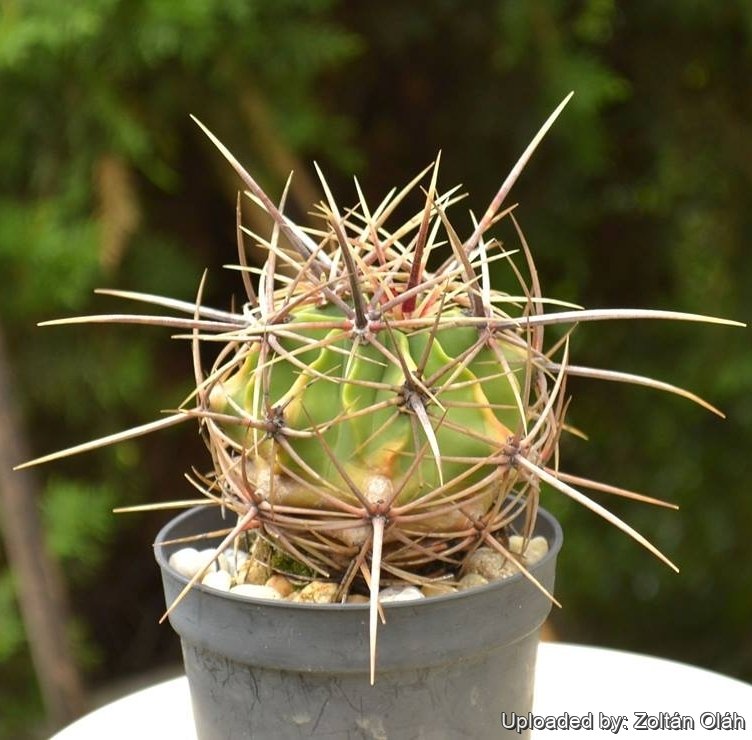 Ferocactus histrix Photo by: Zoltán Oláh
A barrel cactus, and an outstanding example of massiveness. Together with Echinocactus platyacanthus this is the most abundant and widespread barrel cactus in Mexico.
Origin and Habitat: Ferocactus histrixSN|4300]]SN|4300]] is endemic to Central-Eastern Mexico where it is widely distributed in the states of Aguascalientes, Durango, Guanajuato, Hidalgo, Jalisco, Querétaro, San Luis Potosí, Veracruz and Zacatecas.
Altitude range: 1,200 and 2,600 metres above sea level.
Habitat and Ecology: The species occurs in xerophyllous scrub, oak forests and submontane scrub. Accompanying cactus and succulent species can be Echinocactus horizonthaloniusSN|1711]]SN|1711]], Echinocereus blanckiiSN|7478]]SN|7478]], Stenocereus marginatusSN|8042]]SN|8042]], Myrtillocactus geometrizansSN|8050]]SN|8050]], Coryphantha clavaSN|3896]]SN|3896]], Mammillaria uncinataSN|14267]]SN|14267]], Neolloydia conoideaSN|10089]]SN|10089]], Opuntia microdasysSN|15506]]SN|15506]], Jatropha spathulata, Agave filiferaSN|301]]SN|10450]], Agave celsiiSN|10450]]SN|301]], Echeveria agavioides, Dasylirion acrortichum and Yucca filifera. The development of an adult plant of Ferocactus histrixSN|4300]]SN|4300]] from seed takes decades (one generation is estimated to be at least 30 years). This was one of the most abundant barrel cactus species, but the population is suspected to be in serious decline due to over-exploitation of mature individuals, flowers and fruits and loss of plants through clearance of habitat for urban expansion. In addition to the direct exploitation, goats and cattle degrade the microhabitats reducing the success of germination and seedling establishment. Human consumption of adult plants for producing "dulces de acitron" (candy) was a significant threat in many areas, but especially near human population centres, as this requires the destruction of mature plants to obtain the parenchyma. This practice is now banned by law, and the candy may only be sold commercially if it is produced from cultivated plants.
Synonyms:
See all synonyms of Ferocactus histrix
Accepted name in llifle Database:
Ferocactus histrix
(DC.) G.E.Linds.
Cact. Succ. J. (Los Angeles) 27: 171. 1955
Synonymy: 23
Common Names include:
ENGLISH:
Electrode Cactus, Candy Cactus, Candy Barrel Cactus, Mexican barrel cactus
LITHUANIAN (Lietuvių):
Adatinis ferokaktusas
SPANISH (Español):
Biznaga de dulce, Guamishí
SWEDISH (Svenska):
Bronsdjävulstunga
Description: Ferocactus histrixSN|4300]]SN|4300]] is a colourful barrel cactus usually unbranched, forming a single moderately tall column.
Stem: Globular to short-cylindric up to 110 cm tall and 50-60(-80) cm in diameter, bluish green with large, depressed, woolly stem tips.
Ribs: to 20-40 or more.
Areoles: 2 to 3 cm apart, almost confluent in old plants.
Spines: 10 to 12 stout, amber yellow, becoming brown, red to brown at base.
Central spines: 1-4 uppermost 2-1 to 3,5 cm, lowermost, much stouter and longer, 4-6(-9) cm long, porrect or ascending, annulate, sometimes flattened or angular in cross section, and often slightly down-curved, except in young plants.
Radial spines: Slender-subulate 6-9 2 to 3 cm. long, more or less spreading.
Flowers: Bell shaped, 2-3,5 cm long, 2,5 cm in diameter, bright yellow, sometimes reddish; inner perianth-segments linear-oblong, acute, somewhat spreading; stigma-lobes 6, linear, green; scales on the ovary ovate, acute, small, 2 to 4 mm long, somewhat ciliate. It is an obligate outcrossing cactus. Pollen is released 1 to 2 days after anthesis. At this stage the stigma lobes are closed, and the pollinators usually land directly on the stamens to reach the nectary. In this way, pollen can be easily collected. After 2 to 3 days of opening, the stigma lobes expand and are used by pollinators as a landing platform. and pollen from others flowers can be deposited (del Castillo 1994). Therefore, self pollination within the same flower is avoided but the transfer of pollen from one flower to another in the same plant is not, as flowering is sequential.
Fruit: Short-oblong, 2-3 cm. pinkish, fleshy and somewhat edible. Often bursting apically to release seeds in liquid.
seeds: Minute, 1 mm long, dark brown, testa finely pitted.
Blooming season: Summer.
Subspecies, varieties, forms and cultivars of plants belonging to the Ferocactus histrix group
Notes: The "biznagas" Ferocactus histrixSN|4300]]SN|4300]] and Echinocactus platyacanthusSN|10367]]SN|10367]] Link & Otto are two common barrel cacti of the semiarid highlands of Central Mexico. In pre-Columbian (pre-Hispanic) times, these plants were regarded as being sacred and used for sacrifices, food and medicine. Today, these cacti are used in the candy industry ("dulces de acitrón" or "dulce de biznaga"), as medicine, as a source of food and water for goats and as ornamental plants. They are probably the most economically important barrel cacti in Mexico. The importance of these species increases with the aridity of the land and its inadequacy for agriculture. The mature floral buds ("cabuches")and fruits ("borrachitos", "biznaguitas" or "jarritos") of F. histrix are consumed by the local people, the latter are sold in local markets throughout the range of the species. In southern Zacatecas and in San Luis Potosí states, the mature floral buds of F. histrix are fried or boiled with red chilli or mixed with fried eggs. The fruits of F. histrix are also used to prepare a non-alcoholic beverage ("agua de biznaga"), or ices ("popsicles" or "paletas de biznaga") for commercial sale in places such as Salinas de Hidalgo and San Luis de la Paz in Guanajuato. The fermented fruits are used to make alcoholic drinks. Currently, the most common use of the parenchyma of both F. histrix and E. platyacanthus is in confectionery (Del Castillo and Trujillo 1991; and see Anderson 2001 for details on the preparation).
Bibliography: Major references and further lectures
1) Del Castillo, R.F. "Polinización y otros aspectos de la biología floral de Ferocactus histrix." Cactáceas y Suculentas Mexicana 39: 36-43 1994
2) Park S Nobel "Cacti: biology and uses" University of California Press, 2002
3) Davíd Carrasco, Scott Sessions "Cave, City, and Eagle's Nest: An Interpretive Journey Through the Maya de Cuauhtinchan N ̊ 2", Edizione 2 UNM Press, 2007
4) Edward Anderson "The Cactus family" Timber Press, Incorporated, 2001
5) James Cullen, Sabina G. Knees, H. Suzanne Cubey "The European Garden Flora Flowering Plants: A Manual for the Identification of Plants Cultivated in Europe, Both Out-of-Doors and Under Glass" Cambridge University Press, 11/Aug/2011
6) David R Hunt; Nigel P Taylor; Graham Charles; International Cactaceae Systematics Group. "The New Cactus Lexicon" dh books, 2006
7) N. L. Britton, J. N. Rose "The Cactaceae. Descriptions and Illustrations of Plants of the Cactus Family." Volume 4, The Carnegie Institution of Washington, Washington 1923
8) Sara Oldfield "Cactus and succulent plants: status survey and conservation action plan" IUCN, 1997
9) Del Castillo, R. F., and S. Trujillo. "Ethnobotany of Ferocactus histrix and Echinocactus platyacanthus (Cactaceae) in the semiarid central Mexico: past, present, and future." Economic Botany 45: 495-502. 1991.
10) Clive Innes, Charles Glass "Cacti" Portland House, 01/May/1991
11) Park S. Nobel "Remarkable agaves and cacti" Oxford University Press, Incorporated, 1994
12) Hiroshi Hirao "Colour encyclopaedia of cacti" Seibundo Shinkosha, 1979
13) Curt Backeberg: "Die Cactaceae: Handbuch der Kakteenkunde" Volume V, Gustav Fischer Verlag, Stuttgart New York 1982–1985
14) Revue de la Famille des Cactées. In: Memoires du Museum d'Histoire Naturelle. volume 17, page 115, 1828.
15) Cactus and Succulent Journal. Volume 27, Number 6, Los Angeles, pages 171–173. 1955
16) Guadalupe Martínez, J., Sánchez , E. & Bárcenas Luna, R. 2013. Ferocactus histrix. The IUCN Red List of Threatened Species. Version 2014.3. <www.iucnredlist.org>. Downloaded on 31 May 2015.

Ferocactus histrix
Photo by: Valentino Vallicelli
Send a photo of this plant.
The gallery now contains thousands of pictures, however it is possible to do even more. We are, of course, seeking photos of species not yet shown in the gallery but not only that, we are also looking for better pictures than those already present.
Read More...
Cultivation and Propagation: It is a summer-growing and pretty easy plant thought slow to start. It makes great potted specimens, and is a great cactus for beginning collectors.
Growth rate: It is a slow growing species. Plant in good conditions will start to bloom when reach the diameter of only 15-18 cm.
Soil: It grows well in a rich, well drained soil such us clay, pumice, lava grit, and only a little peat or leaf-mould, but it isn't picky about soil.
Repotting: If potted, repot them preferably in the spring, if their roots become cramped. Generally, they should be repotted every other year in order to provide fresh soil. However, this doesn't necessarily mean they'll need larger containers. Fill about a quarter of the pot with broken crocks, gravel, etc. to promote good drainage. After repotting, do not water for a week or more. Use pot with good drainage. Eventually, as the plant becomes mature grow it slowly, and adopt a new repotting period, using intervals of every 2 - 3 years. Additionally grow it under drier conditions or with stronger sunlight.
Watering: Water regularly during the summer so long as the plant pot is allowed to drain and not sit in a tray of water (It rots easily, especially if over wet), and also needs to be avoided wetting the body of this plant while it is in sunlight. A wet cactus in the sun light can cause sun burning which can lead to scares or even fungal infections and death.. Let dry between watering. During hot weather you may need to water the plants more frequently so long as the plant is actively growing. From late September watering should be reduced to force the plant to go in to a state of semi dormancy, by October you should be back in to the winter watering regime. If the soil is allowed to be dry for too long root loss could follow but equally the same result would occur if the plants are both wet and cold. From March onward the plant will begin to grow and watering should be increased gradually until late May when the plant should be in full growth
Fertilization: Feed with a high potassium fertilizer in summer. Feeding may not be necessary at all if the compost is fresh then, feed in summer only if the plant hasn't been repotted recently. Do not feed the plants from September onward as this can cause lush growth which can be fatal during the darker cold months.
Hardiness: When dormant, the plant is somewhat frost tolerant (down to nearly -5° C for short period of time), but when left out it is more sensitive to frost. However warmth throughout the year will increase the grower's success (at minimum temperatures above 5 degrees centigrade during rest season). During the summer it is best to keep the plants outside where the temperature can rise to over 30 C with no harm to the plant. This plants need a period of cool rest in winter to produce flowers abundantly.
Exposure: They do need a lot of light to develop their typical spination, but different clones vary in their tolerance of full sunshine. However some protection in light shade is recommended during the hottest hours in summer. It can tolerate moderate shade, and a plant that has been growing in shade should be slowly hardened off before placing it in full sun as the plant will be severely scorched if moved too suddenly from shade into sun. If kept too dark they may become overly lush and greener and could be prone to rotting due to over watering.
Ornamental uses: It is an excellent plant for container growing. It always looks good and stays small. It looks fine in a cold greenhouse and frame.
Food uses: The utilitarian value of Ferocactus histrixSN|4300]]SN|4300]] is well known. The round, succulent stem of this cacti is a vital source of water for thirsty beings in the arid Central Highlands of Mexico. The spongy water-storage tissue from large mature plants of Ferocactus, but also of Echinocactus, and other similar cactus species is prepared in the form of a popular candy known as acitrón or dulce de biznaga, the plant bodies are cut into cubes and boiled in syrup until it crystallizes. The candy is eaten as is or used in pastries, cakes and sweet tamales. The flower buds (cabuches) are eaten raw or preserved and served in a vinegar solution. The fruits, called borrachitos and other names, are harvested and eaten raw or their juice is extracted and used for making popsicles, marmalades, syrups and wine.
Diseases and pests: Watch for infestations of mealybugs, scale insects and spider mite. Rot is only a minor problem with cacti if the plants are watered and "aired" correctly. If they are not, fungicides won't help all that much.
Propagation: Seeds are the only way of reproducing, remembering that seedlings dislike strong light and dry conditions and need to be repotted frequently. Seed Collecting: Permit fruit to ripen. Fruit must be significantly overripe before harvesting seed; clean and dry seeds.