Donate now to support the LLIFLE projects.
Your support is critical to our success.
Accepted Scientific Name: Echinopsis terscheckii (J.Parm. ex Pfeiff.) H.Friedrich & G.D.Rowley
I.O.S. Bull. 3(3): 98 (1974)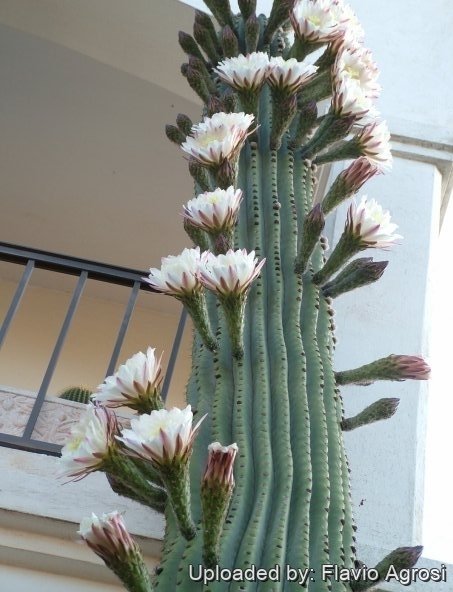 Pilocereus terscheckii (Echinopsis terscheckii) Photo by: Flavio Agrosi
Origin and Habitat: Echinopsis terscheckii (Trichocereus terscheckii) has a relatively wide range in Argentina (Catamarca, Salta, Jujuy, La Rioja, San Juan and Tucumán provinces) and Bolivia (Tarija)
Altitude range: It grows at altitudes between 800 and 2,000 metres above sea level.
Habitat and Ecology: E. terscheckii grows on different soil types in grasslands, shrublands, semiarid intermediate Chaco forest habitats that receive 400-750 mm annual rainfall on steep hillsides and bajada, sometimes growing in thick stands, with numerous plants approaching 10 m in height and often serving as hosts to ballmosses ( Tillandsia spp.). It can also be found in semitropical deciduous forest, its tops exceeding the surrounding vegetation, an accomplishment apparently essential for its survival. Its lower-elevation limit seems to involve its ability to withstand competition from the Chaco forest. This cactus is locally abundant, but the populations are declining. It is affected by agricultural activities and urbanization, it is also harvested for its wood. Echinopsis terscheckii occupies habitats found at elevations immediately below those at which the Echinopsis pasacana grows. Echinopsis atacamensis, at the lower elevation limit of its distribution, appears to hybridize readily with the larger E. terscheckii. E. terscheckii seems quite promiscuous, and the areas where intergrading occurs demonstrate numerous phenotypes of hybrids living harmoniously with non hybrids. Hybridization occurs also with other members of the genus Echinopsis (Trichocereus), the hybrids producing fertile offspring. The upward-elevation range of T. terscheckii is limited by cold and decreasing rainfall, whereas the lower range of the pasacana is limited by heat and increasing rainfall. This species is present in several protected areas, such as Quebrada de Las Conchas in Salta province.
Synonyms:
See all synonyms of Echinopsis terscheckii
Accepted name in llifle Database:
Echinopsis terscheckii
(J.Parm. ex Pfeiff.) H.Friedrich & G.D.Rowley
I.O.S. Bull. 3(3): 98 (1974)
Synonymy: 9
Common Names include:
ENGLISH:
San Pedro, Cardon grande cactus, Argentine saguaro, South American saguaro
PERSIAN (فارسی):
اکینوپسیس ترسککی
SPANISH (Español):
Cardon Grande, Cardón santos, San Pedro, Cardón
Description: Echinopsis terscheckii best known in cultivation as Trichocereus terscheckii is a huge treelike cactus species, called in Argentina cardon grande. At first columnar, and usually in age with numerous large arms, 10 to 12 meters high.
Similar species: It has frequently been confused with another species, Echinopsis pasacana, of the same region, but it is larger, more branched, with fewer ribs, different spines, and larger flowers.
Stem: Trunk up to 45 cm in diameter, distinct woody, branching well above ground level; branches several cylindrical, columnar, erect, 10 to 20 cm in diameter.
Ribs: 8 to 14(-18), obtuse, prominent, 2 to 4 cm high, obtuse.
Areoles: Large, 1 to 1.5 cm in diameter, brownish felted, 2 to 3 cm apart.
Spines: 8 to 15, often more in older areoles, yellowish to brownish, subulate, yellow, 1-8 cm or more long.
Flowers: Very large, nocturnal, borne laterally, bell shaped to funnelform, white, 15 to 20 cm long, 12.5 cm broad; inner perianth-segments oblong, 7 cm. long, acute, white; outer perianth-segments dark red to greenish, pericarpel green, scales on the pericarpel and flower-tube ovate, mucronate-tipped, their axils filled with long whitish or brown wool. Flowers appear to be pollinated by bats.
Blooming season: The plants flower at various times of the year, but primarily during the rainy season (Summer).
Fruits: Globose or oblong green to blue about 1.3-5 cm in diameter, with acute scales woolly in the axils. Residents of their habitat have reported that the fruits are edible, but inferior to those of the pasacana.
Seeds: Dark-brown to almost black, oval approximately 0.76-1.5 mm long and up to 1.1 mm wide, somewhat warty tessellate.
Subspecies, varieties, forms and cultivars of plants belonging to the Echinopsis terscheckii group
Echinopsis terscheckii

(J.Parm. ex Pfeiff.) H.Friedrich & G.D.Rowley

: is a huge treelike cactus speciesat first columnar, and usually in age with numerous large arms, 10 to 12 meters high. Distribution: Argentina (Catamarca, Salta, Jujuy, La Rioja, San Juan and Tucumán provinces) and Bolivia (Tarija).

Echinopsis terscheckii f. variegata

hort.

: variegated form. Stems have sectors, patches or stripes with distinct shades of yellow.

Echinopsis werdermanniana

(Backeb.) H.Friedrich & G.D.Rowley

: has 10-14 ribs, 8 radial and 1(-2) central spines, flowers nearly apical up to 22 cm long. Distribution: Bolivia, Charcoma Valley, east of Tupiza and Potosi.
Bibliography: Major references and further lectures.
1) Nathaniel Lord Britton, Joseph Nelson Rose "Cactaceae: Descriptions and Illustrations of Plants of the Cactus Family" vol. 1 The Carnegie Institution of Washington, Washington 1919
2) Edward Anderson "The Cactus family" Timber Press, Incorporated, 2001
3) James Cullen, Sabina G. Knees, H. Suzanne Cubey "The European Garden Flora Flowering Plants: A Manual for the Identification of Plants Cultivated in Europe, Both Out-of-Doors and Under Glass" Cambridge University Press, 11/Aug/2011
4) David R Hunt; Nigel P Taylor; Graham Charles; International Cactaceae Systematics Group. "The New Cactus Lexicon" dh books, 2006
5) Urs Eggli, Leonard E. Newton: "Etymological Dictionary of Succulent Plant Names" Birkhäuser 2004
6) Ortega-Baes, P. & Lowry, M. 2013. Echinopsis terscheckii. The IUCN Red List of Threatened Species. Version 2014.2. <www.iucnredlist.org>. Downloaded on 11 September 2014.
7) Wikipedia contributors. "Echinopsis terscheckii." Wikipedia, The Free Encyclopedia. Wikipedia, The Free Encyclopedia, 6 Sep. 2013. Web. 11 Sep. 2014.
8) Gibson, Arthur C. y Park S. Nobel "The Cactus Primer." Cambridge, Massachusetts: Harvard University Press. 1986
9) Navarro, G. "Catálago ecológico preliminar de las cactáceas de Bolivia." Lazaroa 17: 33–84. 1996
10) Dr. Pfeiffer: "Beschreibung einiger neuer Cacteen." In: Allgemeine Gartenzeitung. 5(47): 370 25. November 1837.
11) Gordon Douglas Rowley: "Reunion of the genus Echinopsis." In: IOS Bulletin. Journal of the International Organization for Succulent Plant Study. 3(3): 98 1974
12) "Checklist of CITES Species" Part 1 CITES species index, 2011
13) David Yetman "The Great Cacti: Ethnobotany & Biogeography" University of Arizona Press, 2007
Pilocereus terscheckii
(Echinopsis terscheckii)
Photo by: Valentino Vallicelli
Pilocereus terscheckii
(Echinopsis terscheckii)
Photo by: Flavio Agrosi
Pilocereus terscheckii
(Echinopsis terscheckii)
Photo by: Flavio Agrosi
Pilocereus terscheckii
(Echinopsis terscheckii)
Photo by: Diego Armentano
Juvenile specimen.
(Echinopsis terscheckii)
Photo by: Valentino Vallicelli
Send a photo of this plant.
The gallery now contains thousands of pictures, however it is possible to do even more. We are, of course, seeking photos of species not yet shown in the gallery but not only that, we are also looking for better pictures than those already present.
Read More...
Cultivation and Propagation: The South American saguaro (Echinopsis terscheckii) tolerate frost quite well and require only minor supplementary watering than than the North American Saguaro Carnegiea gigantea, but make sure that it is not exposed to severe freezing temperatures, or it may die.
Growth rate: Echinopsis terscheckii is a relatively fast-growing plant, especially when compared with Echinopsis atacamensis and can grow from 20 cm to nearly 2.5 m tall and sprouts the fist branches over eight years (given the best conditions).
Soil: It needs a well drained soil mix.
Waterings: Water regularly in summer but allow to dry fully before watering again. During the winter months they should be rather kept dry.
Re-potting: Since it is a big-sized plant, it needs plenty of space for its roots. Repotting should be done every other year, or when the plant has outgrown its pot.
Exposition: Light shade when young, full sun later. Outside it likes strong sunshine, but is tolerant and do well with light shade during the hot Summer months, inside it needs bright light, and some direct sun. Tends to bronze in strong light, which encourages spine production.
Garden uses: Excellent as landscape or patio plant. It is suitable for "desert" gardens, in association with other xerophytes. Where the open air cultivation is not possible due to the climate, it is to be cultivated in pot in order to shelter it in winter. It look fine in a cold greenhouse and frame.
Traditional uses: This species was intensively used for several purposes such as construction materials and art and crafts. The wood appears to rot rather quickly and lacks the characteristics of good lumber. Still, local people are said to fashion rustic furniture from the branches. It also appear to be important fodder for livestock, especially goats, functioning as a time-release food as they drop to the ground over an extended period of time.
Propagation: From stem cuttings (if available) in spring (let them dry till the ends callous well. Then replant them in fresh cactus soil that is ever so slightly moist, and keep it that way till they root) or preferably by seeds. Seeds should be sown in a well-drained soil mix. Surface sowing is the best; seeds germinate in 14-28 days at 20° C.