Donate now to support the LLIFLE projects.
Your support is critical to our success.
Mammillaria wrightii Photo by: Valentino Vallicelli
SB86 Manzano Mts., New Mexico, USA
Origin and Habitat: New Mexico as well as Sonora and Chihuahua, Mexico .
Type locality: Anton Chico on the Pecos east of Santa Fe, New Mexico.
Altitude: 1000-2200
Habitat: It grows in gravelly or sandy hills or plains, desert grasslands to pinyon-juniper and surrounding areas. This species is often found among grasses in association with other plant species, including Echinocereus polyacanthusSN|7070]]SN|7070]] amd Mammillaria saboaeSN|9189]]SN|9662]] v. haudeana. Mammillaria wrightiiSN|9411]]SN|9411]] is superficially similar to Mammillaria grahamiiSN|9662]]SN|9189]] and the two species overlaps in the Franklin Mountains in New Mexico.
Synonyms:
See all synonyms of Mammillaria wrightii
Common Names include:
ENGLISH:
Wright's pincushion, Wright's Fishhook Cactus, Wright's Nipple Cactus, Willcox's Pincushion, Willcox Fishhook Cactus, Brown pincushion, Big-fruited Fishhook
Description: Mammillaria wrightiiSN|9411]]SN|9411]] is tiny soft-bodied cactus species with short, white dense spines growing parallel to the stem, partially hiding it. Its central spines are few, long, dark and hooked. Wondrous flowers, large and red-purple to magenta, appear in late summer followed by large palatable, grape-shaped fruits.
Habit: The stem of this jewel is simple usually unbranched,.
Stem: Depressed-globose, to short cylindrical, dark green, 3-8 cm in diameter and 4-8 cm tall aboveground when expanded during moist periods, but during drought periods the stems become flat-topped and shrink to ground level, in part the result of a prolonged underground base.
Tubercles: Cylindrical, terete, flaccid, without latex, up to 12 mm long, with naked axils.
Areoles: Circular with short white hairs.
Radial spines: Usually 8-15, spreading, acicular, 5-10 mm long, appressed against the stmem, upper and lateral ones a little longer white and dark tipped, or the upper radials are brownish throughout
Central spines: usually 2-3 (less often 1-4 or more) , stouter than the radials, sometimes 2 or 3 hooked at apex stiffly spreading (6-)12-14(-20) mm long, reddish-brown, black or black-and-white.
Flowers: Large for a Mammillaria, rose-purple or magenta (rarely white), typically 2,5-4 cm long and 2,5-7,5 cm in diameter when expanded. The outer perianth-segments about 13, triangular-obtuse, prominently fringed; inner perianth-segments bright purple. Perianth parts reflexed.The anthers are bright yellow. The style is greenish, pinkish above, supporting 7-11 stigma lobes that are yellow or pale green, or rarely reddish.
Fruits: Globose or ovoid, previously described as "grapelike," usually are 1,3-2 cm long and 12-25 mm in diameter, green or dull purple, very juicy, and differ conspicuously from the elongate, bright red mature fruits of Mammillaria grahamiiSN|9189]]SN|9189]].
Seeds: Black, pitted, and 1,3-1,5 mm long, with a narrow ventral hilum
Phenology: In general Mammillaria wrightiiSN|9411]]SN|9411]] flowers in habitat in the summer following rains and fruits during the autumn.
Sterile and Immature Specimens: Young seedlings may have only one hooked central spine per areole and at least two hooked centrals per areole usually are present in juveniles specimens with a stem diameter of more than 1 cm.
Subspecies, varieties, forms and cultivars of plants belonging to the Mammillaria wrightii group
Notes: The showy flowers of Mammillaria wrightiiSN|9411]]SN|9411]] are virtually identical to those of Coryphantha macromerisSN|10268]]SN|10268]] and Escobaria viviparaSN|9953]]SN|9953]]; in the absence of vegetative material, flowers may be unidentifiable.
Bibliography: Major references and further lectures
1) Robert T. Craig "The Mammillaria handbook: with descriptions, illustrations, and key to the species of the genus Mammillaria of the Cactaceae" E P Publishing, 1945
2) John Pilbeam "Mammillaria The Cactus File Handbook" Cirio Pub. Services, 01/Dec/1999
3) Edward Anderson "The Cactus family" Timber Press, Incorporated, 2001
4) James Cullen, Sabina G. Knees, H. Suzanne Cubey "The European Garden Flora Flowering Plants: A Manual for the Identification of Plants Cultivated in Europe, Both Out-of-Doors and Under Glass" Cambridge University Press, 11/Aug/2011
5) David R Hunt; Nigel P Taylor; Graham Charles; International Cactaceae Systematics Group. "The New Cactus Lexicon" dh books, 2006
6)Jim Willoughby, Sue Willoughby "Cactus Country: A Friendly Introduction to Cacti of the Southwest Deserts" American Traveler Press, 1998
7) N. L. Britton, J. N. Rose "The Cactaceae. Descriptions and Illustrations of Plants of the Cactus Family." Volume 4, The Carnegie Institution of Washington, Washington 1923
8) Albert Michael Powell, James F. Weedin "Cacti of the Trans-Pecos and Adjacent Areas" Texas Tech University Press, 2004
- This winter hardy Mammillaria produces fruits of a very pleasant taste.
Photo by: Valentino Vallicelli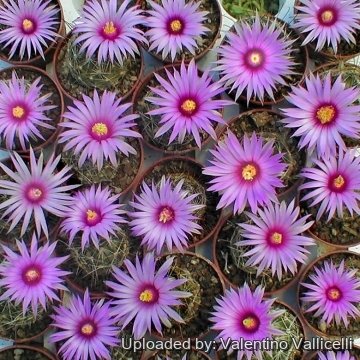 Mammillaria wrightii
Photo by: Valentino Vallicelli
Mammillaria wrightii
Photo by: Cactus Art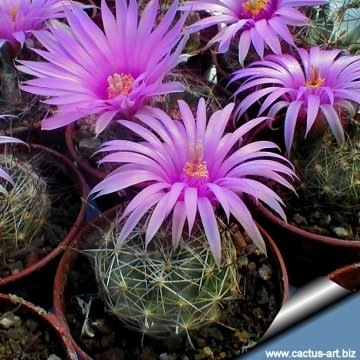 Mammillaria wrightii
Photo by: Cactus Art
Mammillaria wrightii
Photo by: Valentino Vallicelli
Send a photo of this plant.
The gallery now contains thousands of pictures, however it is possible to do even more. We are, of course, seeking photos of species not yet shown in the gallery but not only that, we are also looking for better pictures than those already present.
Read More...
Cultivation and Propagation: Mammillaria wrightiiSN|9411]]SN|9411]] is a single stemmed species that comes from an area of summer rainfall. It is quite cold resistant, but the frost resistance varies a lot from clone to clone. It can easily be grown outdoors in areas with minimum winter temperatures of -15° C. It needs full sun to light shade.
Growth rate: It is slow growing.
Soils: It likes very porous standard cactus mix soil with little organic matter (peat, humus).
Repotting: Repotting every 2-3 years, or sooner if the roots get crowded. As it is prone to rot under-pot in a smaller container filled with very porous compost. Use pot with good drainage.
Watering: Water regularly in summer, but do not overwater (very wet-sensitively, especially in light of its succulent root system). Its roots are easily lost in pots that stay damp for any length of time. Keep dry with ample airflow in winter. In the rest period no high atmospheric humidity!! Care must be taken with watering as they tends to become swollen and untidy in growth habit if given too much water and shade.
Fertilization: During the growing season enrich the soil using a fertilizer rich in potassium and phosphorous, but poor in nitrogen, because this chemical element doesn't help the development of succulent plants, making them too soft and full of water.
Hardiness: It is quite frost resistant if kept dry, hardy as low as -5° C (some reports give it hardy to -15°C or even less, , but the frost resistance varies a lot from clone to clone.). However some warmth throughout the year will increase the grower's success (minimum 5° C during rest season).
Exposition: Outside bright sun, filtered sunlight or afternoon shade, inside it needs bright light, and some direct sun. High levels of light are needed to flower and for good spine development. Can be sunburned if moved from shade/greenhouse into full sun too quickly. During the spring it may be able to take full sun until the heat arrives at the end of spring. In an area that has hot afternoon sun, it may be able to take full morning sun, but requires afternoon shade or afternoon light shade.
Uses: It is an excellent plant for container growing. It always looks good and stays small. It look fine in a cold greenhouse and frame.
Traditional uses: The white, hooked spines of this spherical cactus were used as fish hooks in its native Mexico.
Pests & diseases: It may be attractive to a variety of insects, but plants in good condition should be nearly pest-free, particularly if they are grown in a mineral potting-mix, with good exposure and ventilation. Nonetheless, there are several pests to watch for:
- Red spiders: Sensitive to red spider mite. Overhead watering is helpful in controlling mites.
- Mealy bugs: Occasionally mealy bugs they develop aerial into the new growth among the wool with disfiguring results, but the worst types develop underground on the roots and are invisible except by their effects.
- Scales: Scales are rarely a problem.
- Rot: Rot it is only a minor problem with cacti if the plants are watered and "aired" correctly. If they are not, fungicides won't help all that much.
Propagation: Direct sow after last frost or (usually). Seeds germinate in 7-14 days at 21-27° C in spring, remove the glass cover gradually as the plants develops and keep ventilated, no full sun for young plants! The seedlings should not be disturbed until they are well rooted, after which they can be planted separately in small pots.