Donate now to support the LLIFLE projects.
Your support is critical to our success.
Since 4 Aug 2013
Archontophoenix alexandrae Photo by: Forest Starr & Kim Starr
Habit at Enchanting Floral Gardens of Kula, Maui. October 24, 2007.
Origin and Habitat: Queensland, Australia. (it is the most widespread and prevalent palm in north-east Australia)
Altitude: 0-1000 over sea level.
Habitat: It grows in low-elevation in periodically flooded littoral rainforest, often severely inundated during heavy rain events. Their ability to withstand these conditions allow them to become the dominant species. It forms often large colonies in wet area or on river banks and swamps.
Synonyms:
See all synonyms of Archontophoenix alexandrae
Common Names include:
ENGLISH:
Alexandra Palm, Alex Palm, Northern bangalow palm, King palm, King Alexander palm, Alexander palm
CHINESE (中文):
假槟榔
DUTCH (Nederlands):
Australische koningspalm
HEBREW (עברית):
דקל אלכסנד
JAPANESE (日本語):
ユスラヤシ
PERSIAN (فارسی):
نخل اسکندر
SPANISH (Español):
Palma de Alexandro
Description: Archontophoenix alexandraeSN|24190]]SN|24190]] is a tall, solitary, palm up to about 25(-30) metres tall, but by far not that tall in a garden situation.
Trunk: Tall, slender, solitary, up to 30 cm in diameter, grey to greyish brown in colour, smooth and ringed with noticeable leaf scars and the base can be noticeably swollen.
Crown: Neatly umbrella-like and a graceful appearance.
Leaves(fronds): Up to about 2 metres long, stiff pinnately compound, feather-like and have a tendency to rotate 90' to expose the whole leaf in profile. The point-tipped leaflets are all in the same plane, bright green above with a silvery underside. The base of the petioles form a bright green crownshaft up to about 2-2,5 metres long, that the leaves rarely droop below.
Inflorescence: Cream-coloured, waterfall-like with numerous cascading branches up to 70 cm long, formed below the crownshaft.
Flowers: Amethyst purple flowers.
Flowering time: All month.
Fruits: Round, about 12 mm in diameter, turn bright red at maturity.
Fruiting time: All month.
Bibliography: Major references and further lectures
1) Forest & Kim Starr "Archontophoenix alexandrae (Alexander palm)". Plants of Hawaii. <http://www.starrenvironmental.com>. Downloaded on 19 August 2014.
2) Robert Lee Riffle, Paul Craft "An Encyclopedia of Cultivated Palms" Timber Press, Portland 2007
3) John Dransfield, Natalie W. Uhl, Conny B. Asmussen, William J. Baker, Madeline M. Harley, Carl E. Lewis: "Genera Palmarum. The Evolution and Classification of Palms." Royal Botanic Gardens, Kew 2008
4) Don Ellison, Anthony Ellison "Cultivated Palms of the World" UNSW Press, 2001
5) John Leslie Dowe "Australian Palms: Biogeography, Ecology and Systematics" Csiro Publishing, 2010
6) Keith Boyer "Palms and Cycads Beyond the Tropics: A Guide to Growing Cold-hardy Species" Publication Fund, Palm & Cycad Societies of Australia, 1992
7) José Antonio del Cañizo "Palmeras". Ediciones Mundi-Prensa 2002
Habit with Miconia calvescens at Onomea, Hawaii. December 05, 2001.
Photo by: Forest Starr & Kim Starr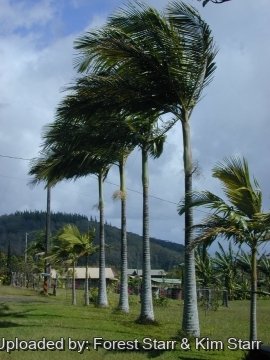 Habit at Haiku, Maui. April 25, 2001.
Photo by: Forest Starr & Kim Starr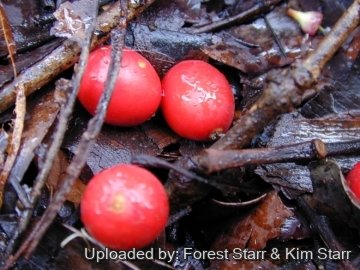 Fruits at Onomea, Hawaii. December 05, 2001.
Photo by: Forest Starr & Kim Starr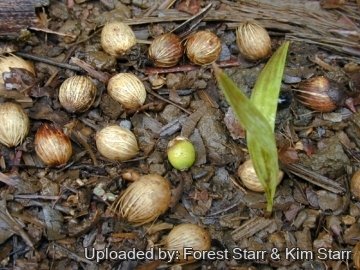 Fruits and germination at Onomea, Hawaii. December 05, 2001.
Photo by: Forest Starr & Kim Starr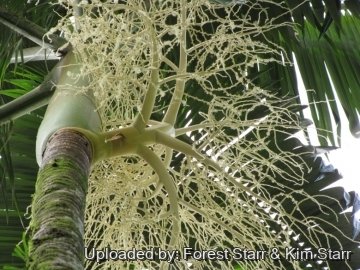 Flowers stalk at Keanae Arboretum, Maui. February 16, 2012.
Photo by: Forest Starr & Kim Starr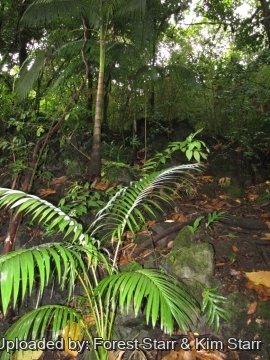 Sapling at Keanae Arboretum, Maui. February 16, 2012.
Photo by: Forest Starr & Kim Starr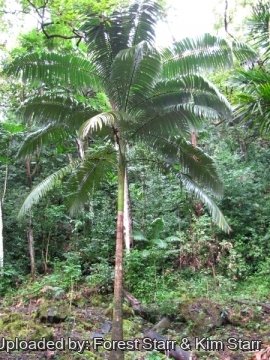 Habit at Keanae Arboretum, Maui. February 16, 2012.
Photo by: Forest Starr & Kim Starr
Send a photo of this plant.
The gallery now contains thousands of pictures, however it is possible to do even more. We are, of course, seeking photos of species not yet shown in the gallery but not only that, we are also looking for better pictures than those already present.
Read More...
Cultivation and Propagation: Archontophoenix alexandraeSN|24190]]SN|24190]] is relatively easy to grow and very adaptable to soil type, but clay soil is much better than sand, or silt, because clay holds water, this palm is a very fast grower if the water is kept up to it, averaging about 0,3-1 metre per year. A. alexandrae is a great palm in a boggy spot where the land has been raped, and drainage is not so good.
Fertilization: Need a perfect fertilizer diet including all micro nutrients and trace elements or slow release fertilizer.
Light: Prefers full sun (if the water is kept up to them), or in the shade.
Hardiness: Although it is from the tropics and sub-tropics it is able to take temperatures around freezing point for a short time. However it can be difficult to get it to look its best without a great amount of heat and sun. and so it is only really suited to the tropics in frost-free regions (USDA Zones 10-12)
Drought tolerance: This palms like to be waterlogged, since their habitat is periodically flooded and in cultivation they appreciates very abundant waterings. During the summer or warmer months, water frequently (even every 2 days) to keep the soil from drying out.
Aerosol salt tolerance: It is moderately salt tolerant, but does a lot better inland then it does on the coast.
Maintenance: Prune diseased, damaged or drying fronds, but do not prune if the frond still has some green colour. Palms recycle nutrients from dead or dying fronds and use them for healthier fronds. Palms only have a set number of new leaves that can sprout and grow per year and removing fronds will not increase that number. If you cut off more than what will grow annually, you could be left with a pretty bare and bald Palm.
Propagation: Propagation is by seeds.
Use: It is often used as an ornamental plant. While being very attractive individuals, it becoming quite common now to plant them in clusters and close groupings. Its very neat appearance and stature makes it perfect near highways and used to accent residential landscapes. It is also a very popular indoor plant, but really would prefer more light and fresh air. A shade screen patio will provide an excellent environment for young specimens which can eventually be planted in a sunny location.