Donate now to support the LLIFLE projects.
Your support is critical to our success.
Since 4 Aug 2013
Habit at Hilo, Hawaii (USA). November 18, 2003.
Origin and Habitat: Sri Lanka, Singapore, Myanmar, Nepal and India (Western Ghats, South Central and south Maharashtra Sahyadris) The exact origin of Caryota urensSN|24280]]SN|24280]] is uncertain, and populations outside India and Sri Lanka may be the result of early human introduction.
Altitude: up to 1400 metres over sea level.
Habitat: They grow in fields and evergreen or semi-evergreen rain-forest, in plain or over sunny slopes where juvenile specimens often represent the natural forest understory, they develops into tall adult palm only in clearing and small gaps in the dense forest vegetation .
Ecology: Seeds are dispersed by animals such as fruit bats and palm civets. In Sri Lanka, fruits are eaten by polecats (Paradoxurus hermaphroditus).
Synonyms:
Common Names include:
ENGLISH:
Solitary fishtail palm, Wine palm, Toddy palm, Sago palm, Kitul-tree, Kitul palm, Jaggery palm, Fishtail palm
BENGALI (বাংলা):
Sopari
FRENCH (Français):
Palmier queue de poisson, Palmier céleri, Caryot brûlant
GERMAN (Deutsch):
Ostindische Brennpalme, Kitulpalme, Fischschwanzpalme, Brennpalme
HINDI ( हिन्दी):
Mari
HUNGARIAN (Magyar):
Diópálma
KANNADA (ಕನ್ನಡ):
ಬಗನಿ, ಬೈನಿ, ಬೇನಿ, ಕೊಂಡಪನ
MALAYALAM (മലയാളം):
ചൂണ്ടപ്പന, ആനപ്പന, ചൂപ്പന, ചുപ്പന, കുപ്പന, വൈനാവ, ശൂദ്രപ്പന, ശൂപന, പനംകുല, ഒലാട്ടി, കുടപ്പന, കൊപ്പന, കാളപ്പന, ഈറംപന, എരിംപന
POLISH ( Polski):
Kariota parząca
RUSSIAN (Русский):
Кариота жгучая, Винная пальма
SINHALESE:
Kitul
SPANISH (Español):
Palmera de sagú
TAMIL (தமிழ்):
கூந்தற்பனை, கூந்தப்பனை, கூந்தல்பனை, இரும்பனை, திப்பிலிபனை
TELUGU (తెలుగు):
జీలుగ
Description: Caryota urensSN|24280]]SN|24280]] is a solitary-trunked palm about 12-15(-35) metres tall.
Trunk & Bark : Trunk smooth, grey, with widely-spaced annular leaf scars, 12 metres in height and 30 centimetres wide.
Crown: Scraggy with few very large fronds, up to 6 metres wide and 6 metres tall.
Leaves: Compound, bipinnate (meaning they are divided into leaflets that divide a second time), bright to deep green, 3,5 -5 m long; pinnae 5-7 pairs, up to 1,5 m long, leaflets lamina 25 x 10 cm, triangular/cuneiform in shape, apex jagged, and held on 60 cm long petioles. The ultimate leaflets have a characteristic shape, somewhat like the tail of a fish, hence the popular English name of fishtail palm.
Inflorescence / Flower: Up to 3 metres long emerging at each leaf node, from top to bottom, producing pendent clusters of white, unisexual flowers, spadices, shortly peduncled, much branched; spathes 3-5; spikelets closely arranged on the rachillae. Flowering begins at the top of the trunk and proceeds downwards, sometimes for several years, but these plants are monocarpic, the completion of the flower and fruiting process results in the death of the tree. Flowers remain open on each inflorescence for about six weeks.
Fruit & seeds : 1 cm drupe in pendulous clusters, stalked, ovoid or globose, red in color (fruit with an outer fleshy part that surrounds a hard shell with 1(-2) , ruminate, seed inside).
Remarks: Molecular phylogenetic research shows that Caryota is related with Wallichia and Arenga.





Bibliography: Major references
1) Forest & Kim Starr Caryota gigas (Giant fish tail palm). Plants of Hawaii. <http://www.starrenvironmental.com>. Downloaded on 21 August 2014.
2) Don Ellison, Anthony Ellison "Cultivated Palms Of The World" UNSW Press, 01/mag/2001
3) Robert Lee Riffle, Paul Craft "An Encyclopedia of Cultivated Palms" Timber Press, Portland 2007
4) John Dransfield, Natalie W. Uhl, Conny B. Asmussen, William J. Baker, Madeline M. Harley, Carl E. Lewis: "Genera Palmarum. The Evolution and Classification of Palms." Royal Botanic Gardens, Kew 2008
5) David Jones: "Palmen" Könemann, Köln, 2000
6) Linnaeus Sp. Pl. 1189.1753
7) Gamble, Fl. Madras 3: 1560. 1998 (re. ed)
8) Cook, Fl. Bombay 2: 805. 1902
9) Sasidharan, Biodiversity documentation for Kerala- Flowering Plants, part 6: 506. 2004.
Habit at Keanae Arboretum, Maui, Hawaii (USA). February 16, 2012.
Photo by: Forest Starr & Kim Starr
Habit at Keanae Arboretum, Maui, Hawaii (USA). February 16, 2012.
Photo by: Forest Starr & Kim Starr
Fruits at Hilo, Hawaii (USA). November 18, 2003.
Photo by: Forest Starr & Kim Starr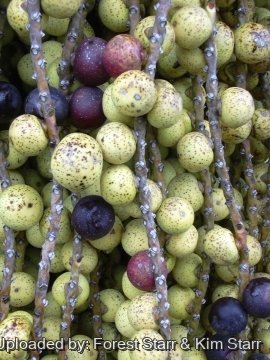 Fruits at Hilo, Hawaii (USA). November 18, 2003.
Photo by: Forest Starr & Kim Starr
Cultivation and Propagation: It is an easy to grow palm that likes sandy soil, but is adaptable to clay and loam both slightly alkaline and acidic. Good drainage is also important. It is one of the fastest growing palms in existence and can grow extremely fast given the right conditions of warmth and humidity, together with a rich soil and an abundance of water. Caryota urensSN|24280]]SN|24280]] vary in shape. Specimens raised in dry and/or infertile soils tend to be smaller in stature with smaller leaves. Light also affects the plant's form while those grown in full sun are more compact.
Fertilization: Need a perfect fertilizer diet including all micro nutrients and trace elements or slow release fertilizer. Micronutrient deficiencies are occasional problems. If it doesn't get enough Mn and Fe, the leaves take on a rather unhealthy yellow colour. Micronutrient deficiencies only show up on soil with a high pH.
Water Requirements: Needs regular water, do not let dry out between waterings. however it does not want to sit in continually wet, mucky soil. The roots and lower trunk can rot if soil is kept too moist.
Light: Prefers full sun but will tolerate half day sun. .
Hardiness: It is one of the hardiest feather palms, tolerating temperatures down to about -2°C (or even less for short periods) when mature, young plants are more cold sensitive; it is widely cultivated in subtropical and warm temperate regions.
Maintenance: Prune diseased, damaged or drying fronds, but do not prune if the frond still has some green colour. Palms recycle nutrients from dead or dying fronds and use them for healthier fronds. Palms only have a set number of new leaves that can sprout and grow per year and removing fronds will not increase that number. If you cut off more than what will grow annually, you could be left with a pretty bare and bald palm.
Roots: Not a problem.
Propagation: Fresh seeds germinate in 4 months to 1 year to germinate in warm media and the seedlings are attractive.
Uses: Food, beverage, fibre, timber, ornamental.
Food: The sap is tapped from the inflorescence and is boiled down to make syrup or sugar, the inner tissue is used as sago, a kind of food starch. The stem apex (palm heart or palm cabbage) can be eaten when cooked. Seeds are sometimes chewed like the areca nut (the fruits of Areca catechu).
Beverage: It is one of the Sugar palms. Across India and other Asian countries, its sap is fermented to produce an alcoholic drink called palm wine or toddy.
Fibres: Leaves produce strong fibres that are made into brushes and baskets and used in the Philippines for making a coarse resistant cordage.
Timber: The wood is also noted for its attractive appearance and extraordinary strength.(some of the hardest wood in the plant kingdom).
Ornamental: Caryota urensSN|24280]]SN|24280]] is cultivated as an ornamental tree, and planted in gardens and parks in tropical and sub-tropical climates either as a single specimen or in groups. Its very neat appearance and stature makes it perfect near highways and used to accent residential landscapes. Culture in containers is possible although growth rates are slower. A bright patio will provide an excellent environment for young specimens which can eventually be planted in a sunny location.
Warning: Like all Caryotas, the flesh of seed and trunk contains oxalic acid, a skin and membrane irritant.which is caustic to touch and should be handled with care Once they flower, they dies, and then they are very difficult dead trees to remove because Caryotas have a very hard wood. Chainsaws will barely cut into one alive, and they seem to get harder once they die and also Caryotas have a wimpy root systems and are prone to falling over in high winds while still alive, and they can weigh several tons, so careful where you plant this palm. The root system of this species is very sensitive and good sized specimen is extremely difficult to successfully dig and transplant to another location. Often moving or disturbing the roots in any way once over a certain size shocks the palm and it will seed prematurely and die.