Donate now to support the LLIFLE projects.
Your support is critical to our success.
Since 4 Aug 2013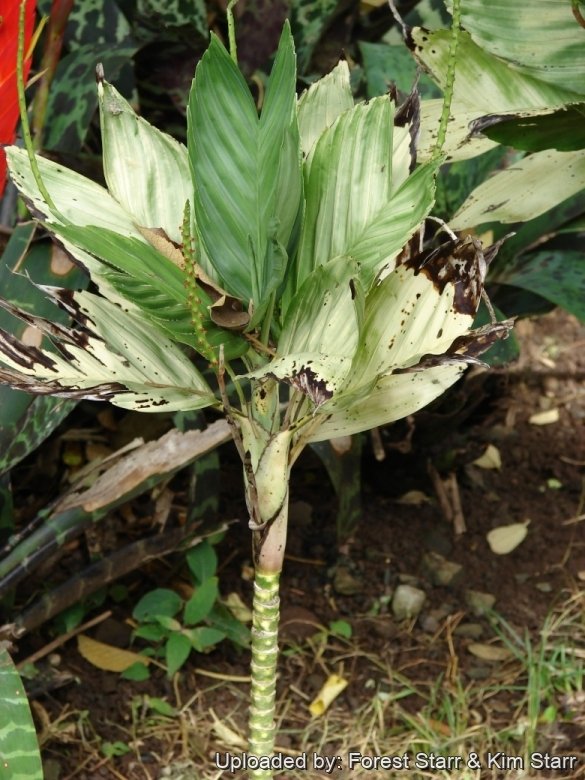 Chamaedorea metallica Photo by: Forest Starr & Kim Starr
Habit at Enchanting Gardens of Kula, Maui, Hawaii (USA ). July 16, 2008.
Origin and Habitat: North of Guatemala bordering Mexico and Belize
Altitude: Up to 610 metres above sea level.
Habitat: Chamaedorea metallica often grows in limestone soils in the understory of wet densely vegetated jungle along the Atlantic slope and lowland rainforests and is tolerant of deep shade and low light conditions.
Synonyms:
Common Names include:
ENGLISH:
Rabbit ears, Tenella, Miniature fishtail, Miniature fishtail palm, Metallic palm, Metal palm tree
FRENCH (Français):
Cocos
GERMAN (Deutsch):
Metallische Bergpalme
SPANISH (Español):
Camedorea metálica, Palma bambú metálica, Palma brillosa
Description: It is a dwarf, pretty versatile palm with dark leaves highlighted by a radiant metallic blue green sheen like the colour of gunmetal and probably it is the only palm that has such a foliage colour. Slow growth rate but obviously worth the wait. It is one of the smallest of palms. Mature height only 120-150 cm.
Stem: Single, unbranched up to 50-120 cm long and up to 2,5 cm in diameter white-spotted with swollen leaf rings and growing with a narrow profile.
Leaves: 30-70 cm long and 25-40 cm wide, tough, durable, simple, undivided, erect, almost straight, bifid (double lobed) and notched at the tip in the shape of a chalice or fish's tail, dark green with an amazing metallic sheen. There is also a variety that has pinnately compound (feather shaped) with 4-7 linear or S-shaped leaflets. Since lower leaves drop from the plant as it grows, older palms have all their foliage on top of the bright green, shiny stem.
Inflorescence/flowers: This palm is a dioecious plant which requires both male and female to produce viable seed. The flower stalk comes from the lowest leaves and the female has a characteristic orange (or red-purple) stalk with attractive orange flowers.
Fruits: Small black, elliptical about a 13 mm long and 8 mm in diameter. The black fruits make snazzy contrast to the bright orange flower stalk.
Bibliography: Major references
1) Forest & Kim Starr Chamaedorea metallica (metal palm tree). Plants of Hawaii. <http://www.starrenvironmental.com>. Downloaded on 21 August 2014.
2) Don Ellison, Anthony Ellison "Cultivated Palms Of The World" UNSW Press, 01/mag/2001
3) Robert Lee Riffle, Paul Craft "An Encyclopedia of Cultivated Palms" Timber Press, Portland 2007
4) John Dransfield, Natalie W. Uhl, Conny B. Asmussen, William J. Baker, Madeline M. Harley, Carl E. Lewis: "Genera Palmarum. The Evolution and Classification of Palms." Royal Botanic Gardens, Kew 2008
5) David Jones: "Palmen" Könemann, Köln, 2000
6) Henderson, A., G. Galeano & R. Bernal. 1995. "Field Guide Palms Americas" 1–352. Princeton University Press, Princeton, New Jersey.
7) Hodel, D. R. 1992. "Chamaedorea Palms" 1–338. The International Palm Society, Lawrence.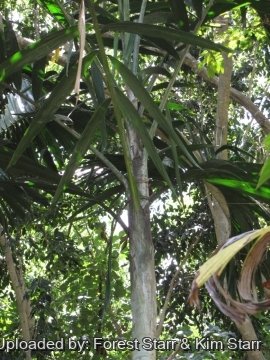 Habit at Iao Tropical Gardens of Maui, Maui, Hawaii (USA). May 22, 2012.
Photo by: Forest Starr & Kim Starr
Send a photo of this plant.
The gallery now contains thousands of pictures, however it is possible to do even more. We are, of course, seeking photos of species not yet shown in the gallery but not only that, we are also looking for better pictures than those already present.
Read More...
Cultivation and Propagation: It is cultivated in tropical and subtropical regions for understory plantings in the moist, shaded garden and ideal as houseplants. This charming dwarf species takes up very little room and adds a good deal of tropical interest to even the smallest gardens.
Soil: It likes a humus-rich loamy soil, but is adaptable to clay and sand bolth. It is tolerant of alkaline limestone soils.
Fertilization: Need a perfect fertilizer diet including all micro nutrients and trace elements or slow release fertilizer applied every two months, or according to package directions, using a fertilizer specifically formulated for palms.
Water Requirements: It does appreciate lots of water, and seems to put on rapid growth with this ample water, but it does not want to sit in continually wet, mucky soil. The roots and lower trunk can rot if soil is kept too moist. Indoor specimens benefit greatly from daily misting. Good drainage is also important.
Light: Many Chamaedorea species can grow in semi-shade (light woodland) or in bright indoor environment, but this one seems to survive in almost total darkness, young specimen do not tolerate any sun at all, but once established it can tolerate some sun, but not direct blazing sun. As a houseplant, it thrives with 10-12 hours/day of artificial light.
Wind resistance: It does best protected from drying winds.
Aerosol salt tolerance: High.
Hardiness: These palms are moderately hardy in the landscape in USDA zones 9-12. Mature and established plants have been reported to tolerate temperatures down to -2° C with no leaf damage.
Roots: Usually not a problem
Maintenance: For the healthiest and most attractive plant, keep the palm pruned. Remove any yellow-brown, diseased, damaged or drying fronds, but do not prune if the frond still has some green colour. Palms recycle nutrients from dead or dying fronds and use them for healthier fronds.
Warning: The fruits are not edible and the sap and juices may irritate sensitive skin and eyes.
Pest & diseases: It particularly tasty to snails.
Propagation: This palm reproduces sexually by seeds. Seeds are easiest to germinate if planted within 4-6 weeks after the fruit is ripe but germination can still be erratic. It can also be propagated by division of the root mass.
.