Donate now to support the LLIFLE projects.
Your support is critical to our success.
Since 4 Aug 2013
Carpentaria acuminata Photo by: Forest Starr & Kim Starr
Crown and flowers at Iao Tropical Gardens of Maui, Maui, Hawaii (USA). May 22, 2012.
Origin and Habitat: Austalia, (Endemic to the Northern Territory where it occurs from Fitzmaurice River in the west to Harris Creek in the east and inland to about Pine Creek)
Altitude: 0-200 m above sea level.
Habitat: Carpentaria Palm grows in monsoon forest or vine forest, as a canopy or subcanopy element on various soil types, in flat lowland areas often associated with permanent springs near lakes or watercourses, and at the heads of salt water estuaries. Some populations may be temporarily inundated during the wet season.

Synonyms:
Common Names include:
ENGLISH:
Carpentaria palm tree, Carpentaria palm, Darwin palm, North Australian Feather Palm, Carpie
CHINESE (中文):
Dong ao zong
FRENCH (Français):
Palmier de Darwin, Palmier Carpentaria
GERMAN (Deutsch):
Carpentaria Palme
LITHUANIAN (Lietuvių):
Karpentarija
MALAY (بهاس ملاي /Bahasa Melayu ):
Kapentaria
PORTUGUESE (Português):
Carpentaria, Palmeira Carpentaria
SPANISH (Español):
Palma Carpentaria
Description: Carpentaria acuminata is a monoecious plant, with single, slender, stem and very elegant arcing fronds. As a bonus, it has showy brilliant red fruit that hangs in large clusters from the trunk.
Stem: Solitary (but sometimes has a double or triple trunk), slender and elegant, up to 30 m tall, but usually less than 20 metres tall, to 25(-30) cm in diameter, grey, smooth, enlarged at the base and moderately ventricose or with regular width; prominently ringed with 20 mm wide old leaf scars that are up to 30 cm apart because of the rapid growth; internodes long, smooth or marked with light to dark hard excrescences.
Crown (canopy): Beautiful, open, symmetrical with a regular (or smooth) outline, with usually 7-12 neat looking arching fronds, and individuals have more or less identical crown forms.
Crownshaft: 80-130(-180) cm long, smooth whitish to grey-green, dark rough scales toward the apex and into the petiole.
Leaves: Odd pinnately compound (feather-like), up to 4 m long (usually about 3 metres), markedly arched with a recurved apex; petiole to 60 cm long, with scattered dark scales; rachis up to 3,4 m long, glabrous. Pinnae 55-70 per side approx. 30-60 cm long, 2-4 cm wide, dark green on upper surface, lighter green or blue-green beneath, margin entire, venation parallel; ramenta sparse, medifixed, or lacking.
spiral
Inflorescence: Long growing from under the crownshaft up 180 cm long and 60 cm wide, branched to 4 orders, cream-green with a thin pubescence.
Flowers: Inconspicuous cream-green to ivory-green. Male and female flowers are on the same inflorescence, placed in the typical triad (one feminine flower between two masculine flowers), but at the apex are present only masculine flowers. Sepals 3, petals 3. Staminate flowers to 10 mm long in bud, bullet-shaped, opening to about 12 in mm wide at anthesis with 30-40 stamens. Pistillate flowers 5-6 mm high, 4-5 mm wide.
Fruit: Beautiful brilliant red when ripe, hanging in large clusters from the trunk, up to 20 mm long, to 18 mm wide, oval or globular with sharp apex, containing one seed only; epicarp about 1,5 mm thick, red at maturity; mesocarp to about 3,5 mm thick; perianth not persistent on fruit.
Seed: Up to 15 mm in diameter globose.
Phenology (Southern hemisphere): The Carpentaria Palm produces flowers all year around, with a peak from September to January (spring to summer), and fruiting concentrate mainly from December to March (summer to autumn). Usually, in the same time, are present several inflorescences and infructescences in different stages of development.
Bibliography: Major references
1) Forest & Kim Starr Carpentaria acuminata (Carpentaria palm). Plants of Hawaii. <http://www.starrenvironmental.com>. Downloaded on 21 August 2014.
2) Don Ellison, Anthony Ellison "Cultivated Palms Of The World" UNSW Press, 01/May/2001
3) Robert Lee Riffle, Paul Craft "An Encyclopedia of Cultivated Palms" Timber Press, Portland 2007
4) John Dransfield, Natalie W. Uhl, Conny B. Asmussen, William J. Baker, Madeline M. Harley, Carl E. Lewis: "Genera Palmarum. The Evolution and Classification of Palms." Royal Botanic Gardens, Kew 2008
5) John Leslie Dowe "Australian Palms: Biogeography, Ecology and Systematics" Csiro Publishing, 30/Jun/2010 Page 224
6) Edward F. Gilman and Dennis G. Watson "Carpentaria acuminata Carpentaria Palm", Fact Sheet ST-117 Environmental Horticulture Department, Florida Cooperative Extension Service, Institute of Food and Agricultural Sciences, University of Florida. Publication date: November 1993.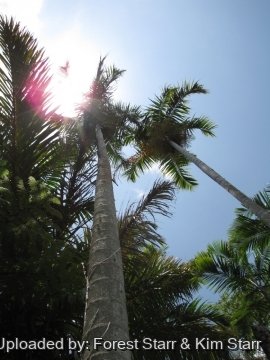 - Habit at Iao Tropical Gardens of Maui, Maui, Hawaii (USA). May 22, 2012.
Photo by: Forest Starr & Kim Starr
- Fruit at Iao Tropical Gardens of Maui, Maui, Hawaii (USA). May 22, 2012.
Photo by: Forest Starr & Kim Starr
- Trunk and sign at Iao Tropical Gardens of Maui, Maui, Hawaii (USA). May 22, 2012.
Photo by: Forest Starr & Kim Starr
Send a photo of this plant.
The gallery now contains thousands of pictures, however it is possible to do even more. We are, of course, seeking photos of species not yet shown in the gallery but not only that, we are also looking for better pictures than those already present.
Read More...
Cultivation and Propagation: Carpentaria acuminata is an attractive and relatively common avenue and landscape palm in the tropics that likes warm, sheltered, position with a moist substrate and is sensitive to frost and drought. It is a palm of very high ornamental and landscape value.
Growth rate: In the tropics this is known as one of the faster growing palm species and may reach, in the optimal conditions of cultivation, the reproductive age in six; seven years.
Soil: This palm requires a richer soil than many landscapes can provide. It needs a rich, loamy, moist but well-drained, fertile soil both slightly alkaline or acidic, and it has a low tolerance for salt and drought, it is however adaptable to varies soil type well drained soils, but clay or loamy soil are much better than sand, or silt, because clay holds water. It can eventually grow in a boggy spot where the land has been raped, and drainage is not so good. In pot utilizing a mould rich of organic substance with addition of agri-perlite, or other inert product for improving the drainage, in the measure of the 30%. Add micro-elements to the soil mix.
Fertilization: Need a perfect fertilizer diet including all micro nutrients and trace elements or slow release fertilizer.
Light: It prefers bright sunny locations, except the first 2-3 years when it is kept in partially shaded position (under 30% to 50% shade).
Hardiness: This palm is sensitive to frost and can be difficult to get it to look its best without a great amount of heat and so it is only really suited to tropics and humid subtropics in frost-free regions (USDA hardiness zones: 10B through 11). its cultivation may be tried in the temperate climate zones in particularly favourable microclimatic niches, in fact, it may bear sporadic temperatures, and for very short time, just under the 0 °C. If cultivated in cooloer regions the new leaves are easily damaged by cold.
Drought tolerance: This palm is sensitive to drought and in cultivation it appreciates abundant waterings. During the summer or warmer months, water frequently (even every 2 days) to keep the soil from drying out. It needs also elevated summer humidity. It can tolerate infrequent inundation, so long as the soil does not dry out for too long.
Aerosol salt tolerance: Low.
Wind tolerance: The new leaves are easily damaged by drying winds.
Breakage: Resistant.
Maintenance: Prune diseased, damaged or drying fronds, but do not prune if the frond still has some green colour. Palms recycle nutrients from dead or dying fronds and use them for healthier fronds. Palms only have a set number of new leaves that can sprout and grow per year and removing fronds will not increase that number. If you cut off more than what will grow annually, you could be left with a pretty bare and bald Palm.
Pests & diseases: No diseases are of major concern and long-term health usually will not affected by pests. Rarely thrips will create some problems. It is also susceptible to trunk cracks in cool weather, a condition which opens the trunk to decay organisms. It is often recommended as a replacement for the Christmas Palm (Veitchia merrilliiSN|24739]]SN|24739]]) which is very susceptible to lethal yellowing disease, but needs more fertile soils.
Use: Carpentaria Palm is probably best suited for an occasional accent or specimen planting where temperatures stay warm in the winter. A number of them grouped together can be attractive. It is can also grown as an indoor plant, but really would prefer more light and fresh air. A shade screen patio will provide an excellent environment for young specimens which can eventually be planted in a sunny location. As the palm roots begin to fill the soil ball, you can move them to larger pots. As your palm tree gets older you can start growing it outdoors.
Warning: The bright red fruits should be avoided because the pulp is much irritant due to the presence of crystal of calcium oxalate, they are therefore to be handled with attention, possibly wearing gloves.
Propagation: The seeds which must be fresh as having a limited duration of germination, do germinate in 1-3 months at the temperature of 26-28 °C, the times get longer at lower temperatures. Make sure to wear gloves to protect hands when handling seeds. Remove the fleshy covering surrounding the seed either mechanically or by soaking in water for several days. Plant seeds in shallow containers filled with a mixture of 50% peat moss and 50% perlite. Seeds should be barely covered. Make sure that seedling containers should be kept evenly moist. This palm can be a bit invasive, being such a prolific seeder with a high germination rate.