Donate now to support the LLIFLE projects.
Your support is critical to our success.
Since 4 Aug 2013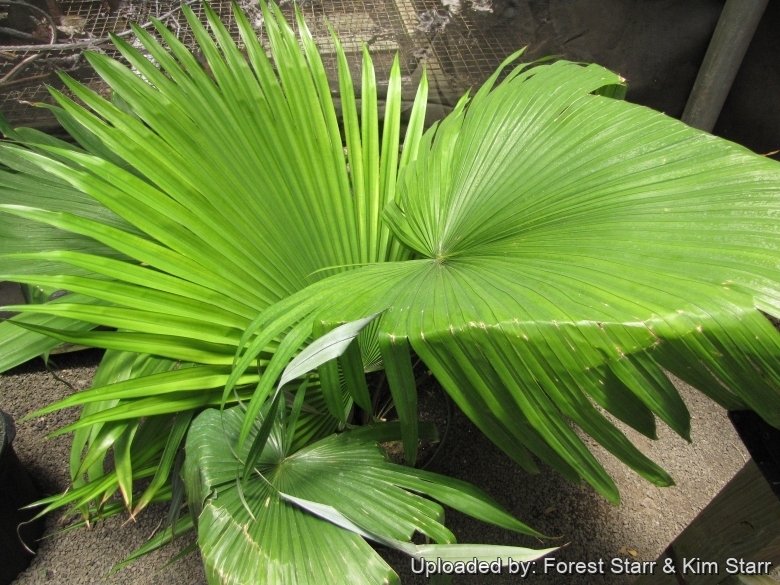 Kerriodoxa elegans Photo by: Forest Starr & Kim Starr
In pot at Iao Tropical Gardens of Maui, Maui, Hawaii (USA). May 22, 2012.
Origin and Habitat: Kerriodoxa elegans is known from only two localities in Peninsular Thailand—Phuket and Khao Sok National Park.
Altitude range: 100-300 metres above sea level.
Habitat and ecology: It grows gregariously and luxuriantly in rather dry evergreen forest understorey in the lowland, on steep slopes near to streams. This palm grows in the last remaining forest at Phuket.
Synonyms:
Common Names include:
ENGLISH:
White elephant palm, White Backed Palm
THAI (ภาษาไทย):
Praya thalang
Description: Kerriodoxa elegans is a small palm with spectacular large circular leaves, which remain only partially divided, and are whitish on the lower side and green above. It is one of the most beautiful understory fan palms there are. The large large circular leaves are somewhat reminiscent of a solid leaf Licuala. It is dioecious (requiring both male and female plants).
Stems: It has a rather thin solitary trunk of small to medium height, to 5(-7) m tall and 20 cm diameter that eventually turns grey colour, or sometimes short and subterranean.
Leaves: Leaf blades flat, completely circular in outline, huge (to 2 metres across), glossy dark green and silvery white on the lower surface, well pleated nearly unsplit or only shallowly split into as many as 100 leaflets. The petiole (leafstalk) is also very dark coloured, sometimes black.
Inflorescences: Borne among the leaves, to 0.5 m long.
Fruits: Globose, to 5 cm diameter, yellowish to orange-brown.
Taxonomy note: The genus Kerriodoxa appears to lie between the palms of the Trithrinax alliance and those of the Corypha alliance, and is most similar to plants of the Trithrinax group.
Bibliography: Major references and further lectures
1) Forest & Kim Starr Kerriodoxa elegans (White elephant palm, King Thai palm). Plants of Hawaii. <http://www.starrenvironmental.com>. Downloaded on 21 August 2014.
2) John Dransfield, Natalie W. Uhl "Genera Palmarum: the evolution and classification of palms" Kew Pub., 2008
3) Andrew Henderson "Palms of Southern Asia" Princeton University Press, Princeton and Oxford 27/Apr/2009
4) Don Ellison, Anthony Ellison "Cultivated Palms Of The World" UNSW Press, 01/May/2001
5) G. Fischer "Excerpta Botanica. Sectio A: Taxonomica Et Chorologia" Volume 43 Verlag., 1984
6) Wikipedia contributors. "Kerriodoxa" Wikipedia, The Free Encyclopedia. Wikipedia, The Free Encyclopedia, Accessed on 28 Aug. 2014
7) Palmpedia contributors. "Kerriodoxa elegans." Palmpedia, PALM ENCYCLOPEDIA, <http://www.palmpedia.net> Downloaded on 26 Aug. 2014
8) Robert Lee Riffle, Paul Craft "An Encyclopedia of Cultivated Palms" Timber Press, Portland 2007
9) "Kerriodoxa elegans ." PACSOA Palms and Cycads wiki , <http://www.pacsoa.org.au> Accessed on 28 Aug. 2014
10) Pooma, R. (ed.). "A preliminary check-list of threatened plants in Thailand" National Park, Wildlife and Plant Conservation Department, Bangkok. 2005
11) Govaerts, R. & Dransfield, J. "World Checklist of Palms". The Board of Trustees of the Royal Botanic Gardens, Kew. 2005.
12) Barfod, A.S. & Dransfield, J. (2013). "Flora of Thailand" 11(3): 323-498. The Forest Herbarium, National Park, Wildlife and Plant Conservation Department, Bangkok.
Frond at Iao Tropical Gardens of Maui, Maui, Hawaii (USA). May 22, 2012.
Photo by: Forest Starr & Kim Starr
Send a photo of this plant.
The gallery now contains thousands of pictures, however it is possible to do even more. We are, of course, seeking photos of species not yet shown in the gallery but not only that, we are also looking for better pictures than those already present.
Read More...
Cultivation and Propagation: Kerriodoxa elegans is an excellent a understorey palm, somewhat difficult to grow but well worth the effort. It is absolutely gorgeous and not overwhelmingly big. It is adapt to tropical and warm subtropical climates, but is usually not cultivated. Its elegant canopy and small stature make it suitable for a smaller landscape. People who live in colder climates can still enjoy the palms as potted plants. Seed is often not available from cultivated plants. For this reason, it has been an expensive item, normally reserved for collectors.
Growth rate: It is a slow-growing palm even in the tropics, in marginal cooler subtropical areas it survive, but one often wonder if maybe it's still alive and it is unable to grow new leaves and look good.
Soil requirements: It has a fibrous root system and benefits from deep organic, soils that are fertile, but thrives on wide range of tropical soils as long as they are well drained.
Watering: It prefers adequate moisture to look its best. This palm a will tolerate occasional dryness if not prolonged. Don't let sit in water. Indoor, potted palms should not be over-watered.
Light: Likes a shady, sheltered position. If home-grown, give some sun as with most tropical palms.
Fertilization: Need a perfect fertilizer diet including all micro nutrients and trace elements three times a year if not grown in rich soil.
Aerosol salt tolerance: It is moderately tolerant, but does a lot better inland then it does on the coast.
Hardiness: This palm is tender and is suited for tropical or subtropical climates, and not like cold but once established in a frost free area does better. It is however surprisingly hardy for a palm with such a tropical background and may survive very light frosts to about -3° C (as long as not prolonged) even if it end up getting nearly defoliated each winter. (USDA Zones 9b-11). Seedling growth arrests below 15°C.
Wind hardiness: It is not tolerant as the fronds tatter easily and requires wind-sheltered spots.
Garden uses: This palm has only recently been introduced to cultivation, but is becoming very popular in the tropics and sub-tropics as a garden and container plant. It is an excellent landscaping palm when set among taller trees as a specimen but is even better when multiple plants are grown together. It is specially for small gardens where other palms will grow out of scale. Plant this palms in containers and feature it in a prominent spot on the patio.
Propagation: The fresh seeds take 4-6 months to germinate. If not properly treated, the seed does not have long shelf life. This is a tillering palm, it exhibits saxophone style root growth (it has a heel), keep top third of heel above soil elevation.