Donate now to support the LLIFLE projects.
Your support is critical to our success.
Since 4 Aug 2013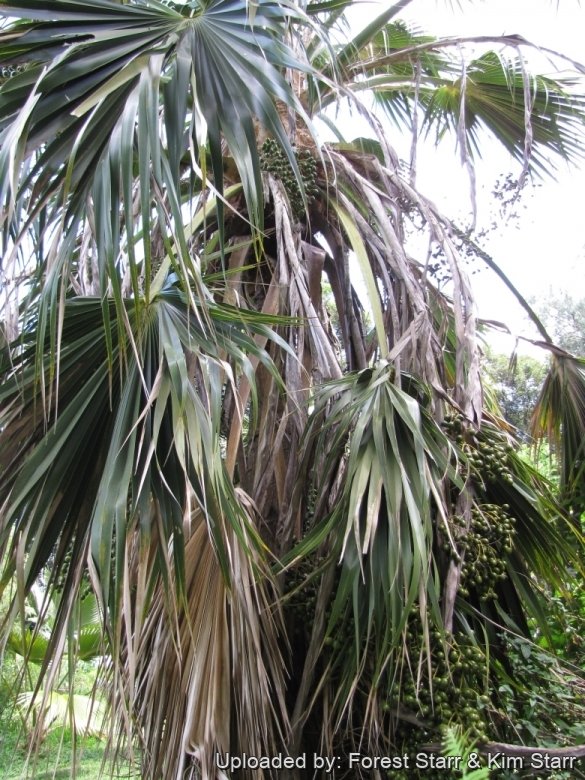 Pritchardia kaalae Photo by: Forest Starr & Kim Starr
Fruit and leaves at Pololei Haiku, Maui, Hawaii (USA). April 11, 2013.
Origin and Habitat: The Hawaiian island of Oahu is the natural habitat of this beautiful palm. Fewer than 130 individuals are known from five subpopulations scattered in the central and north-central Waianae Mountains around Mt Kaala. Many Pritchardia species are cultivated as ornamental palms in botanical gardens and the ease of cultivation of Pritchardia kaalaeSN|28613]]SN|28613]] makes this a popular and widely grown plant in botanical gardens.
Altitude range: From 450 and 980 metres above sea level.
Habitat and Ecology: Pritchardia kaalaeSN|28613]]SN|28613]] is a palm tree that grows in lowland moist forest and near springs on exposed hilly slopes and cliffs in the dry forests on the Wai?anae Range. Introduced animals such as rats and goats may consume many seeds of Pritchardia kaalaeSN|28613]]SN|28613]] netting of the inflorescences, potentially resulting in drastic decreased recruitment via seeds. However if rats do not damage the embryo, up to 45% of the endosperm can be removed and the seed will still germinate. Also, damaged seeds germinated faster than the undamaged controls. The small number of Pritchardia kaalaeSN|28613]]SN|28613]] individuals makes it vulnerable to extinction as a result of natural and human disturbance and resulting habitat loss. Reduction in reproductive success is possible when species contain few individuals as a result of increased inbreeding, that is reproduction between genetically closely related individuals. It had been traditionally believed that all Pritchardia are wind pollinated. Recent research, however, indicates that that both wind and insects are involved.
Synonyms:
See all synonyms of Pritchardia kaalae
Accepted name in llifle Database:
Pritchardia kaalae
Rock
Mem. Bernice Pauahi Bishop Mus. 8: 46 (1921)
Synonymy: 2
Common Names include:
ENGLISH:
Waianae Pritchardia, Loulu palm
HAWAIIAN (ʻŌlelo Hawaiʻi):
Lo'ulu
Description: Pritchardia kaalaeSN|28613]]SN|28613]] is a small to medium height palm long included as a synonym of Pritchardia martiiSN|28613]]SN|28615]]. It has single stem and a thick crown of rich green, characteristic large fan-shaped leaves with infructescences greatly exceeding the compact crown of leaves. The long flower bracts precede the mature black fruits.
Trunk: This slow growing species reaches a height of 5-7.6(-10) m, with a single
erect trunk diameter of 30 cm.
Leaves: Unlike the leaves of many Pritchardia species, which are covered with dense hair, the leaves of P. kaalae have a waxy coating with fine rust colour scales sometimes visible. Plants can have thin and papery or thick and leathery leaves.
Inflorescence: Very long, nearly reaching the frond tips to often extending well beyond the fronds. The flowers are borne in one or more bunches on the inflorescence.
Flowers: Pritchardia flowers produce nectar in a disc formed from the fused calyx of the flower that surrounds the ovary where the fruit will develop. As the flowers mature you can often see large numbers of insects visiting the flowers to remove the nectar and in doing so they serve as pollinators by moving pollen from the male to female flowers that are usually, if not always, perfect (possessing male and female reproductive parts). Pritchardia kaalaeSN|28615]]SN|28613]] is most likely self-compatible, as cultivated trees of other species of Pritchardia produce viable seeds even when far away from any other Pritchardia.
Fruit: Globose, bout 2 cm in diameter and brown or black when ripe.
Note: The taxonomy of the Hawaiian species of Pritchardia are taxonomically difficult because characteristics used to distinguish the species appear to be highly plastic, but Pritchardia kaalaeSN|28613]]SN|28613]] extremely long inflorescences sets the species apart from all.
Notes: The most worrisome of any potential threat to the Hawaiian Pritchardias is lethal yellowing, a palm disease that is slowly making its way through the tropical and subtropical zones of the Pritchardia kaalaeSN|28613]]SN|28613]]. It is most well known for its devastating effects on coconut trees, but Hawaiian Pritchardias planted in Florida as ornamentals have also proven to be extremely susceptible to the disease. The disease is fatal; there is currently no cure for it once a susceptible individual is infected with the disease. Lethal yellowing is caused by a "mycoplasma-like-organism". The organism is transmitted by a sap-sucking plant hopper, Myndus crudus). Symptoms include the yellowing of the palm's fronds prior to its death. The disease is particularly frustrating because infected plants have an incubation period of from six months to two years before symptoms appear. The disease originated in islands in the Caribbean Sea, and is now known from many Caribbean islands, Florida and Texas in the United States of America, Central America, West Africa, and Tanzania in East Africa. The insect transmitter of the disease has not yet been found in Hawaii, so Hawaii is safe from this disease for now (Murakami 1999).
Bibliography: Major references and further lectures
1) Wikipedia contributors. "Pritchardia kaalae." Wikipedia, The Free Encyclopedia. Wikipedia, The Free Encyclopedia, 17 Mar. 2013. Web. 3 Sep. 2014.
2) Forest & Kim Starr Pritchardia kaalae (Loulu). Plants of Hawaii. <http://www.starrenvironmental.com>. Downloaded on 21 August 2014.
3) Palmpedia contributors. "Pritchardia kaalae." Palmpedia, PALM ENCYCLOPEDIA, <http://www.palmpedia.net> Downloaded on 26 Aug. 2014
4) Donald R. Hodel "Loulu-The Hawaiian Pritchardia" in the: The Palm Journal 193, page 12.
5) Native Plants Hawaii. "Pritchardia kaalae" web 21 August 2014. >http://nativeplants.hawaii.edu>
6) David Leaser "Growing Palm Trees in Hawai?i and Other Tropical Climates"
Don Ellison, Anthony Ellison "Cultivated Palms Of The World" UNSW Press, 01/May/2001
7) Gemmill, C. 1998. Pritchardia kaalae. The IUCN Red List of Threatened Species. Version 2014.2. <www.iucnredlist.org>. Downloaded on 04 September 2014.
8) Carol C. Baskin, Jerry M. Baskin "Seeds: Ecology, Biogeography, and, Evolution of Dormancy and Germination" Elsevier, 20/Feb/2014
9) Riffle, Robert Lee; Paul Craft "An Encyclopedia of Cultivated Palms." Timber Press. 2003
10) Wagner, W. L., Herbst, D. R., and S. H. Sohmer. 1999. "Manual of the Flowering Plants of Hawai'i." Revised Edition. Volume 2. Bishop Museum Special Publication 97. University of Hawai'i Press, Bishop Museum Press, Honolulu, Hawai'i.
11) US Environmental Protection Agency. October 10, 1996. Federal Register 61(198): 53089-53108.
12) Chapin, M.H., K.R. Wood, S.P. Perlman, and M. Maunder. 2004. "A review of the conservation status of the endemic Pritchardia palms of Hawai'i." Oryx 38(3): 273-281.
13) Taxon Summary: "Pritchardia kaalae" Implementation Plan for Makua Military Reservation, Island of Oahu Final DACA83-96-D-0007/0055 <http://manoa.hawaii.edu/hpicesu/DPW/2003_MIP/Sec_1/PriKaa.pdf>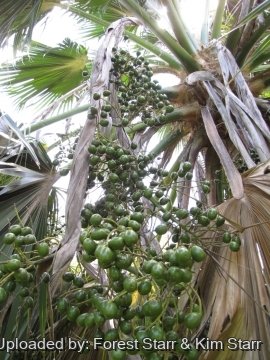 Fruit at Pololei Haiku, Maui, Hawaii (USA). April 11, 2013.
Photo by: Forest Starr & Kim Starr
Fruit at Pololei Haiku, Maui, Hawaii (USA). April 11, 2013.
Photo by: Forest Starr & Kim Starr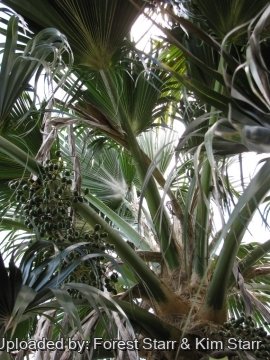 Fruit and leaves at Pololei Haiku, Maui, Hawaii (USA). April 11, 2013.
Photo by: Forest Starr & Kim Starr
Send a photo of this plant.
The gallery now contains thousands of pictures, however it is possible to do even more. We are, of course, seeking photos of species not yet shown in the gallery but not only that, we are also looking for better pictures than those already present.
Read More...
Cultivation and Propagation: Many Pritchardias are fussy and difficult to grow outside the tropics, frequently suffering from a yellowing of the leaves, but Pritchardia kaalaeSN|28613]]SN|28613]] is a pretty robust grower, very modest in its requirement, that likes sand, cinder or coral soil, but is adaptable to clay and loam both slightly alkaline and acidic. Good drainage is also important. It vary in shape. Specimens raised in dry and/or infertile soils tend to be smaller in stature with smaller leaves. Light also affects the plant's form while those grown in full sun are more compact.
Fertilization: Need a perfect fertilizer diet including all micro nutrients and trace elements or slow release fertilizer. Micronutrient deficiencies are occasional problems. Fertilize often for faster growth. Potted or younger loulu planted in the ground appreciate a foliar feeding monthly or bi-monthly.
Water Requirements: It tolerates low levels of humidity, though it prefers evenly moist but not consistently wet medium. When supplied with adequate moisture and fertilizer it is also fairly fast growing. This palm is very drought tolerant once established. It dislikes soggy soils. The roots and lower trunk can rot if soil is kept too moist. Water young plants for healthy look and fastest growth.
Light: Prefers full sun but will tolerate half day sun.
Hardiness: It is adapted to tropical and subtropical climates but tolerate a wide range of climates and will even tolerate cool conditions and a little frost ; they should be grown in cold green houses or at least in a place where they are sheltered by the wind; However mature specimens can endure temperatures down to about -4°C (for short periods), while young plants are more cold sensitive. Best kept above 5° C.
Maintenance: The dead leaves, flowers and fruits can be removed in a landscape setting for a cleaner appearance. Do not prune the fronds that still have some green colour. Palms recycle nutrients from dead or dying fronds and use them for healthier fronds. Palms only have a set number of new leaves that can sprout and grow per year and removing fronds will not increase that number. If you cut off more than what will grow annually, you could be left with a pretty bare and bald palm.
Wind and salt tolerance: Due to the natural coastal habitat, it does very well in low elevation landscapes and tolerates some salt spray. With a particularly windy climate it is suggested to secure young palm to long solid stakes, to avoid that the wind could bare young and not very developed roots; specimens which are only a few years old might fear intense wind.
Pest & diseases: It is prone to leaf rollers, red spider mites and sugar cane borers. Rats will eat the fruit.
Food use: The young fruits called h?wane or w?hane are edible and can be eaten after being peeled. The flavour of fruit with the soft interior is similar to coconut.
Ornamental: It is cultivated as an ornamental tree, and planted in gardens and parks in tropical and sub-tropical climates either as a single specimen in small groves of three or more palms. Culture in containers is possible although growth rates are slower. A bright patio will provide an excellent environment for young specimens which can eventually be planted in a sunny location.
Propagation: Mature seeds buried half way in pot of clean, well drained potting soil, water daily, germinates within 4 weeks and grows quickly, plants of 30 cm can be put in ground/larger pot; Because these palms easily hybridize with other Pritchardias, claiming a specific species requires seed collection from wild populations.