Donate now to support the LLIFLE projects.
Your support is critical to our success.
Since 4 Aug 2013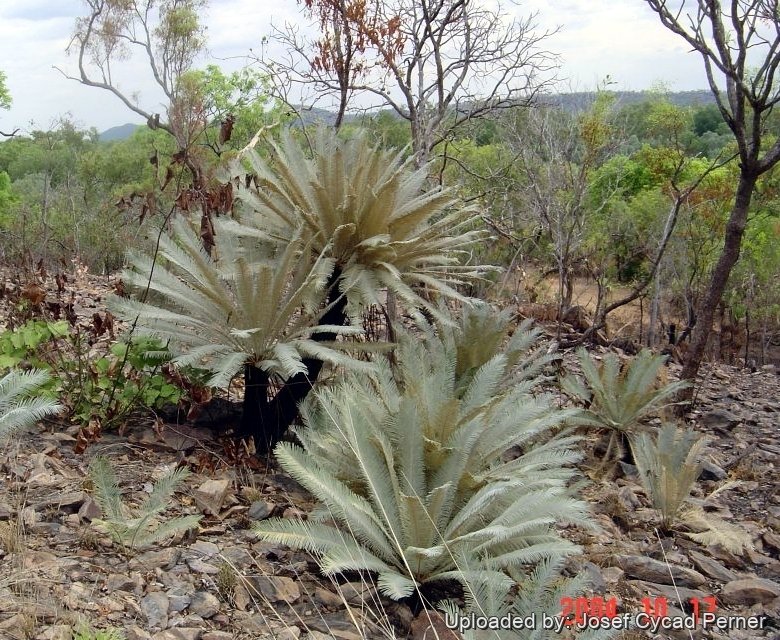 Cycas calcicola Photo by: Josef Cycad Perner
New fronds after the fire at Daly River. This species is endemic to the Top End of the Northern Territory of Australia.
Origin and Habitat: Cycas calcicolaSN|31910]]SN|31836]] occurs in northern part of the Northern Territory of Australia. Plants are abundant around the Daly River basin and north along the Finniss Range, from Katherine in the southeast to the north of Litchfield Park and near the Daly River Police station, with a somewhat disjunct population in the Spirit Hills on Bullo River station near the Western Australian border.
Altitude range: Populations occur at low elevations from 123 to 155 metres above sea level.
Habitat and Ecology: This cycad grows in a hot, dry, climate, in sparse, stunted woodland either on or close to limestone often in association with Eucalyptus and Livistona. Although originally described from limestone and named accordingly, this species occurs on various often non-calcareous substrates such as sandstones, sandy alluvium and aluminous schists. Cycas calcicolaSN|31836]]SN|31836]] and Cycas armstrongiiSN|31836]]SN|31910]], both occurrig in the Darwin region, may prove to be the food of the caterpillars of the butterfly Theclinesthes onycha capricornia. Even if there has been some collecting of specimens from the wild C. calcicola is still widespread and abundant. Altered fire frequencies and intensity due to invasive grasses may represent a threat for this species.
Synonyms:
Common Names include:
ENGLISH:
Firefern, Silver cycad, Cycad, Fire-fern, Zamia plant
Description: Cycas calcicola is a distinctive slender palm-like shrub to 3 m high, trunk about 17-30 cm diameter, with noticeable silver colouration through the young upright fronds.
Distinctive characteristics: The rachis is pubescent and the pinnae (leaflets) have revolute margins. The pinnae are narrow (2.5-4 mm wide), numerous (210-410) and crowded (spaced at 4-6 mm on rhachis).
Derivation of specific name: From Latin calcareous, pertaining to lime, with the suffix -cola, a dweller or inhabitant, in references to the occurrence on limestone substrat, but is not confined to limestone, also occurring on soils derived from sandstone and schist.
Caudex (trunk): 1-3(-5) m tall, 17-22(-30)cm across.
Leaves (fronds): 1-pinnate, 60-130 cm long, 9-27 cm wide, flat or arched in a crown, (opposing leaflets inserted at 180° on rachis) deep green to silver-grey, semiglossy, and glabrous to white tomentose above, and persistently white tomentose below, with (150-)210-300(410) leaflets per frond. The leaflets are 5-12 cm long and 2-4 mm wide, linear, straight or slightly curved, and lie flat either side of the leaf stem (not in a 'v'-shape like most other Cycas species). Margins of leaflets prominent revolute. Rachis (including petiole) round to tetragonal towards the base, about 10 mm wide and 8mm thick at base to 2mm wide near tip, glabrous scurfy-ferruginous, usually terminated by a spine. . Basal leaflets gradually reducing to spines. The petioles are 18-30 cm long, and armed with sharp spines at the base.
Cataphylls: The cataphylls (Modified leaf, much reduced and thickened, serving to protect the apical meristem in cycads produced in flushes preceding the emergence of cones or leaves.) are linear, soft, pilose, persistent.
Male cones: Usually solitary, slender, 17-26(-30) cm long, 5-6(-7)cm across, narrow, ovoid,orange or green, bearing grey to greyish-brown hairs. The microsporophylls 15-30 mm long, 5 mm and 12 mm wide at base and apex respectively, fertile zone 18-20 mm long, sterile apex 8-10 mm long, level, apical spine prominent, sharply upturned almost hooked, 7-10 mm long
Female spikes: Loose. Like other Cycas species, the female plants do not bear true "cones"; instead they carry ovules and seeds on fleshy, megasporophylls that are open leaf-like structures about 12-18 cm long cm long 10-16 mm long. The lamina is lanceolate, with a sterile apical regions 20-25mm long, entire or with 7-8 papery marginal teeth and an apical spine, glabrous above, rusty-hairy beneath. Megaspores 2 to 6 per sporophyll, globular-ovoid, brown in colour, surface slightly glaucous, about 32-35 mm long and 25-27 mm in diameter.
Fruit: 2-6, 3-3.5 cm long. The sarcotesta is orange-brown or brownish, the sclerotesta short ovoid to globular, with a network of shallow grooves.
Bibliography: Major references and further lectures
1) Jones, D.L. "Cycads of the World", 2nd edn. Reed Books, Sydney, Australia. 2002.
2) Boris Lariushin "Cycadaceae Family" Lulu.com
3) V.P. Singh "Gymnosperm (naked seeds plant) : structure and development" Sarup & Sons, 01 gen 2006
4) Winston Rodger Elliot, David Lloyd Jones "Encyclopaedia of Australian plants suitable for cultivation" Volume 3 Lothian Pub. Co., 1983
5) Wikipedia contributors. "Cycas calcicola." Wikipedia, The Free Encyclopedia. Wikipedia, The Free Encyclopedia, 24 Dec. 2014. Web. 6 Sep. 2015.
6) Hill, K.D. 2010. Cycas calcicola. The IUCN Red List of Threatened Species. Version 2015.2. <www.iucnredlist.org>. Downloaded on 06 September 2015.
7)"The Australian Entomologist" Entomological Society of Queensland, 2005
8) Whitelock, L. M. "The Cycads". Timber Press, Portland, Oregon." 2002.
9) The Cycad Pages "Cycas calcicola" Royal Botanic Gardens Sydney Written and maintained by Ken Hill 1998-2010 Maintained by Leonie Stanberg and Dennis Stevenson 2010-2012 <http://plantnet.rbgsyd.nsw.gov.au/cgi-bin/cycadpg?taxname=Cycas+calcicola> Web. 25 August 2015
10) J.R. Maconochie "Two new species of Cycas from Northern Australia" J. Adelaide Bot. Gard. 1: 175 1978
11) PACSOA contributors "Cycas calcicola". In: Cycads. Palm and Cycad Societies of Australia (PACSOA). 23 November 2013 Web. 28 August 2015.
Cycas calcicola
Photo by: Josef Cycad Perner
Cycas calcicola on Limestone north of Katherine
Photo by: Josef Cycad Perner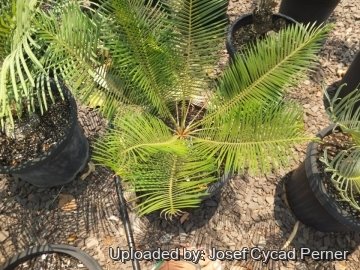 Green form.
Photo by: Josef Cycad Perner
Male cone.
Photo by: Josef Cycad Perner
Female cone.
Photo by: Josef Cycad Perner
- Silver colouration through the young upright fronds.
Photo by: Josef Cycad Perner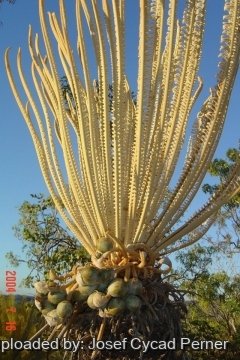 New fronds.
Photo by: Josef Cycad Perner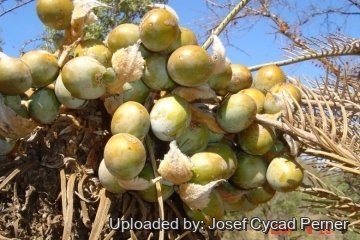 Seeds.
Photo by: Josef Cycad Perner
Cultivation and Propagation: Cycas calcicolaSN|31836]]SN|31836]] is suited to tropical regions which have a seasonally dry climate. It is easy to grow, tolerating dry periods.
Growth rate: Usually very slow growing, however good conditions can speed it up considerably. Because of its growth habit, fertilize only when terminal bud begins to swell, indicating the start of the annual growth cycle.
Exposure: It prefers bright light exposure but colour bleaches when in full sun; best with some protection from afternoon heat.
Soil: Needs a well drained spot, with deep soil, but will still thrive in less than ideal conditions.
Maintenance: Minimal; removal of offsets if desired, removal of spent fronds.
Use: Landscape as cultivated perennial in warm, coastal areas; House-plant or interior-scape, as container plant in cool areas, as well very well suited to bonsai culture.
Propagation: Seed or offshoots (or "pups"). The advantage of the "pups" is that you will know its sex, for seedlings you will have to wait several years until the plant flowers to find out. After fertile seeds are collected, they usually need several months of storage before the inner embryo is ready to germinate. Therefore, it is best to clean the seeds of external fruit and set them aside before attempting to propagate the seeds.
Your Photos
---

by Josef Cycad Perner

by Josef Cycad Perner
by Josef Cycad Perner

by Josef Cycad Perner
by Josef Cycad Perner