Donate now to support the LLIFLE projects.
Your support is critical to our success.
Since 4 Aug 2013
Cycas angulata Photo by: Josef Cycad Perner
Origin and Habitat: Cycas angulataSN|31951]]SN|31951]] is native to the Northern Territory and Queensland, Australia from the lower reaches of the Wearyan, Foelsche and Robinson Rivers near Borroloola, and from the Bountiful Island group further east in the Gulf of Carpentaria. Number of know locations 10-12. This species occurs in large populations and the total population size is estimated to exceed 50,000 plants in the wild.
Altitude range: Sea level to 30 m.
Habitat and Ecology: Populations occur in open grassy woodland or grassland on flat country and on sandy alluvium and deep sands, usually near streams. The cycads are the dominant component of the vegetation in this area with relatively little evidence of decline. There are no major threats to this species. Cycas angulataSN|31951]]SN|31951]] is often the tallest plant growing in some tropical Australian open wood-land communities.
Synonyms:
Description: Cycas angulataSN|31951]]SN|31951]] is a robust palm-like cycad with blue-grey-green, strongly keeled (V-shaped) fronds, and long, narrow, leaflets. It has a distinct trunk and frequently branched stems growing to 5 m (rarely 12 m) tall. Older specimens lose the leaf base scars and gain a more checkerboard appearance. The stout trunks, topped with thick arching fronds make them a very attractive species, and probably this is the cycad most mentioned as a food source by Northern Territory aborigines. Cycads are dioecious (have distinct male or female cone-bearing plants) and pollen needs to be transported from male to female cones on separate plants for pollination, and subsequent fertilisation and seed production, to occur.
Distinguishing characteristics: Cycas angulata is distinguished from related species for the abundant, long, strongly pungent, silky cataphylls, the keeled leaves with long, narrow, greyish leaflets arranged at a relatively low angle to the rachis, the large, subglobular male cone, and the long megasporophylls with large numbers of large seeds and a relatively short, finely toothed lamina. Cycas angulata is claimed to be the largest Cycas in Australia. Sightings and premature namings on the mainland of Queensland are now attributed as Cycas brunnea, which it resembles and has affinity with.
Derivation of specific name: The name derives from the Latin "angulatus", which translates as "angular", referring to the leaflet arrangement on the leaf petiole.
Stem (trunk): Stout up to 5(-12) m tall, 15-25 cm in diameter (Reports of taller cycads up to 15 metres occur from Fogg Bay N.T. to Cairns north Queensland, these probably are inter-graded Cycas crosses).
Leaves (fronds): Up to 40 in the crown, 1.1-1.7 m long, pinnate with 180-320 leaflets, the leaflets 14–23 cm long and 4.5-6.5 mm wide, grey-green to glaucous, with brown tomentum shedding as leaf expands. Petioles are armed with spines in younger individuals (a few millimetres long) with this trait being lost in older individuals. Basal leaflets not gradually reducing to spines. Rachis usually terminated by paired leaflets.
Cataphylls: The cataphylls (Modified leaf, much reduced and thickened, serving to protect the apical meristem in cycads produced in flushes preceding the emergence of cones or leaves.) are linear, pungent, pilose, 130 mm long, persistent.
Male cones: Solitary, globose, orange, erect, 20–25 cm long and 12–15 cm diameter. Microsporophyll lamina 45-60 mm long, 15-20 mm wide, fertile zone 30-40 mm long, sterile apex 15-20 mm long, level, apical spine prominent, sharply upturned, 20-30 mm long.
Female spike: When female inflorescences are present, the genus Cycas can easily be recognized by the loose structure of the inflorescence, as in all the other cycads genera the female inflorescences are compact cones. Instead Cycas angulataSN|31951]]SN|31951]] carry ovules and seeds on open type sporophylls 25–50 cm long, grey-tomentose and brown-tomentose, each with 6-12 ovules each. The lamina is triangular, 50-105 mm long, 25-35 mm wide, regularly dentate, with 34-50 pungent lateral spines 0.5-2 mm long, 1 mm wide, ending in a sharp narrow spine 12-38 mm long.
Seeds: Ovoid, 45-60 mm long, 40-50 mm wide; sarcotesta orange-brown, not pruinose or slightly pruinose, 3-4 mm thick; fibrous layer absent; sclerotesta smooth. Spongy endocarp absent.
Bibliography: Major references and further lectures
1) Hill, K.D. 2010. Cycas angulata. The IUCN Red List of Threatened Species 2010: e.T41981A10591752. http://dx.doi.org/10.2305/IUCN.UK.2010-3.RLTS.T41981A10591752.en . Downloaded on 06 October 2015.
2) Wikipedia contributors. "Cycas angulata." Wikipedia, The Free Encyclopedia. Wikipedia, The Free Encyclopedia, 24 Dec. 2014. Web. 7 Oct. 2015.
3) Oliver, Douglas L. "Oceania: Native Cultures of Australia and the Pacific Islands", Honolulu: University of Hawaii Press. pp. 175-6. 1989.
4) The Cycad Pages "Cycas angulata." Royal Botanic Gardens Sydney Written and maintained by Ken Hill 1998-2010 Maintained by Leonie Stanberg and Dennis Stevenson 2010-2012 <http://plantnet.rbgsyd.nsw.gov.au/cgi-bin/cycadpg?taxname=Cycas+angulata> Web. 25 August 2015.
5) Jones, D.L. "Cycads of the World", 2nd edn. Reed Books, Sydney, Australia. 2002.
6) Boris Lariushin "Cycadaceae Family" Lulu.com.
7) V.P. Singh "Gymnosperm (naked seeds plant) : structure and development" Sarup & Sons, 01 January 2006
8) Whitelock, Loran M., "The Cycads", Timber press, 2002.
9) Haynes J.L, "World List of Cycads: A Historical Review", IUCN/SSC Cycad Specialist Group, 2012.
10) Edward Balfour "The Cyclopædia of India and of Eastern and Southern Asia: Commercial, Industrial and Scientific, Products of the Mineral, Vegetable, and Animal Kingdoms, Useful Arts and Manufactures", Volume 1 B. Quaritch, 1871
11) Geoff Williams, Paul Adam "The Flowering of Australia's Rainforests: A Plant and Pollination Miscellany" Csiro Publishing, 01 March 2010
12) Copertina anteriore "Australian Plants", Society for Growing Australian Plants, 1994.
13) Divya Darshan Pant, Roy Osborne, Birbal Sahni Institute of Palaeobotany "An introduction to gymnosperms, cycas, and cycadales" Birbal Sahni Institute of Palaeobotany, 2002
14) PACSOA contributors "Cycas angulata". In: Cycads. Palm and Cycad Societies of Australia (PACSOA). 24 November 2013 Web. 02 October 2015.
Cycas angulata
Photo by: Josef Cycad Perner
Cycas angulata
Photo by: Josef Cycad Perner
Unripe seeds.
Photo by: Josef Cycad Perner
Cycas angulata
Photo by: Josef Cycad Perner
Cycas angulata
Photo by: Josef Cycad Perner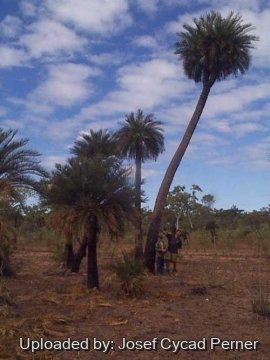 Cycas angulata
Photo by: Josef Cycad Perner
Cycas angulata
Photo by: Josef Cycad Perner
Pollen cone.
Photo by: Josef Cycad Perner
Cultivation and Propagation: Cycas angulataSN|31951]]SN|31951]] is suited to tropical regions which have a seasonally dry climate. It is easy to grow, tolerating dry periods, but up to the time of this writing this species is not common in cultivation. Cycas angulataSN|31951]]SN|31951]] is best planted in the ground or a deep pot so its fast-growing taproot room can develop properly.
Growth rate: Usually slow growing, however good conditions can speed it up considerably. Because of its growth habit, fertilize only when terminal bud begins to swell, indicating the start of the annual growth cycle.
Exposure: It prefers bright light exposure; best with some protection from afternoon heat.
Soil: Needs a well drained spot, with deep soil, but will still thrive in less than ideal conditions.
Maintenance: Minimal; removal of offsets if desired, removal of spent fronds.
Use: Landscape as cultivated perennial in warm, coastal areas; House-plant or interior-scape, as container plant in cool areas, as well very well suited to bonsai culture.
Food uses: The seed-like kernels of the cycad palm were eaten by aboriginal Australians because of the seed's high starch content. The seeds ripened during the dry season, when other foods consumed by native hunter-gatherers were scarce. A large grove represented a huge natural food source, and would be exploited by several native band groups. In its natural state the seed is highly toxic to mammals. The Australians recognized this danger, and responded by two methods. They removed the toxins by leaching with water for three to five days and then baking the starch; or they allowed the kernels to ferment before cooking and eating them. Note that the kernels contain carcinogens, and are not recommended for human consumption, even prepared through traditional methods.
Propagation: Seed or offshoots (or "pups"). The advantage of the "pups" is that you will know its sex, for seedlings you will have to wait several years until the plant flowers to find out. After fertile seeds are collected, they usually need several months of storage before the inner embryo is ready to germinate. Therefore, it is best to clean the seeds of external fruit and set them aside before attempting to propagate the seeds.