Donate now to support the LLIFLE projects.
Your support is critical to our success.
Since 4 Aug 2013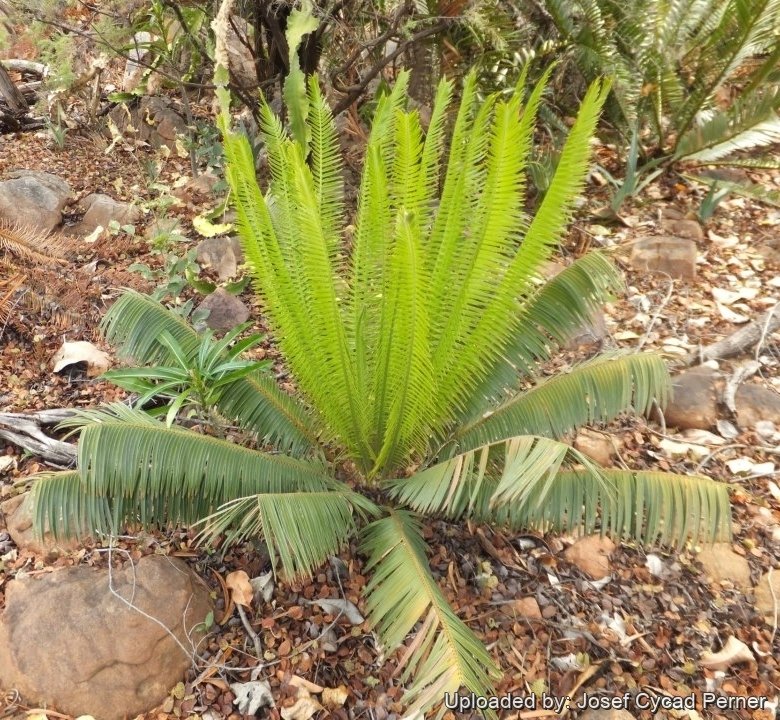 Microcycas calocoma Photo by: Josef Cycad Perner
The new emerging leaves are light-green and contrast nicely with the darker old leaves at the base.
Origin and Habitat: Microcycas calocomaSN|31842]]SN|31842]] is endemic to Western Cuba in Pinar del Río Province. From the area of San Diego de los Banos through the Santa Catalina area to the vicinity of San Andreas. Area of occupance km2 20. In habitat it grows in small groups of 10-50 plants and count fewer about 1540-4000 mature individuals occurring at five locations.
Altitudinal range: 85-250 metres above sea level.
Habitat and Ecology: Populations are scattered in varied habitats in both lowland and montane sites, the latter being in very rough terrain and on the slopes of gullies. The plants grow in three types of soils, Jurassic alkaline limestone, more-or-less sandy acidic soils underlaid with slate, and siliceous clays with a pH between 5.4 and 6.9. The habitats vary from grasslands to, more commonly, pine or semi-deciduous forests and conditions range from full sun to deep shade. In many of these groups of plants, however, the sex ratio is very unbalanced, resulting in a low output of seedlings. The plants are affected by habitat destruction (forestry operations, clearing of land, and pesticide use ). Reproductive failure (pollinator extinction) is a concern, although this still needs to be verified. Because of the plant's graceful and ornamental appearance, harvesting of plants and seeds by growers has also seriously affected M. calocoma (based on estimates of decline for the better known populations, which are estimated to be more than 80%). Many populations are now protected in reserves. This endangered Cuban cycad is a perfect illustrations of wild-collected endangered or threatened cycads that would sell for landscaping or to collectors for significant amounts of money. At first the species was saved by hand pollination using a female specimen at Fairchild Tropical Botanical Garden and a male specimen at Montgomery Botanical Center, the two related neighboring institutions. Initially the seedlings were distributed to botanical gardens and now mature seed grown specimens of this plant are currently available in the trade.
Synonyms:
Common Names include:
ENGLISH:
Corcho microcycas, Cork palm
FRENCH (Français):
Microcycas corcho
SPANISH (Español):
Palma corcho, Palma de corcho, Corcho
Description: Microcycas calocoma is the unique member of the monospecific genus Microcycas (from the Greek "micro" small, and the generic name "Cycas", i.e. a small Cycas.). Plants of M. calocoma are dioecious plam-like shrubs with tall aerial cylindrical stems that can reach 10 m in height, with many pinnate leaves (fronds). The obviously truncated leaves with drooping leaflets that are also observable in juvenile plants distinguish this cycad. Leaflets are articulated and lacks a midrib. The large male cones have sporophylls in vertical rows, and megasporophyll in female cones have apices faceted or flattened and bilobed. Microcycas is considered the most primitive member of the zamiaceae. Cycads are gymnosperms: they produce naked seeds, just as conifers (pine trees) do. So even though they look like palms, they are actually more closely related to the pines.
Derivation of name: The specific epithet refers to a 'beautiful crown of leaves' from the Greek "calos", beautiful, and "coma", hair.
Stem (trunk): Aerial, pachycaul, upright, cylindrical, up to 10 m tall, 30–60 cm in diameter, usually unbranched (dichotomous branching uncommon), basal offsets ("suckers") produced occasionally. The trunk differs from that of Dioon in having conspicuous and persistent external rings composed of leaf bases separated, by wider spaces occupied by scales.
Roots: The main root can extend vertically about one meter if the soil is deep. If the soil is rocky roots extend between the rocks without apparent taproot.
Leaves (fronds): 10-50 pinnate, light to dark green and 0.6-1.2 m long, spirally arranged, interspersed with 12 cm long, grey-pilose cataphylls (Modified leaf, much reduced and thickened, serving to protect the apical meristem and produced in flushes preceding the emergence of cones or leaves). One unique character is that the leaves appear to be truncated near the apex because the middle and distal leaflets have similar lengths, lower leaflets not reduced to spines. Petioles 8–10 cm long lacking prickles. Rachises also lack spines. Leaflets 50-80 pairs, simple, linear lanceolate, attenuate basally, acute apically, entire, leathery, with numerous bifurcating parallel veins and no distinct midrib, reflexed below the plane of the rachis. The leaflets are articulated at the base, inserted near the edges of the rachis towards the inner (axis-facing) side. Middle leaflets are 15–25 cm long by 0.8–1 cm wide. Newly emerging fronds are pubescent, soft and flexible at least when young, with branched and simple, transparent and coloured hairs.
Male cones: Sessile or shortly pedunculate (peduncle 2-4 cm long), cylindrical, 25–30 cm long and 5–8 cm in diameter, yellow-brown, and hairy. Microsporophylls spirally aggregated into male cones and each with a simple sterile apex, which is often flattened or facted, bilobed, never produced into an upturned spine. Each microsporophyll bearing numerous microsporangia (pollen-sacs) on the inner (axis-facing) surfaces. Microsporangia opening by slits.
Female cones: Broadly cylindrical, 50–90 cm long and 13–16 cm in diameter, shortly pedunculate, yellow-brown, hairy, containing many and weighty. The megasporophylls are simple, peltate with a simple dilated apex which is usually hexagonal, flattened or faceted with two round apical projections bilobed, never produced into an upturned spine. Ovules two (rarely three), sessile inserted on the inner (axis-facing) surface of the thickened lamina.
Seed cones broadly cylindricalyellowish brown, 50-90 cm long and 13-16 cm in diameter, peduncle 2-4 cm long. Sporophylls with two rounded apical protuberances.
Seed: Subglobular to oblong or ellipsoidal 3.5–4 cm long and 2-2.5 cm in diameter, with a pink or red, fleshy outer sarcotesta.
Cotyledons: 2 usually united at the tips.
Chromosome number: 2n = 16
Bibliography: Major references and further lectures
1) Jones, David L. "Cycads of the World: Ancient Plants in Today's Landscape." Washington, D.C.: Smithsonian Institution Press, 2002.
2) Bösenberg, J.D. 2010. Microcycas calocoma. The IUCN Red List of Threatened Species 2010: e.T42107A10647674. . Downloaded on 10 September 2015.
3) M.M. Grandtner "Elsevier's Dictionary of Trees: Volume 1: North America" Elsevier, 08 apr 2005
4) V.P. Singh "Gymnosperm (naked seeds plant) : structure and development" Sarup & Sons, 01 January 2006
5) The Cycad Pages: "Microcycas calocoma" Royal Botanic Gardens Sydney Written and maintained by Ken Hill 1998-2010 Maintained by Leonie Stanberg and Dennis Stevenson 2010-2012 <http://plantnet.rbgsyd.nsw.gov.au> Web. 18 Nov. 2014.
6) Bir Bahadur, Manchikatla Venkat Rajam, Leela Sahijram, K.V. Krishnamurthy "Plant Biology and Biotechnology: Volume I: Plant Diversity, Organization, Function and Improvement" Springer, 02 July 2015
7) Cendrero, O. «El Microcycas calocoma, palma corcho, palma de corcho o corcho». Memorias de la Sociedad Cubana de Historia Natural 'Felipe Poey' 8 (3). 175-182. 1940.
8) Bijan Dehgan "Public Gardens Management: A Global Perspective", Volume 2 Xlibris Corporation, 16 April 2014
9) Karl J. Niklas "The Evolutionary Biology of Plants" University of Chicago Press, 08 giu 1997
10) Biology Pamphlets, Volume 622 1919
11) Wikipedia contributors. "Microcycas." Wikipedia, The Free Encyclopedia. Wikipedia, The Free Encyclopedia, 3 Dec. 2014. Web. 11 Sep. 2015.
12) Whitelock, Loran M., "The Cycads", Timber press, 2002
13) Haynes J.L, "World List of Cycads: A Historical Review," IUCN/SSC Cycad Specialist Group, 2012.
14) Cadwell, O.W.; Baker, C.F «The identity of Microcycas calocoma». Botanical Gazette 43. 330 – 335. 1907.
15) Cadwell, O.W. «Microcycas calocoma. Contributions from the Hull Botanical Laboratory XCVII». Botanical Gazette 44. 118-141. 1907
16) Chamberlain, Charles Joseph "The Living Cycads". University Chicago Press, Chicago.1919.
17) Foster, A. S.; Rodríguez San Pedro, M. «Field studies on Microcycas calocoma». Memorias de la Sociedad Cubana de Historia Natural 'Felipe Poey' 16. 105-121.1942.
18) González Géigel, L. «Zamiaceae». Flora de la República de Cuba, fascículo 8(4) :1-22. A. R.Gantner Verlag KG. Liechtenstein. 2003.
19) Mercado, A. «Raíces coraloides de Microcycas calocoma: estructura, desarrollo y endófitos presentes». Ciencias Biológicas, Academia de Ciencias de Cuba 1. 3-40. 1977.
20) Stevenson, D. W. «A formal classification of the extant cycads». Brittonia 44. 220-223.1992.
21) Vovides, A.P.; Ogata, N.; Sosa, V.; Peña-Garcia, E.. «Pollination of endangered Cuban cycad Microcycas calocoma (Miq.) A. DC.». Botanical Journal of the Linnean Society 125. 201-210. 1997.
15cm diameter. 16cm trunk height.
Photo by: Josef Cycad Perner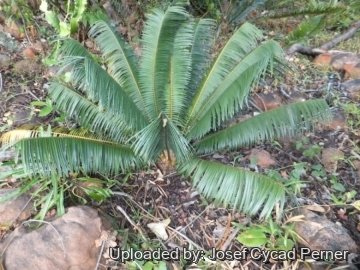 Old leaves are dark green.
Photo by: Josef Cycad Perner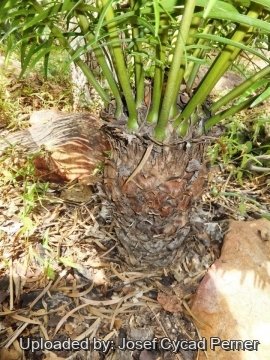 Microcycas calocoma
Photo by: Josef Cycad Perner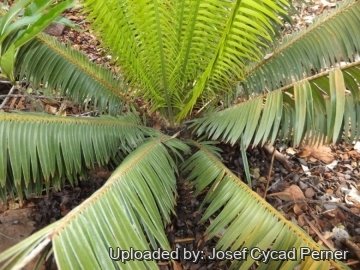 The new emerging leaves are light-green.
Photo by: Josef Cycad Perner
Microcycas calocoma
Photo by: Josef Cycad Perner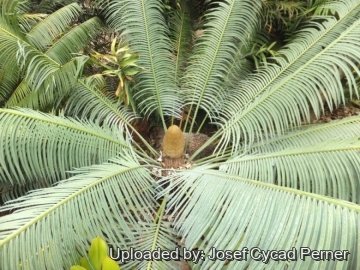 Microcycas calocoma
Photo by: Josef Cycad Perner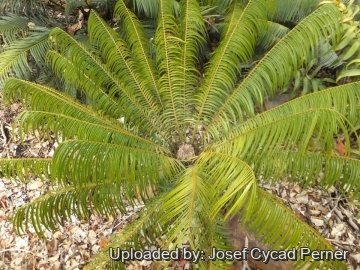 Microcycas calocoma
Photo by: Josef Cycad Perner
Night photography.
Photo by: Josef Cycad Perner
Cultivation and Propagation: Microcycas calocomaSN|31842]]SN|31842]] is a relatively slow plant until if finally forms a stem, and then it puts out a new leaf nearly continuously. Because of its ruggedness, low maintenance and drought tolerance it is grown in tropical, subtropical and temperature regions. Although M. calocoma's round crown and shiny drooping leaves make it a very ornamental plant, cultivation is limited due to the lack of growing material. This plant may be cultivated as an indoor plant in temperate countries.
Exposition: It can be grown under the full sun but for best appearance may do better with some protection, such as in filtered sunlight to partial shade; best with some protection from afternoon heat but not in constant deep shade.
Soil: Needs a well drained sandy or sandy loam spot, with deep soil, slightly acid, neutral or basic (tolerate limestone) but will still thrive in less than ideal conditions. Mulch with organic materials (bark or leaf mould).
Moisture: Water when dry. Drought tolerant.
Fertilization. Because of its growth habit, fertilize only when terminal bud begins to swell, indicating the start of the annual growth cycle.
Hardiness: This species is suited to tropical and sub-tropical regions and do not tolerate frosts, but it should be protected from cold.
Maintenance: Minimal; removal of offsets if desired, removal of spent fronds.
Pest & disease: It is prone to Aulacaspis yasumatsui (Asian cycad scale) infestation, which may cause serious damage to the leaves. Quick removal of infected leaves and periodical spray of systemic insecticides (at 1-2 weeks interval) helped in controlling this fast-spreading insect on this rare cycad species.
Warning: This plant is poisonous and contain a poison which causes paralysis. Poisonous Parts: Fleshy seeds, stems, roots, leaves. Protect pets and instruct children to never eat or chew any plant material without permission. Locals have used the plant's toxic roots as a rat poison.
Propagation: Seeds. It is best to clean the seeds of external fruit and set them aside before attempting to propagate the seeds. Seeds should be sown in shallow container, lightly covered with sand, and after germination, potted off in small pots of moderately rich, light soil. The growing plants do best in partial shade.