Donate now to support the LLIFLE projects.
Your support is critical to our success.
Since 4 Aug 2013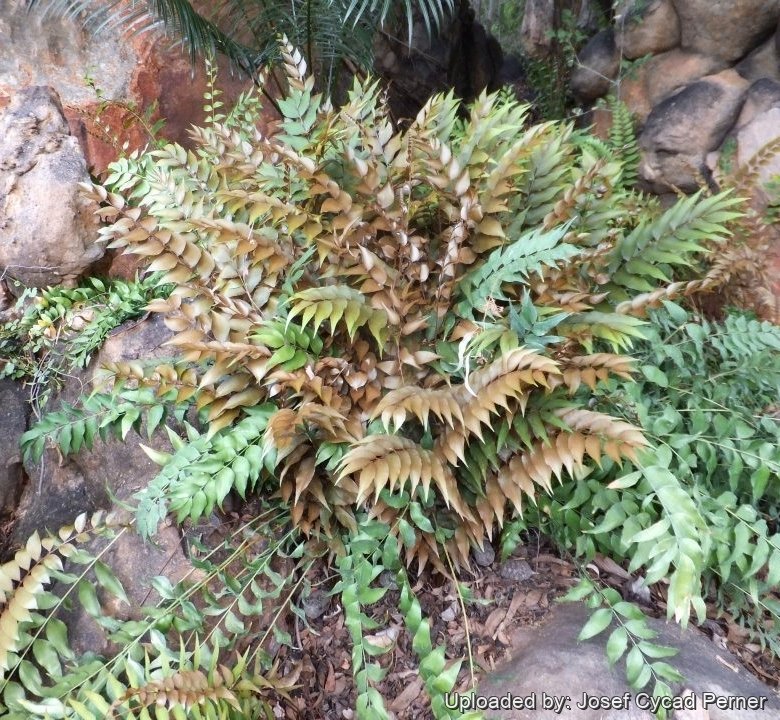 Zamia vazquezii Photo by: Josef Cycad Perner
Origin and Habitat: Zamia vazquezii is now known from only two locations from Mexico, where it occurs in Veracruz state. Estimated area of occupancy km2 10. There are no more than 50 plants in the wild and deforestation in northern Veracruz is still rampant. The population is definitely severely fragmented
Altitude range: This species grows at elevations of around 200-700 metres above sea level.
Habitat and Ecology: Z. vazquezii grows in wet lowland, semi-evergreen forests to pine-oak forests in deep shade. Deforestation poses the biggest threat to the survival of this species in the wild. Although cones and seeds are readily produced, the species is severely threatened in habitat, but wild populations are somewhat protected from over-collection because the species is very common in cultivation, where it also produces copious quantities of cones and grows quite rapidly from seed.
Synonyms:
Common Names include:
ENGLISH:
Little Chamal
NAHUATL (Nāhuatl):
Chamalillo
SPANISH (Español):
amigo del maíz
Description: Zamia vazquezii is a very attractive small cycad with a subterranean trunk, that resembles a fern and is often mistakenly sold as one. It comes in two forms, one with green emergent leaves and the other with bronze emergent leaves up to 1m long. The two forms can only be identified when new leaves are present. This plant has 15-30 pairs of papery thin, wide leaflets with very small indentations or teeth on the leaflets. The petioles have small spines. In the past, this plant was falsely called Zamia fishceri, which is a much rarer plant.
Stem (rootstock or caudex): Subterranean, tuberous, subglobose to turnip-shaped, up to 10 cm in diameter, continuous with a variously carrot-shaped root (or roots). Maturing plants of Z. vazquezii often develop multiple trunks. The tuberous rootstock is regarded as all underground stem by some writers but the basal portion is a tuberous root which develops rapidly in the seedling stage.
Derivation of specific name: This Zamia is named in honor of Mario Vazquez Torres Mexican botanist who first discovered the species.
Leaves (fronds): More than 6 (up to 30 per crown), erect, greater than 90 cm long. Leaflets 12-30 pairs, papyraceous to chartaceous, ovate to obpyriform in shape with attenuate to acuminate apices, margins with numerous serrations in the upper two-thirds, the larger median leaflets 6-7 (8) cm long, 3-4 cm wide, and reminiscent of the fern genera Cyrtomium or species of Adiantum. Petioles 15-40 cm long, smooth or with minute prickles.
Cataphylls: The cataphylls (modified leaf, much reduced and thickened, serving to protect the apical meristem and produced in flushes preceding the emergence of cones or leaves) are ovate, 1-1.5 cm long, 1.5-2 cm wide.
Male cones: Tan, ovoid to ovoid-cylindrical, 5-7 (8) cm long, 2-2.5 cm across. Peduncle 1.5-2.5 cm long. Microsporophylls with sterile tip composed of six slightly inclined facets surrounding a small, centrally depressed terminal facet, sporangia present on abaxial surface only.
Female cones: Tan to brown, cylindrical to ovoid-cylindrical, 10-15 cm long, 5-7 cm across.
Seeds: Orange-red to red, 1.3-1.8 cm long, 0.5-0.8 cm wide.
Chromosome number: 2n = 18.
Similar species: Historically, Z. vazquezii has been confused with Zamia fischeri which was described nearly 1 ½ centuries earlier, in 1845, but Z. vazquezii has more, longer leaves, and more than 12 pairs of leaflets as compared to those of Z. fischeri which number less than six.
Bibliography: Major references and further lectures
1) V.P. Singh "Gymnosperm (naked seeds plant): structure and development" Sarup & Sons, 01 gen 2006
2) "Proceedings of the ... Annual Meeting of the Florida State Horticultural Society", Florida State Horticultural Society. Meeting Volume 113 The Society, 2000
3) Witthayāsān Kasētsārt: Kasetsart journal. Natural sciences. Sākhā thammācht, Volume 43, Ed. 3 Kasetsart University, 2009
4) Vovides, A. 2010. Zamia vazquezii. The IUCN Red List of Threatened Species 2010: e.T42120A10655118. http://dx.doi.org/10.2305/IUCN.UK.2010-3.RLTS.T42120A10655118.en . Downloaded on 21 September 2015.
5) Dale Holton "Growing Zamia vazquezii in Palm Beach County" <http://www.palmbeachpalmcycadsociety.com/cycads/documents/ZamiaVazquezii.pdf> Downloaded on 21 September 2015.
6) PACSOA contributors "Zamia vazquezii". In: Cycads. Palm and Cycad Societies of Australia (PACSOA). <http://www.pacsoa.org.au/wiki/Zamia_vazquezii> 25 November 2013 Web. 28 August 2015.
7) Jones, D.L. "Cycads of the World". 2nd edn. Reed, Sydney. 2002.
8) Walters, T. and Osborne, R. "Cycad Classification Concepts and Recommendations." CABI Publishing, Wallingford UK. 2004.
9) Whitelock, L.M. "The Cycads". Timber Press, Portland, Oregon.2002.
10) Read, R.W. & Solt, M.L. "Bibliography of the living cycads. annotated." Lyonia 2(4): 33-199.1986.
11) The Cycad Pages: "Zamia vazquezii" Royal Botanic Gardens Sydney Written and maintained by Ken Hill 1998-2010 Maintained by Leonie Stanberg and Dennis Stevenson 2010-2012 <http://plantnet.rbgsyd.nsw.gov.au/cgi-bin/cycadpg?taxname=Zamia+vazquezii> Downloaded on 21 September 2015.
Zamia vazquezii
Photo by: Josef Cycad Perner
Zamia vazquezii
Photo by: Josef Cycad Perner
Zamia vazquezii
Photo by: Josef Cycad Perner
Zamia vazquezii
Photo by: Josef Cycad Perner
Zamia vazquezii
Photo by: Josef Cycad Perner
Zamia vazquezii
Photo by: Josef Cycad Perner
Zamia vazquezii
Photo by: Josef Cycad Perner
Zamia vazquezii
Photo by: Josef Cycad Perner
Cultivation and Propagation: "Zamia vazquezii" is a small can be used as a small shrub or a large groundcover and one of the most common cycads in the nursery trade. It can have green or brownish emergent fronds and can grow up to four 1 m tall and 2 m across. It is easy to grow so it worth a place in every cycads collection for its beauty. The only problem is that it is slow growing, however good growth conditions can speed it up considerably. This is a very adaptable and robust grower, handling low light situations, some coastal sun, all sorts of soils and watering schemes and even does well as an indoor plant. These plants look nice as borders too. Well grown plants can have many leaves. In containers, they usually lose their leaves in the winter, but in the ground this usually does not occur.
Exposition: It can be grown in shade or full sun, but looks best when grown in some shade, best with some protection from afternoon heat but not in constant deep shade.
Soil: Needs a neutral, well drained sandy soil spot, with deep soil, but will still thrive in less than ideal conditions. Mulch with organic materials (bark or leaf mould).
Moisture: Water when dry. Drought tolerant.
Fertilization. Because of its growth habit, fertilize only when terminal bud begins to swell, indicating the start of the annual growth cycle.
Hardiness: It should be protected from extreme cold. (USDA Zones 9-11) Sustains leaf damage at -2° C.
Maintenance: Minimal; removal of offsets if desired, removal of spent fronds. It is also advised to defoliate plants in the early spring as this causes them to make a new full head of leaves. When you don't defoliate them, they tend to get too many leaves and new leaves have a difficult time getting through the old leaves.
Use: Landscape as cultivated perennial in warm areas, it makes a great accent or specimen plant. Several can be planted together for a lush, tropical effect. Plant on three to five-foot-centers to create a mass planting. Use near the patio, in mixed foundation plantings or in perennial beds. It is a spectacular house-plant or interior-scape specimen in cool areas tough enough to survive occasional neglect and harsh indoor environments. It is very well suited to bonsai culture.
Warning: All parts of the plant are poisonous to animals and humans. The toxicity causes liver and kidney failure, as well as eventual paralysis. Dehydration sets in very quickly. No treatment for the poisoning is currently known. Poisonous Parts: Fleshy seeds, leaves. Protect pets and instruct children to never eat or chew any plant material without permission.
Propagation: They are easy to propagate from seed. The germination process is slow, after fertile seeds are collected, they usually need several months of storage before the inner embryo is ready to germinate. Therefore, it is best to clean the seeds of external fruit and set them aside before attempting to propagate the seeds. Seeds should be sown in shallow container, lightly covered with sand, and after germination, potted off in small pots of moderately rich, light soil. The growing plants do best in partial shade. The old plants frequently send up suckers around the base of the trunk. These may be taken off when in a dormant state and rooted, care being taken to remove the leaves to guard against excessive transpiration. The advantage of the "pups" is that you will know its sex, for seedlings you will have to wait several years until the plant flowers to find out.