Donate now to support the LLIFLE projects.
Your support is critical to our success.
Since 4 Aug 2013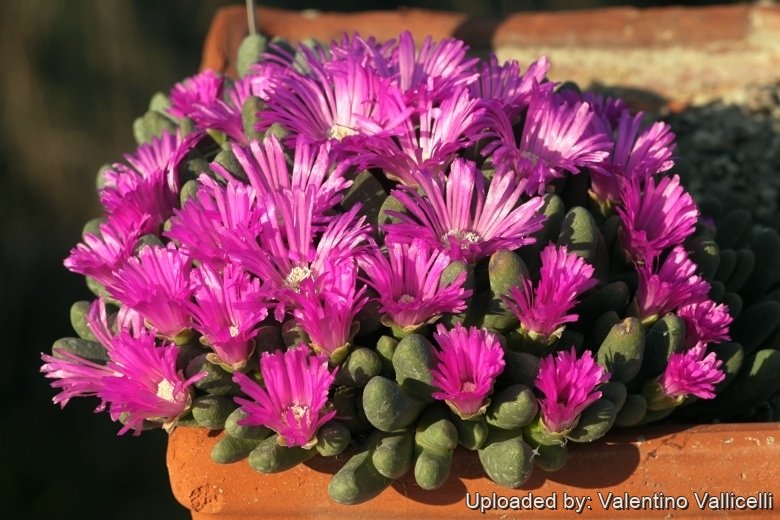 Antegibbaeum fissoides Photo by: Valentino Vallicelli
Origin and Habitat: Ladismith, Laingsburg, Montagu, Swellendam, in the Little Karoo, Western Cape Province, South Africa.
Habitat: It grows on quartz patches in open succulent Karroo. The average annual rainfall is around 200 mm/p.a mainly in spring and autumn.
Synonyms:
Description: Antegibbaeum fissoides is a slow growing succulent species forming grey-green tufts of finger-like leaves. Its showy, purple blossoms appear in winter and open during the day.
Note: It is the only species of the monospeciefic genus Antegibbaeum. It differs from Gibbaeum only in the uninterrupted ring of nectar glands in the flowers and the presence of two bracts below the flower and is thought to be a predecessor in evolution. The huge petals of the plants are also different from the filamentous staminoides of Gibbaeum.
Habit: It is a perennial leaf-succulents, branching from the base and forming clumps or mats up to 8 cm tall and up to 30 (or more) cm wide.
Stems: Short, woody, with prostrate branches, internodes not visible, with the remnants of old dry leaves, each branch ending in 1-2 pairs of leaves (one pair to a growth in the resting stage).
Leaves: Fleshy, in annual increments of 2-3 decussate pairs, almost free at the base, erect to spreading, slightly compressed, flat or slightly convex on the upper and rounded on the lower surface, slightly curved, apically sometimes keeled. Leaves of a pair somewhat unequal, the larger a little up to 30 mm long and 5-8 mm broad, the smaller only a quarter as long. Dark green, grey-green or reddish, smooth or somewhat rough with a more or less continuous wax cover.
Flowers: Daisy-like, solitary, terminal, short stalked, bright pink/violet to deep purple, 15-60 mm in diameter and long lasting. Petals 20-50 pale red to violet-red in 1-3 whorls. Sepals 6 keeled with menbranous margins. Stamens 50-170 white, basally shortly papillate, nectary as a ring. Stigmas 6-7 linear.
Remarks: Two leaf-pairs can be formed beneath the flower, the upper representing the bracteoles, the lower foliage leaves.
Fruits: Shorter than leaves, 6(-7) chambered, hard and robust, top elevated, dome-shaped, not recirculated, keels ending in broad wings.
Seeds: Large, dark-brown, minutely echinate.
Chromosome number: 2n = 18.
Bibliography: Major references and further lectures
1) Heidrun E. K. Hartmann "Illustrated Handbook of Succulent Plants: Aizoaceae A-E" Springer, 2002
2) Hermann Jacobsen "A handbook of succulent plants: descriptions, synonyms, and cultural details for succulents other than Cactaceae, Volume 1" Blandford Press, 1960
3) Werner Rauh "The Wonderful World of Succulents:Cultivation and Description of Selected Succulent Plants Other Than Cacti" Smithsonian Institution Press, 1984
4) Goldblatt, P. and Manning, J.C. 2000. "Cape Plants: A conspectus of the Cape Flora of South Africa." Strelitzia 9. National Botanical Institute, Cape Town.
5) Vlok, J. and Schutte-Vlok, A.L. 2010. "Plants of the Klein Karoo." Umdaus Press, Hatfield.
6) H. Herre "The genera of the Mesembryanthemaceae" Tafelberg-Uitgewers Beperk, 1971
7) James Cullen, Sabina G. Knees, H. Suzanne Cubey "The European Garden Flora Flowering Plants: A Manual for the Identification of Plants Cultivated in Europe, Both Out-of-Doors and Under Glass" Cambridge University Press, 11/ago/2011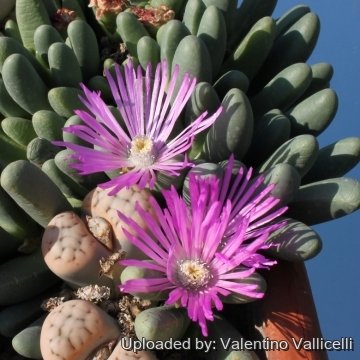 - PV868 Eierport
Photo by: Valentino Vallicelli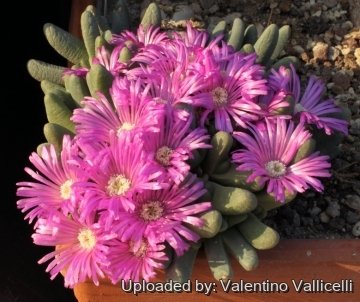 Antegibbaeum fissoides
Photo by: Valentino Vallicelli
Antegibbaeum fissoides
Photo by: Valentino Vallicelli
Antegibbaeum fissoides
Photo by: Valentino Vallicelli
Antegibbaeum fissoides
Photo by: Valentino Vallicelli
Antegibbaeum fissoides
Photo by: Valentino Vallicelli
Antegibbaeum fissoides
Photo by: Valentino Vallicelli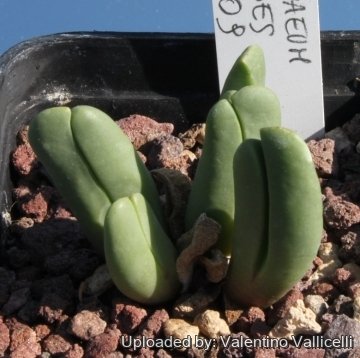 SB609 (Collector: Steven Brack) Locality: Brandrivier, Little Karoo, South Cape Province, South Africa
Photo by: Valentino Vallicelli
Cultivation and Propagation: It is a "winter" grower which is most active from autumn and winter and require adequate water and heading for summer dormancy, but it is easy in cultivation and keeps going over the summer too and don't need particular care.
Soil: It grows best in sandy-gritty soil and requires good drainage as it is prone to root rot. It can grows outdoor in sunny, dry, rock crevices (protection against winter wet is required) It can also be cultivated in alpine house, in poor, drained soil.
Fertilization: Feed it once during the growing season with a fertilizer specifically formulated for cactus and succulents (poor in nitrogen), including all micro nutrients and trace elements diluted to ½ the strength recommended on the label. It thrives in poor soils and need a limited supplies of fertilizer to avoid the plants developing excess vegetation, which is easily attacked by fungal diseases.
Watering: The Gibbaeums thrive in dry and desert regions and are able to stand extended periods of drought and require careful watering. Water minimally in summer, only when the plant starts shrivelling, water more abundantly when they are growing in the autumn and spring, but let the soil dry between soaking. Requires little water otherwise its epidermis breaks (resulting in unsightly scars). If grown in a container, bottom watering by immersing the container is recommended. It must have very dry atmosphere.
Light: It needs a bright sunny or light shade exposure in winter, but keep cool and shaded in summer.
Hardiness: It prefer a very bright situation and require a minimum temperature 5°C (But will take a light frost and is hardy down to -7° C for short periods if it is in dry soil). USDA zones 9A – 11.
Uses: Container, rock garden.
Pests and diseases: It is vulnerable to mealybugs and rarely scale.
Propagation: Seed in autumn or (or rarely) cuttings. Take the cutting from a grown-up mother plant. Each cutting must contain one or more heads along with a fraction of root and permit to dry out a couple of days, lay it on the soil and insert the stem end partially into the soil. Try to keep the cutting somewhat upright so that the roots are able to grow downward.