Donate now to support the LLIFLE projects.
Your support is critical to our success.
Since 4 Aug 2013
sponsored link
Mitrophyllum grande Photo by: Valentino Vallicelli
Brakfontein, Little Namaqualand, North-West Cape Province, South Africa
Origin and Habitat: South Africa, Northern Cape Province (Little Namaqualand)
Habitat: Mitrophyllum grande is found in a very arid but winter foggy environment with less than 100 mm of rain per annum, and the plants derive most of their water requirements via frequent mists. The plants grows semi-shaded among rocks, often the branches are exposed to sun while the trunk and the extensive roots are protected by a tangle of other shrubs or rocks. Associated species include Conophytum meyeri, Conophytum obscurum, and Tylecodon buchholzianus. The population trend is stable.
Synonyms:
See all synonyms of Mitrophyllum grande
Accepted name in llifle Database:
Mitrophyllum grande
N.E.Br.
Gard. Chron. 1929, Ser. III. lxxxvi. 227.
Synonymy: 18
Description: Mitrophyllum grande is a sparingly branched low succulent shrubs with visible nodes. The branches are characteristically covered by dry leaf-remains. The mitres (paired leaves) are more than 4.5 cm tall, sometimes reaching a height of 20 cm.
Stem: Short, unbranched vertical.
Body (paired leaves): 4,5-20 cm long, 1,5-5 cm in diameter. This plant produces two very different leaf-pairs types per season: the "active season pair", only basally connate and free for most of its length, with the upper surface more or less flat, and the "resting season pair", mitre-like (inverted cone shaped), connate for most of its length with only the tips free, this two types of leaves alternate. The resting pair (or connate pair) turns into a papery, parchment-like skin or sheath protecting the free one during the the summer inactive period and appears completely dry.
Flowers: Solitary, terminal, 4-4,5 cm in diameter white, petals in 3-4 whorls, stamens at first collected into a cone spreading later, anthers golden yellow, sepals 5. The flowers are subtended by leaf-like bracts that give the plant the appearance of having 3 types of leaves. Internodes below the bracts 3 or more mm long.
Fruit: Pentangular capuseles with covering membranes extending about 1/3 over the locules. Stalk of fruits erect and straight.
Blooming season: In their habitat they flowers toward the end of the rainy season, from mid-fall to mid-winter.
Bibliography: Major references and futher lectures
1) Heidrun E. K. Hartmann "Illustrated Handbook of Succulent Plants: Aizoaceae F-Z" Springer, 2002
2) Burgoyne, P.M. 2006. Mitrophyllum grande N.E.Br. National Assessment: Red List of South African Plants version 2015.1. Accessed on 2015/12/17
3) Hermann Jacobsen "A handbook of succulent plants: descriptions, synonyms, and cultural details for succulents other than Cactaceae" Volume 1 Blandford Press, 1960
4) James Cullen, Sabina G. Knees, H. Suzanne Cubey "The European Garden Flora Flowering Plants: A Manual for the Identification of Plants Cultivated in Europe, Both Out-of-Doors and Under Glass" Cambridge University Press, 11/ago/2011
5) J.P. Roux "Flora of South Africa" 2003
6) Ernst Van Jaarsveld, Ben-Erik Van Wyk, Gideon Smith "Succulents of South Africa: A Guide to the Regional Diversity" Tafelberg Publishers, Limited, 01/lug/2000
7) Ben P. Barkhuizen "Succulents of Southern Africa: With Specific Reference to the Succulent Families Found in the Republic of South Africa and South West Africa" Purnell, 1978
8) D. J. Court "Succulent Flora of Southern Africa" A.A. Balkema, 1981
9) Fish, L. Poaceae Barnhart (Grass family) in G.F. Smith et al. (eds), "List of Southern African succulent plants." National Botanical Institute/Succulent Society of South Africa, Umdaus Press, Pretoria. 1997
10) Steven A. Hammer "Dumpling and his wife: new views of the genus Conophytum" EAE Creative Colour Ltd., 2002

Mitrophyllum grande
Photo by: Valentino Vallicelli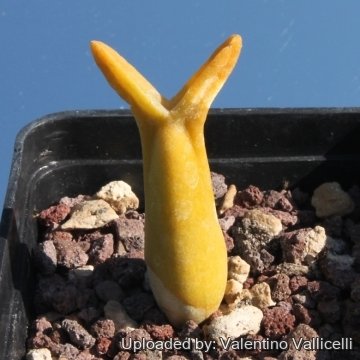 Lekkersing, Northern Cape, South Africa
Photo by: Valentino Vallicelli
Mitrophyllum grande
Photo by: Valentino Vallicelli
Mitrophyllum grande
Photo by: Valentino Vallicelli
Mitrophyllum grande
Photo by: Valentino Vallicelli
Mitrophyllum grande
Photo by: Valentino Vallicelli
SB1960 5 miles north Aughrabies
Photo by: Valentino Vallicelli
Lekkersing, Northern Cape, South Africa
Photo by: Valentino Vallicelli
Cultivation and Propagation: They are relatively difficult to grow and take many years to mature. In cultivation the plants tend to be fall and winter active and head for summer dormancy. The growing season in northern hemisphere is from September to March, but the active growth is concentrated in a short period in early autumn.
Soil: They prefer sandy, mineral-rich soil and require a very good drainage and protection from excessive water.
Fertilizer: Be careful not to apply too much fertilizer.
Water: Water minimally in summer. Water regularly in winter after the new long green leaves appears at their extremities in autumn after the summer resting period, or alternatively (as for other difficult species) do not to water the plants themselves, but sink the pots in gravel which is kept moist.
Exposure: They enjoy some shade (avoid direct summer sun as they grow wild among rocks and under the shade of other plants) and in summer they need to be kept in a cool area.
Hardiness: Hardy to -2°C (or less).
Maintenance: Avoid to repot frequently. This plant may stay in the same pot for many years. Plants grown in larger containers have frequently relatively poor flowers. It might improve when the plants are given their own, small individual pots. Ensure a very good ventilation.
Propagation: They can be reproduced by seed and with much less ease from cuttings. Take the cutting from a grown-up mother plant. Each cutting must contain one or more branches along with a fraction of root.