Donate now to support the LLIFLE projects.
Your support is critical to our success.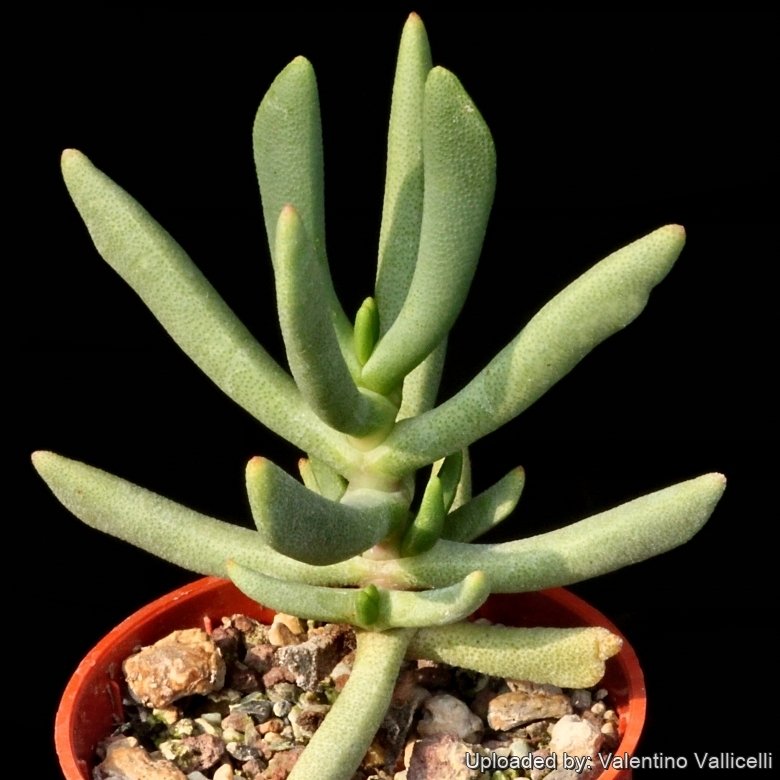 Hereroa rehneltiana Photo by: Valentino Vallicelli
Origin and Habitat: North of Rooiberg, Western Cape, South Africa
Altitude: 960-1500 metres above sea level.
Synonyms:
Description: Hereroa rehneltianaSN|22593]]SN|22593]] is a succulent upright mini tree with tufts of thin, more or less erect, leaves with some brownish appearance and yellow flowers. It flowers freely. Plant sold under that name shows a certain amount of variance between individuals.
Habit: It is a tiny, slow growing perennial leaf-succulents, forming a sprawling or erect mini bush up to 30 (or more) cm hight.
Leaves: Grey-green to glaucous-green, in decussate pairs, free at the base, erect to spreading, obscurely 3-angled, semi-terete, obtuse, thicker apically than basally, finger-like tubular-falcate to laterally compressed, keeled, almost crescent shaped. Every year new leaves grow from the central stem.
Flowers: Daisy-like, deep yellow and pollinated by moths.
Blooming season: Autumn, blooms opening at dusk.
Bibliography: Major references and further lectures
1) Heidrun E. K. Hartmann "Illustrated Handbook of Succulent Plants: Aizoaceae F-Z" Springer, 2002
2) Hermann Jacobsen "A handbook of succulent plants: descriptions, synonyms, and cultural details for succulents other than Cactaceae, Volume 1" Blandford Press, 1960
3) James Cullen, Sabina G. Knees, H. Suzanne Cubey "The European Garden Flora Flowering Plants: A Manual for the Identification of Plants Cultivated in Europe, Both Out-of-Doors and Under Glass" Cambridge University Press, 11/ago/2011
4) Raimondo, D., von Staden, L., Foden, W., Victor, J.E., Helme, N.A., Turner, R.C., Kamundi, D.A. and Manyama, P.A. "Red List of South African Plants." Strelitzia 25. South African National Biodiversity Institute, Pretoria. 2009
5) Gideon Smith u.a. (Hrsg.): "Mesembs of the World: Illustrated Guide to a Remarkable Succulent Group." Briza Publications, 1998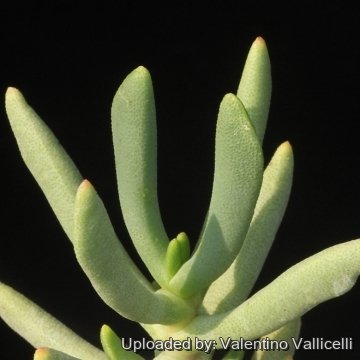 Hereroa rehneltiana
Photo by: Valentino Vallicelli
Hereroa rehneltiana
Photo by: Valentino Vallicelli
Cultivation and Propagation: Hereroa is a genus that require little maintenance. In cultivation the Hereroa do very well with the spring summer growing period during which they will be watered frequently and heads for winter dormancy. If you provide the Hereroa with the right conditions, they will reward you with their unique shape, and a proliferation of blooms in spring and summer. Being small plants, a representative collection can be grown on a patio table or a shelf in the greenhouse. Inside they grow fine on windowsills, and will even bloom, if they get enough direct sunlight.
Growth Rate: Slow to Moderate.
Soil: It grows best in sandy-gritty soil and requires good drainage as it is prone to root rot. It can grows outdoor in sunny, dry, rock crevices (protection against winter wet is required) It can also be cultivated in alpine house, in poor, drained soil.
Repotting: Make sure to repot during its more active period, starting in spring.
Fertilization: Feed it once during the growing season with a fertilizer specifically formulated for cactus and succulents (poor in nitrogen), including all micro nutrients and trace elements diluted to ½ the strength recommended on the label. It thrives in poor soils and need a limited supplies of fertilizer to avoid the plants developing excess vegetation, which is easily attacked by fungal diseases.
Light: Keep cool and shaded in summer, need full sun or light shade in the other season. Outdoor they prefer full sun, with some shade in the hottest summer months. Plants in pots prefer light afternoon shade in hottest summer days.
Watering: They thrive in dry and desert regions and are able to stand extended periods of drought and require careful watering. Water minimally in summer, only when the plant starts shrivelling, water more abundantly when they are growing in the autumn and spring, but let the soil dry between soaking. If grown in a container, bottom watering by immersing the container is recommended. It must have very dry atmosphere.
Hardiness: It prefer a very bright situation and require a minimum temperature 5°C (But will take a light frost and is hardy down to -7° C for short periods if it is in dry soil). USDA zones 9A – 11.
Uses: Container, rock garden.
Pests and diseases: It is vulnerable to mealybugs and rarely scale.
Plant Uses: Border, container, edging, ground cover, pot plant, rock garden. The plants also attracts bees, butterflies and other insects.
Propagation: Seed in spring or autumn or cuttings. Take the cutting from a grown-up mother plant. Each cutting must contain one or more heads along with a fraction of root and permit to dry out a couple of days, lay it on the soil and insert the stem end partially into the soil. Try to keep the cutting somewhat upright so that the roots are able to grow downward.