Donate now to support the LLIFLE projects.
Your support is critical to our success.
Since 4 Aug 2013
sponsored link
Aloe peckii Photo by: © Plantemania
Origin and Habitat: Aloe peckii has been collected a number of times. All collecting localities fall within three subpopulations in the Al Madu Mountain Range in Northern Somalia (road from Erigavo northwestwards to the Tabah Gap (Surud), Somalia North).
Altitude range: 1350–1750 metres above sea level.
Habitat and Ecology: Aloe peckiiSN|34251]]SN|34251]] grows on gypsum soil, mostly in shade in succulent shrub toghether with Euphorbia ballyi and Aloe scobinifolia. Also found in Juniper forest on limestone. The habitat of this species has been severely degraded in the past (logging of the forested areas and overgrazing) (Thulin 1994). Although the species appears to survive in secondary habitat, given the ongoing degradation to its natural habitat and the small extent of occurrence (1,750 km²) plus the limited number of localities this species is assessed as Endangered. It is said to be quite common in parts of its range (Carter et al. 2011). A. peckii is in cultivation in botanic gardens. (Carter et al. 2011).
Synonyms:
Description: Aloe peckiiSN|34251]]SN|34251]] is an attractively marked small, stemless, aloe. It grows solitary or less frequently it forms small clumps of 20 and more compact rosettes.
Leaves: 14–16, densely rosulate, lanceolate, rather compact, ascending or with the apical portion slightly spreading, about 16-20 cm long, 6 cm wide at base, 2 cm thick, very fleshy, shiny, upper surface rather flat, olive green with very numerous, sometimes confluent, whitish-green longitudinal spots and stripes sometimes without markings. Lower surface rounded. Margins with a continuous horny brown edge with pungent, triangular brownish teeth, 3–4 mm long, 6–10 mm apart. The sap dryes deep brown.
Inflorescences: Scape erect grey-green with many conspicuous broken longitudinal lines with 8–10 branches, 60-80 cm tall and up to 4 mm broad. Racemes cylindrical, lax. Bracts 10–12 cm long, 4 mm. Pedicels 10 mm long.
Flowers: Pendulous, straw-coloured to greenish yellow with striped appearance. Perianth segments 25–30 mm long, 7 mm across the ovary, outer tepals free for about 14 mm. Anthers exserted 2–3 mm. Stigma exserted 4 mm. Ovary green, narrowed above, then enlarging slightly to mouth 6 long, 3 mm on diameter.
Chromosome number: 2n = 14.
Bibliography: Major references and further lectures
1) Carter, S, Lavranos, J.J., Newton, L.E. and Walker, C.C. 2011. "Aloes, the Definitive Guide". Kew Publishing, Kew.
2) J. Lavranos "Flora Somalia", Vol 4, 1995 [updated by M. Thulin 2008]
3) Oldfield, S. 1997. "Tropical Africa (Chapter 3 in part). Cactus and Succulent Plants: Status Survey and Conservation Action Plan", pp. 52-59. IUCN, Gland, Switzerland and Cambridge, UK.
4) Thulin, M. 1994. "Somali-Masai regional centre of Endemism: CPD Site AF42 Cal Madow, Somalia." In: V.H. Heywood and S.D. Davis (eds) (eds), "Centres of Plant Diversity. A guide and strategy for their conservation". Volume 1, Europe, Africa, South West Asia and the Middle East, pp. 194-195. IUCN, Cambridge, UK.
5) Weber, O. & Carter, S. 2013. Aloe peckii. The IUCN Red List of Threatened Species 2013: e.T201404A2705441. http://dx.doi.org/10.2305/IUCN.UK.2013-2.RLTS.T201404A2705441.en. Downloaded on 23 May 2017.
6) Gilbert Westacott Reynolds "The Aloes of Tropical Africa and Madagascar" Aloes Book Fund, 1966
7) Urs Eggli "Illustrated Handbook of Succulent Plants: Monocotyledons" Springer Science & Business Media, 17 July 2001
Aloe peckii
Photo by: © Plantemania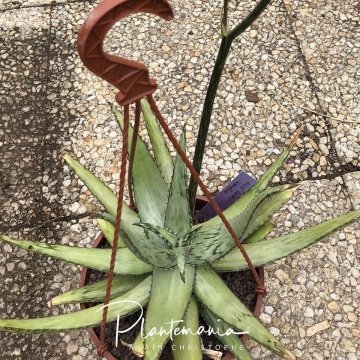 Aloe peckii
Photo by: © Plantemania