Donate now to support the LLIFLE projects.
Your support is critical to our success.
Since 4 Aug 2013
sponsored link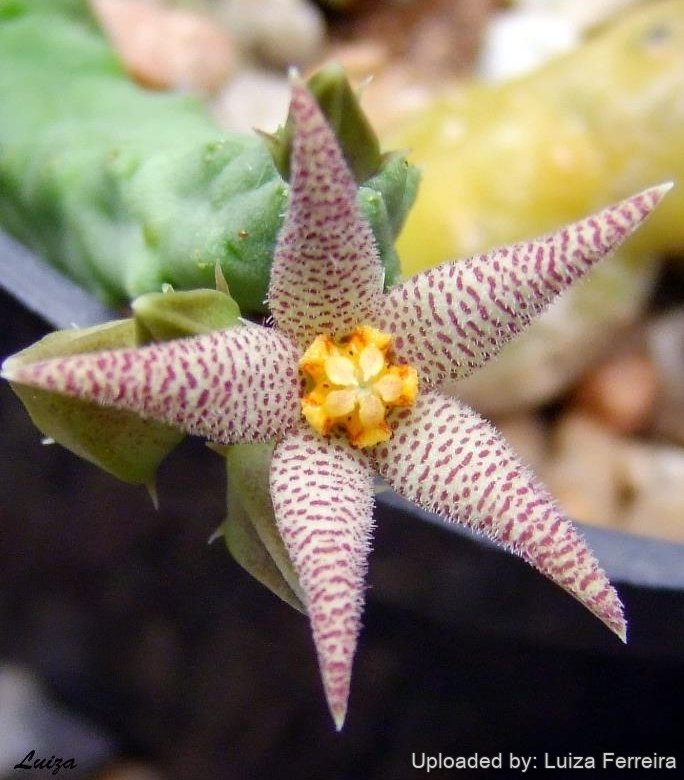 Piaranthus comptus Photo by: Luiza Ferreira
Synonyms:
See all synonyms of Piaranthus comptus
Accepted name in llifle Database:
Piaranthus comptus
N.E.Br.
Hooker's Icon. Pl. 20: t. 8924 b 1891.
Synonymy: 3
Description: Piaranthus comptus is a distinct stapeliad characterized by low finger-like stems with five-pointed flowers of elaborate design and beauty, whitish freckled with dark purple-brown spots and white conical hairs. Flowers opens simultaneously or with long intervals in late Summer or Autumn and smell really strong sweat socks. It is very variable and sometime confounded with Piaranthus geminatus.
Derivation of specific name: comptus,-a,-um; from L. comptus (from comptere, to adorn), ornamented: elegant.
Stems: tufted, globose to cylindrical, slightly rough, erect or decumbent, 1-5 (or under cultivation up to 7 or more) cm long, 8-14 mm thick, obtusely 4-angled, with the teeth along the angles tubercle-like, apiculate, sometimes rather obscure, dull green or greyish-green, subglaucous.
Flowers: 1–4 (often 2) together, between the angles, near or at the apex or sometimes near the middle of the stem, erect. Pedicels 4-12(-15) mm long, 1 - 2 mm in diameter, glabrous. Sepals 1.5-3 mm long, 1 mm wide, ovate or lanceolate, acuminate, glabrous. Corolla rotate, radiate,14-24 mm diameter (usually c. 17 mm), glabrous and dull greenish or greenish-brown outside, shortly pubescent all over the inner face, not ciliate, whitish, marked all over with small round dark purple-brown spots; disk flattish. Lobes 5-7 mm long, (3.5-)4(-5) mm broad at the base, delicate, sometimes basally slightly fused, ovate-lanceolate, acute or acuminate, slightly convex from the margins being slightly recurved, whitish with red or red-brown dots, patches or tranverse bands, usually densely hairy. Hairs slightly conical, 0.4 - 1 mm, whitish to brownish purple, basal 1/4 of the corolla margins often with clavate hairs (var. ciliatus). Corona 2.6-3.2 x 3.5-4.8 mm. Outer corona-lobes closely incumbent on the backs of the anthers and not prolonged beyond them, 1-2 mm long, 0.6 mm wide, linear or linear-lanceolate, acute, obtuse or subdenticulate at the apex, dorsally expanded at the base into a truncate minutely tuberculate or more or less bifid unfurrowed crest, 0.8 - 1.5 mm broad with or without a small warted tubercle between the teeth at the top, entirely yellow or dotted with purple-brown. Odour somewhat sour of horse sweat mixed with rotten fruits only perceptible close to the flower.
Pollinia: 0.5 x 0.3 - 0.35 mm.
Fruits (paired follicles): 6 - 11 cm long.
Seeds: 3.5 - 5.5 mm long, 2 - 3 mm thick.
Subspecies, varieties, forms and cultivars of plants belonging to the Piaranthus comptus group
Piaranthus comptus

N.E.Br.

: Corolla lobes 5-7 mm long, spotted with dark purple-brown and slightly conical whiteto brownish purple hairs. Distribution: North, East and Western Cape.

Piaranthus comptus var. ciliatus

N.E.Br.

: corolla-lobes ciliate with vibratile clavate hairs, otherwise as in the type.
Bibliography: Major references and further lectures
1) N. E. Brown. "Flora Capensis", Vol 4, page 518, 1909
2) Matlamela, P.F. & Kamundi, D.A. 2006. Piaranthus comptus N.E.Br. National Assessment: Red List of South African Plants version 2014.1. Accessed on 2015/02/06
3) Focke Albers, Ulrich Meve "Illustrated Handbook of Succulent Plants: Asclepiadaceae: Asclepiadaceae" Volume 4 Springer Science & Business Media, 2002
4) William T. Thiselton-Dyer "Flora Capensis" Cambridge University Press, 24 July 2014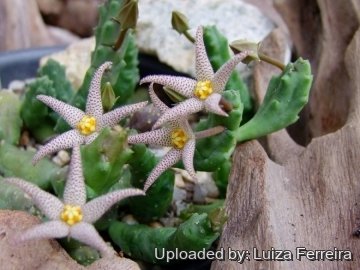 Piaranthus comptus
Photo by: Luiza Ferreira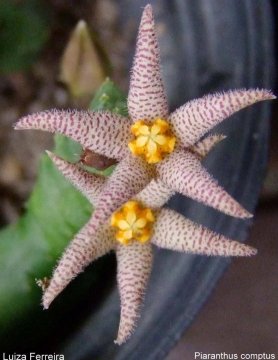 Piaranthus comptus
Photo by: Luiza Ferreira
Cultivation and Propagation: Piaranthus comptus is an easy blooming plant when mature that require moderately watering through the growing season but enjoy plenty of water and some fertiliser in hot weather, this helps them to flower freely. Water more sparingly in winter according to temperatures. But, as with most asclepiads, it is unwise to leave them wet in cold weather. Winter care presents no problems at 5°C with plenty of light. Since roots are quite shallow, use a cactus mix or add extra perlite or pumice to regular soil potting soil. A gritty, very free-draining compost is suitable, and clay pots help the plants to dry out between watering.
Sun Exposure: Partial sun or light shade
Pest and diseases: Piaranthus species vary in their susceptibility to rotting, but are generally fairly easy to grow, especially if kept pest-free. They are very susceptible to stem and root mealy bugs, and damage from these may well initiate fungal attack. If you do have problems with a stem or with basal rotting, you can reliably isolate the healthy parts, dry them off, and re-root them in moist compost.
Cultural Practices: Re-pot every 2 years
Propagation: Easiest with stem cuttings. Allow cuttings to dry a day before planting. Stems must be laid (Not buried) on gritty compost and will then root from the underside of the stems. It can also be increased from seeds sowing in spring in moist, sandy peat moss.
Potting medium: Since roots are quite shallow, use a cactus mix or add extra perlite or pumice to regular soil potting soil. A gritty, very free-draining compost is suitable, and clay pots help the plants to dry out between watering.