Donate now to support the LLIFLE projects.
Your support is critical to our success.
Since 4 Aug 2013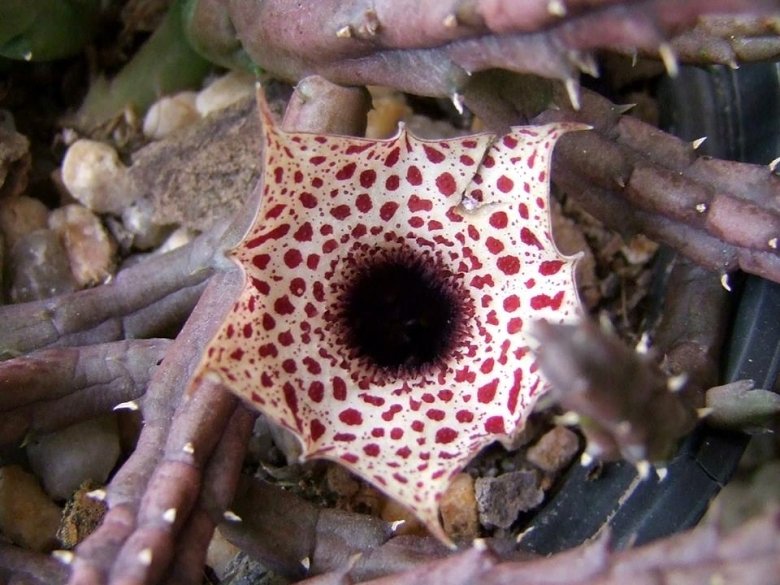 Huernia occulta Photo by: Luiza Ferreira
Origin and Habitat: Zimbabwe (Masvingo District in a belt between Bulawayo, Masvingo and Moody's Pass around the Kyle Dam near Fort Victoria)
Altitude range: This species is mainly found in montane habitat around 1100 metres above sea level.
Habitat and ecology: This species grows and produces its flowers in very heavy shade of perennial grasses on granite slab slopes, together with Plectranthus sanguinens, Aloe chabandii, Euphorbia sp., Coleochloa, and Caralotheca myrothamnus.
Synonyms:
Description: Huernia occulta is a sprawling stem succulent. It is closely related to Huernia hislopii but can be readily distinguished by the long and slender, creeping stems, rooting when touching the soil.
Derivation of specific name: The specific name "occulta": concealed or hidden, refers to its habit of growing in deep shade under dense scrub. Plants remaining almost always hidden at all stages of growth.
Flowers: Cream with many tawny red spots on the limb and lobes. Base of the tube shining blackish purple.
Chromosome number: 2n = 22.
History: Huernia occulta was first collected (it seems) by Georges van Son, during the Vernays-Lang Kalahari Expedition of 1930 near Zimbabwe ruins, it was first considered to be Huernia hislopii, White & Sloane 1937, and Phillips 1939, but in 1966 Plowes & Leach regarded it as a distinct species form material collected in 1958.
Bibliography: Major references and further lectures
1) Golding, J.S. (ed.) (2002). "Southern African Plant Red Data Lists." Southern African Botanical Diversity Network Report No. 14. SABONET. Pretoria. Page 178.
2) Mapaura, A. (2002). "Endemic Plant Species of Zimbabwe." Kirkia 18(1) Page 133.
3) Mapaura, A. & Timberlake, J. (eds) (2004). "A checklist of Zimbabwean vascular plants" Southern African Botanical Diversity Network Report No. 33 Sabonet, Pretoria and Harare Page 21.
4) Hyde, M.A., Wursten, B.T., Ballings, P. & Coates Palgrave, M. (2015). "Flora of Zimbabwe: Species information: Huernia occulta."
http://www.zimbabweflora.co.zw/speciesdata/species.php?species_id=146850, retrieved 2 March 2015
5) PlowesAlbers, F. 1975. "IOPB chromosome number reports XLLX." Taxon 24: 501–516.
6) Stapeliads.info contributors, "Huernia occulta" <http://www.stapeliads.info/serv/core.s3?action=sidb::;entity=2956> . Web. 2 Mar. 2015.
Huernia occulta
Photo by: Luiza Ferreira
Huernia occulta
Photo by: Raffa C. Garcia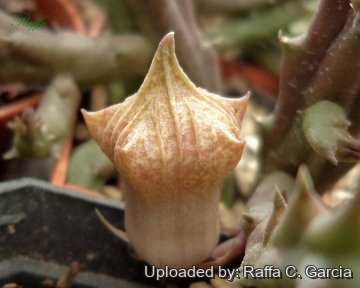 Huernia occulta
Photo by: Raffa C. Garcia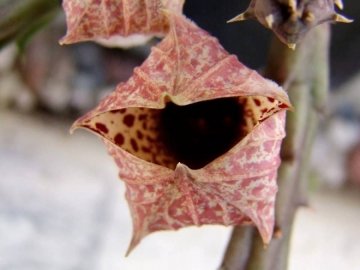 - Openig bud...
Photo by: Luiza Ferreira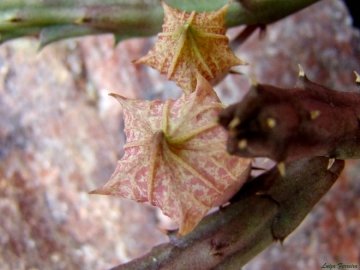 Flowering buds.
Photo by: Luiza Ferreira
Huernia occulta
Photo by: Raffa C. Garcia
Huernia occulta
Photo by: Raffa C. Garcia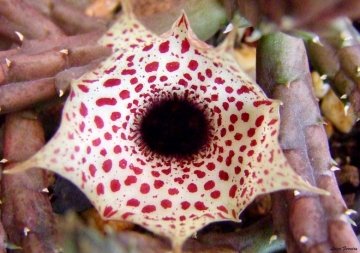 Huernia occulta
Photo by: Luiza Ferreira
Cultivation and Propagation: Huernia occulta is an easily grown stapeliad, suited to hanging baskets as well as pots. It grow well in light gritty soil with a very liberal drainage. They should at all times sparingly watered (best rain water with some occasional fertiliser), and in winter time they hardly require any. They require outdoor culture, or a warm close greenhouse, while growing in the early part of summer, and afterwards may be ripened and kept in a greenhouse; but as they bloom chiefly in autumn, warmth is desirable to enable them to expand their flowers. They are also most attractive in a hanging pot with their trailing segments With numerous fleshy (non-hurtful) teeth. Some collectors enjoy the long, snake-like stems induced by an excess of water.
Spring: When winter ends and they begin to grow again, they will require much water and soaking the pots will no longer put the plants at risk for rot. In the spring they will grow well in partial shade and leaving them out in the rain may provide them with the water they need.
Summer: In the summer months they will tolerate heavy rain, but will be just as happy if the season is dry. It's best to sort out the stems while the plants are resting in the summer before they begin their autumnal growth cycle. They will tolerate very hot weather outdoors as long as they are kept in filtered light and this will encourage them to flower in the Autumn. They also enjoy some fertiliser. Moving the plants as they are developing buds may cause them to spontaneously abort the flowers all together.
Autumn: In the fall keep them outdoors until the night time temperatures drop below the 5°C.
Winter: Winter care presents no problems at 5°-10° C with plenty of light. As soon as they are flowered be sure to take extra precautions to keep them dry, because damp cool conditions when the plants are resting is an invitation to fungal infections, but - according to temperatures –some occasional lit watering may be useful.
Potting medium: Since roots are quite shallow, use a cactus mix or add extra perlite or pumice to regular soil potting soil. A gritty, very free-draining compost is suitable, and clay pots help the plants to dry out between watering. Re-pot every 2 years.
Pest and diseases: Huernia are generally fairly easy to grow, especially if kept pest-free. They are very susceptible to stem and root mealy bugs, and damage from these may well initiate fungal attack. Any time when there is a dead or dying stem in the pot it is important to remove it immediately and completely before other healthy stems can become ill too, isolate the healthy parts, dry them off, and re-root them in new compost.
Propagation: Easiest with stem cuttings. Allow cuttings to dry a day before planting. Stems must be laid (Not buried) on gritty compost and will then root from the underside of the stems. It can also be increased from seeds sowing in spring in moist, sandy peat moss. Barely cover seeds. Seeds germinate quickly. In any season it's best to lay the stems out for several days before replanting them and then pot them only in dry soil and withhold any water until they begin to shrivel or start growing again.