Donate now to support the LLIFLE projects.
Your support is critical to our success.
Since 4 Aug 2013
Brachystelma tuberosum Photo by: Sándor Horváth
Origin and Habitat: South Africa, Eastern Cape
Habitat and Ecology: The population trend is stable.
Synonyms:
See all synonyms of Brachystelma tuberosum
Common Names include:
ENGLISH:
Tuberous rooted Brachystelma
Description: Brachystelma tuberosumSN|32308]]SN|32308]] is a is a dwarf perennial geophyte growing from a large flattened disc-shaped tuber (caudex). Firstly decribed as Stapelia tuberosa by Nicolaas Meerburgh in 1789 for the resemblance it bears to stapelia corolla, campanulate with angular sinuses. The flowers like those of nearly all the Stapelias emit a nauseous stench. With the tuber up to 15 cm in diameter this species from south western South Africa has extremely large hairy flowers.
Tuber: Round flattened, 4-15 cm in diameter and often with slightly bowl-shaped central area, producing 1 or more sparingly branched stems 7-100 cm high, or taller under cultivation, more or less hairy.
Stem: Subshrubby branching, branches round villous.
Leaves: Opposite, spreading, 15-30(-40) mm long, 4-12 mm wide, membranous linearly lanceolate the lower sometimes larger and ovate or oblong, acute or subobtuse, tapering into a short petiole at the base, concave, more or less longitudinally folded, puberulous on the under surface, glabrous above, minutely ciliate at the edge and keel.
Inflorescence: Almost sessile, partly collected in whorls at the nodes with three to eight flowers in each branch nearly of the size of those of Duvalia caespitosaSN|26498]]SN|26498]], nodding. Pedicels 4-25 mm long, puberulous.
Flowers: Calyx 5 cleft, sepals about 2-4 mm long, lanceolate, pointed, shorter than the tube of the corolla, and like the peduncle shortly, and glandularly pubescent Corolla bout 45-95 mm in diameter, glabrous or pubescent, greenish speckled with purple-brown on the outside, dotted with red. Inside black purple, on the lobes, centre deep yellow with broken purple-brown cross lines in the cup-shaped tube, which appears to be 4-6 mm long, and as much in diameter. Limb 5 parted, lobes free, 6-40 mm long, ovate-lanceolate, very spreading or slightly reflexed, edges of the segments revolute, fringed at the base tapering from the base to the acute greenish apex. Crown sessile, basally fused to form a bowl-like structure, 5 cleft. Outer corona-lobe pouch-like, subquadrangular. apically triangular to U-shaped manne, converging at the points c. 2.5 x 3 mm, purple-brown, laterally fused with the base of the inner corona. Inner corona-lobes lingulate, hardly 1 mm long, incumbent on the enclosed stamen column.
Bibliography: Major references and further lectures
1) Focke Albers, Ulrich Meve "Illustrated Handbook of Succulent Plants: Asclepiadaceae: Asclepiadaceae", Volume 4 Springer Science & Business Media, 2002
2) J.P. Roux "Flora of South Africa", 2003
3) Nicholas Edward Brown: Asclepiadaceae. In: William T. Thiselton-Dyer, "Flora Capensis : being a systematic description of the plants of the Cape Colony, Caffraria and Port Natal (and neighbouring territories). Vol.4, Sect.1 Vaccinaceae to Gentianeae." London, Reeve, 1905-09
4) Goldblatt, P. and Manning, J.C. 2000. "Cape Plants: A conspectus of the Cape Flora of South Africa." Strelitzia 9. National Botanical Institute, Cape Town.
5) Raimondo, D., von Staden, L., Foden, W., Victor, J.E., Helme, N.A., Turner, R.C., Kamundi,
6) Matlamela, P.F., Kamundi, D.A. & Cholo, F. 2006. "Brachystelma tuberosum (Meerb.) R.Br. ex Sims." National Assessment: Red List of South African Plants version 2015.1. Accessed on 2016/01/12
7) Sydenham Edwards "The botanical register" plate 722 with accompanying text. London. Ridgway. 1829.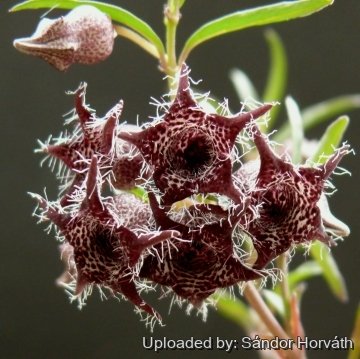 Brachystelma tuberosum
Photo by: Sándor Horváth
Send a photo of this plant.
The gallery now contains thousands of pictures, however it is possible to do even more. We are, of course, seeking photos of species not yet shown in the gallery but not only that, we are also looking for better pictures than those already present.
Read More...
Cultivation and Propagation: In cultivation the plants are usually grown in semi shade, with the tubers wholly or (preferably) partially exposed to prevent scorching and rotting of the roots. This plant can take a good deal of water during active growth and should be watered only when not dormant. Keep dryish in winter. It should be overwintered in the greenhouse at temperatures over 15°C (avoid letting temperatures drop lower than 10° C). Use a very draining but rich soil. An error in cultivation may produce unsightly holes in the tuber.
Reproduction: This species can be reproduced by seeds. Sow seeds in summer in a well drained medium.